Story Progress
Back to home
India vs Pakistan Live Score Ball by Ball, ICC T20 World Cup 2021 Live Cricket Score Of Today's Match on NDTV Sports
Live Updates of Today Match between India vs Pakistan from Dubai International Cricket Stadium, Dubai. Check commentary and full scoreboard of the match.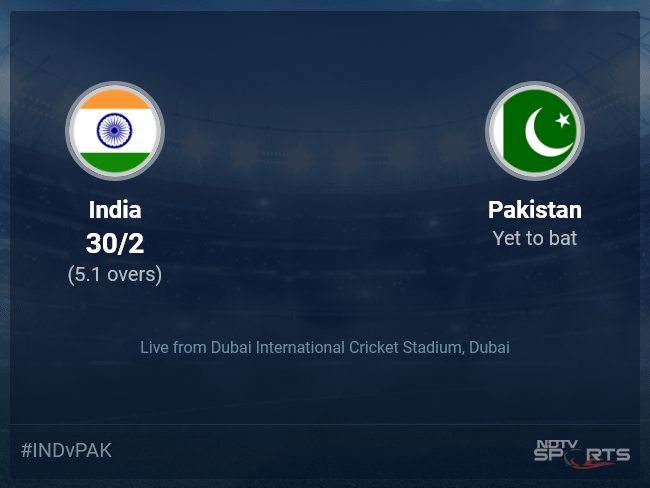 PAK vs IND Latest Score
Follow the ICC T20 World Cup 2021 live cricket score on Sports.NDTV.com. After 5.1 overs, India are 30/2. Get live score, ball by ball commentary and much more. Keep track of ICC T20 World Cup 2021 today match between India and Pakistan. Everything related to India and Pakistan match will be available on Sports.NDTV.com. Stay updated with India vs Pakistan live score. Do check for India vs Pakistan scorecard. You can get scorecard updates, match related facts. Get quick live updates with ads, Sports.NDTV.com, which is the perfect destination for live cricket score.
4.6 overs (1 Run) Shaheen Afridi tries to surprise the batsman with a yorker but it turns out to be a low full toss around off, Kohli bunts it down to mid off and scampers across to the other end. 9 from this over and Shaheen Afridi is done with his three overs. India can take a breather now.
4.5 overs (6 Runs) SIX! This one has been nailed by the Indian skipper. Three dots, the pressure was building and Kohli decides to send the bowler packing. Shaheen serves it on a length around leg, Virat steps back to make room and launches it over long on.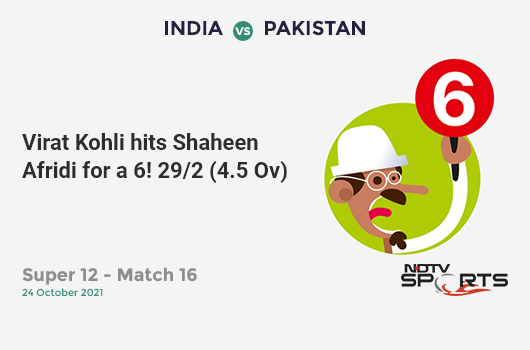 4.4 overs (0 Run) Slightly short in length and around off, once again Virat Kohli hangs on the back foot and punches it through the line. Finds cover-point. Three dots.
4.3 overs (0 Run) Shaheen Afridi cuts down on his length a bit, lands it around off, angling away, Virat stays back and taps it down to backward point.
4.2 overs (0 Run) Lands it around off, on a fuller length, Virat Kohli presses forward to push it to the off side. Finds the cover fielder.
4.1 overs (2 Runs) Delivers it on a length around middle, Kohli walks forward and nudges it in the gap at mid-wicket. Good running between the wickets and they take a couple of runs.
Will Shaheen Afridi bowl his third over? Here he comes. Babar Azam would love one more wicket from him in the Powerplay.
3.6 overs (4 Runs) FOUR! Suryakumar Yadav means business! Full and flighted around off, SKY goes down on one knee and sweeps it sweetly through backward square leg for a boundary. Showing no nerves.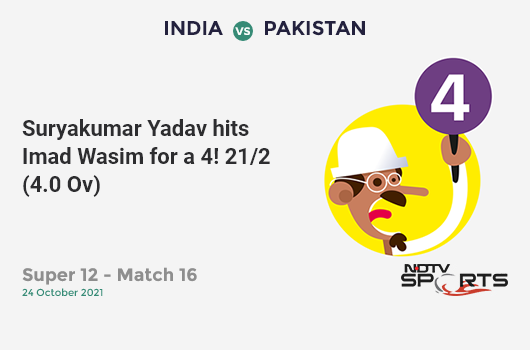 3.5 overs (1 Run) Fullish and around off, Kohli gets forward and pushes it with soft hands at covers for one.
3.4 overs (1 Run) Shout for an lbw! Tossed up, landing full and just outside off, Suryakumar Yadav tries to sweep but misses. It goes off his pads to short third man and they appeal. The batsmen cross. Given as a leg bye. That hit the batsman outside the line. Babar Azam doesn't take the review after having a word with Mohammad Rizwan.
3.3 overs (1 Run) Fuller and on off, Kohli drives it back past the bowler to long on for one.
3.2 overs (0 Run) Loopy and full on middle, Virat gets forward and defends it quietly to the leg side.
3.1 overs (0 Run) Flatter and on middle, defended towards short mid-wicket.
2.6 overs (6 Runs) SIX! Up, up and over the fielder! This is how Suryakumar Yadav knows to play. Short in length, around off, Yadav gets on top of the bounce, uses his wrists well as he pulls it over square leg. The fielder in the deep runs across, jumps but it flies over him. First boundary of the game for India.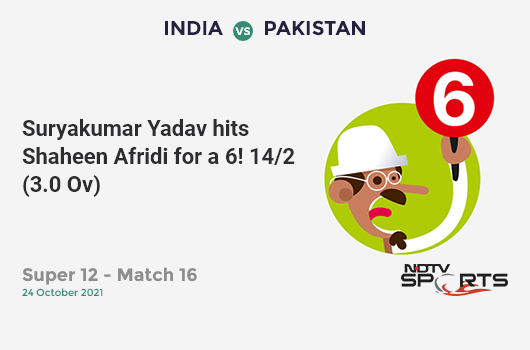 2.5 overs (1 Run) On a length around middle, Kohli uses his wrists and works it through square leg for a single.
2.4 overs (1 Run) Fullish and close to off, SKY whips it wide of mid on for one.
2.3 overs (0 Run) A low full toss around off, Yadav works it around from the toe end of his bat.
2.2 overs (0 Run) Serves it on a length around middle and off, Yadav defends it from the back foot to mid off.
Suryakumar Yadav finds himself in the middle now. His first time in a World Cup and he finds himself in a pressure situation. How will he respond?
2.1 overs (0 Run) OUT! STUMPS SHATTERED! India's batsman in form, KL Rahul is dismissed cheaply. Shaheen Afridi is on fire. That's quick, more than 140 kph and moves back in a bit late. Very difficult to play those. On a length around off, Rahul stays back to play across the line but misses. It nips back in, perhaps takes the inner half of his bat and then deflects onto the stumps off the thigh pad. Afridi is up and running in celebration. This is hostile stuff from him!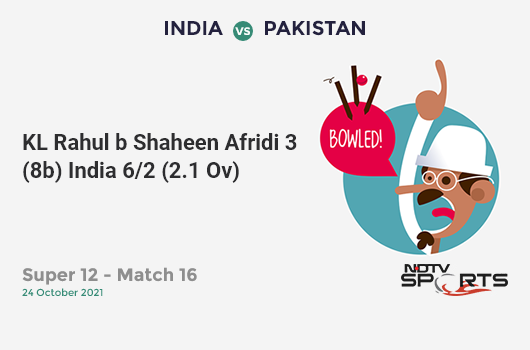 1.6 overs (1 Run) Quicker again, flat and on off, this time Rahul punches it down to long on and takes a single. A couple of very good overs from Pakistan.
1.5 overs (0 Run) Arm ball on middle, on the shorter side, KL moves back and punches it on the leg side. Finds mid-wicket.
1.4 overs (1 Run) Fuller and flatter on middle, Kohli knocks it down through mid on for one.
1.3 overs (1 Run) Tossed up but around leg, skidding down, Rahul nudges it to the left of short fine leg and picks up a run.
1.2 overs (0 Run) Another arm ball, short and around off, Rahul goes back and punches it to covers.
1.1 overs (1 Run) Flighted one, full and on middle, an arm ball, Kohli flicks it from the inner portion of his bat to short fine leg. It rolls to the right of the fielder inside the ring and they cross.
Will we see some spin from the other end? Yup, here comes Imad Wasim.
0.6 over (1 Run) Kohli opens his account. Shaheen delivers it on a length around off, Kohli gets forward to push at it but the ball takes the inner half and rolls to the right of mid on. They take a run. What a first over by Shaheen Afridi!
0.5 over (0 Run) Back of a length, around off and angling away, Kohli walks across to cover his stumps and then makes a leave.
The Indian skipper, Virat Kohli, walks out to bat. A lot earlier than he would have liked.
0.4 over (0 Run) OUT! Rohit Sharma bags a golden duck! Pakistan strike early and the crowd roars. Plumb lbw. Fuller and straighter from Shaheen, it's in the line of the stumps, good pace and Rohit is very late in bringing his bat down. He is struck on the back pad, they appeal and the finger has gone up. You cannot get more plumb than this. Rohit knows that and returns without even thinking about reviewing the decision.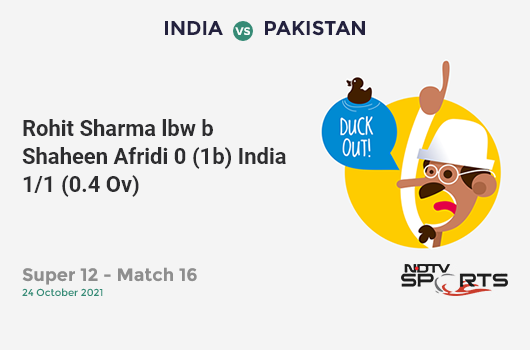 0.3 over (1 Run) India are away! On a length and around leg, KL gets back and taps it down towards square leg for a single.
0.2 over (0 Run) Full again, around off, Rahul drives from the middle of the blade to covers and Babar Azam stops it with a dive.
0.1 over (0 Run) Starts by pitching it up and around off, a bit of movement, KL Rahul presses forward and pushes it gently to the off side.
Right then! We are done with the pre-match formalities. Babar Azam has his team in a huddle before they spread out on the field. Rohit Sharma and KL Rahul stride out to bat for India. A few words are exchanged between Sharma and Azam. Indian team has taken the knee to protest racial discrimination while the Pakistanis have their hands on their heart to support the Black Lives Matter movement. Shaheen Afridi with the first ball. Here we go...
Folks, we are set for the mega-clash to begin! But first, the players walk out for the national anthems. First, the anthem of Pakistan will be played followed by India's. What a moment! The stadium is jam-packed and as players, you dream of playing in front of a sellout crowd.
Hardik Pandya is down for a chat. He says that it is not easy to stay calm in these situations but he tries not to get too hyped by the situation. Adds that he tries to stay away from social media before such clashes. States that as a team they try to keep things professional and look to execute their plans. Informs that his back is good but he won't be bowling in this game, but at some point of time in the tournament, he would love to bowl. Further adds that the medical team will play an important role in deciding when he bowls.
Stat - We had talked about one stat against Pakistan but there is one stat that is heavily loaded in their favour. They have 15 wins in T20Is in Dubai which is the most by any team and Pakistan are unbeaten at this venue since 2016.
Virat Kohli, the Indian skipper, says that he is pretty happy with setting the target. Adds that he would have bowled first but the toss is not in their control. Says that they have a balanced side. Adds that they want to stay as professional as possible, the key is to stay focused and do the basics right. Further adds that as players they need to disconnect from the emotional side of things and execute their plans. Shares that the pitch looks different than what it looked in the Indian T20 League and they expect it will stay true for the entire duration of the match. Informs that Ravichandran Ashwin, Ishan Kishan, Shardul Thakur and Rahul Chahar are not playing.
Babar Azam, the captain of Pakistan, says they are going to bowl first. Tells that they would look for early wickets and try to put India under pressure. Also adds that the dew is on their mind. States he is looking forward to this game and they are well prepared. Adds Pakistan have always been a good bowling side but this time their batting is also good and they are confident. Ends by informing Haider Ali sits out from the preannounced 12.
India (Playing XI) - KL Rahul, Rohit Sharma, Virat Kohli (C), Suryakumar Yadav, Rishabh Pant (WK), Hardik Pandya, Ravindra Jadeja, Bhuvneshwar Kumar, Mohammed Shami, Varun Chakravarthy, Jasprit Bumrah.
Pakistan (Playing XI) - Babar Azam (C), Mohammad Rizwan (WK), Fakhar Zaman, Mohammad Hafeez, Shoaib Malik, Asif Ali, Shadab Khan, Imad Wasim, Hasan Ali, Haris Rauf, Shaheen Afridi.
Toss - It's time for the all-important toss. Dew is a big factor in Dubai, so in all likelihood, the captain winning the toss would look to bowl first. Virat Kohli and Babar Azam, two modern greats, are in the middle. Up goes the coin, Babar calls correctly and PAKISTAN ELECT TO BOWL FIRST!
Stat - We already know about India's dominance over Pakistan across all World Cups. But another thing worth noting is that India have a win percentage of 87.5 against Pakistan in T20Is and the Men in Green have beaten the Men in Blue only once in 8 attempts.
As far as the players from both sides are concerned, we already know it's a vast pool of talented players. Pakistan though look a bit light in the batting department as they rely mainly on Babar Azam, Mohammad Rizwan and Fakhar Zaman. When you compare that with India's batting, the Men in Blue have proven stars at every position and they are coming into this tournament after participating in an intense season of the Indian T20 League. The bowling of both teams can be considered to be on the same page, especially in the pace department and all we can say is that it's going to be an epic battle this evening.
India meeting Pakistan has often been treated as a war by their fans. But, end of the day, it's a game of cricket. When the players walk out to the middle, they don't think about anything else but to express their game in the best way possible. Pressure will always be there, how you tackle it will decide your fate. You got the skills, you got the talent and you got the class. That's why you're at this mega stage. Eventually, it boils down to how you deal with nerves, how you respond to situations that demand your composure and character. So far, India have not buckled under the pressure of this rivalry across all World Cups and this winning streak has gone on for ages. Do Pakistan have it in them to buck the trend?
Hyped or overhyped, we leave that to your judgement but the clash of these two arch-rivals indeed brings both nations to a standstill. Lockdown is a word overused since the outbreak of the Covid-19 but even before that, it used to be a lockdown kind of situation whenever India locked horns against Pakistan. Such is the rivalry between the two nations that despite one team ruthlessly dominating the other, the charm has never died. This 'mauka mauka' advertisement talks about the hope that Pakistan every time comes with and let's see whether they can defy the odds and create a new chapter in this one-sided history.
Rivalry. Pressure. Noise. Memes. Silly ads. Over-the-top predictions. The build-up of this match has been so immense that many thought that the main round of the T20 World Cup 2021 was starting from 24th October. Everywhere there's a buzz. Everyone is talking about this match. No one wants to miss it. It's not exactly once in a lifetime opportunity but quite close to it given the bitter diplomatic relations between the two nations. So enjoy every bit of this rivalry as you don't know when will these two teams meet again.
That moment has arrived. The highly anticipated Indo-Pak clash is knocking on the door. There are many rivalries in cricket but this rivalry has a special place. More than a game of bat and ball, it's the clash of emotions on both sides of the border and you can feel the nervous energy in the air. Billed as the mother of all battles, expect the mercury to rise even more in the Dubai heat as the arch-rivals clash this evening. Nothing less than a humdinger can justify this epic encounter. On that note, allow us to welcome you all for the coverage. Stay tuned for more updates...
Topics mentioned in this article