Story Progress
Back to home
India vs Namibia Live Score Ball by Ball, ICC T20 World Cup 2021 Live Cricket Score Of Today's Match on NDTV Sports
Live Updates of Today Match between India vs Namibia from Dubai International Cricket Stadium, Dubai. Check commentary and full scoreboard of the match.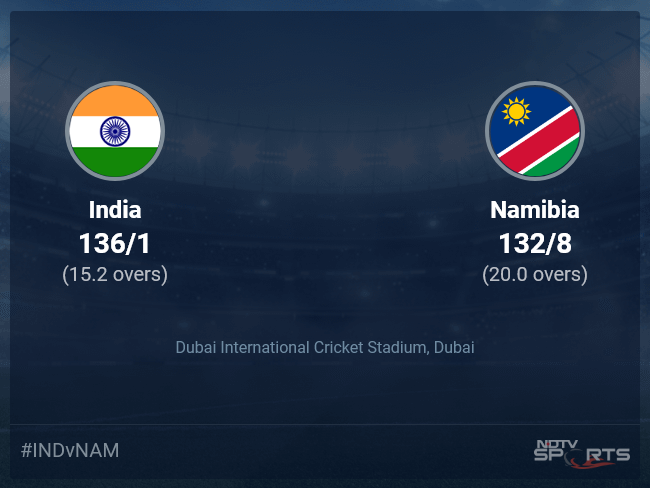 NAM vs IND Latest Score
Follow the ICC T20 World Cup 2021 live cricket score on Sports.NDTV.com. After 15.2 overs, India, chasing a target of 133, are 136/1. Get live score, ball by ball commentary and much more. Keep track of ICC T20 World Cup 2021 today match between India and Namibia. Everything related to India and Namibia match will be available on Sports.NDTV.com. Stay updated with India vs Namibia live score. Do check for India vs Namibia scorecard. You can get scorecard updates, match related facts. Get quick live updates with ads, Sports.NDTV.com, which is the perfect destination for live cricket score.
Right then, that is all we have from this match. It's the end of the Super 12 stage of the tournament which means it's time now for the semifinals. It will be England taking on New Zealand in the first semifinal on 10th of November in Abu Dhabi. That match will start at 6 pm local time (2 pm GMT). As you all know the build-up begins a little early. Do join us for the game. Till then, take care and goodbye!
Virat Kohli, the skipper of India, says that he is relieved first of all. Says that it was an honor to captain this squad. Adds that they have performed really well and enjoyed playing with each other. Mentions that positives were the way they played the last three games and were not brave enough in the first two games. He thanks the staff to keep this group together, it was more like an extended family for the whole group. Adds that even without being the captain he will give his 120% in the field. Adds that Yadav didn't get much game time so as a young player it was an idea to push him forward and let him go back home with a good memory.
Gerhard Erasmus, the Namibian skipper, is in for a chat. On being asked about the campaign, he says, they haven't quite been able to sulk in what has been happening around them. They will go home and realise that they played at the biggest stage of all and it will only help the game grow back home. Adds, the team will take this experience in all and will look forward to grow on it. On being asked being qualified for the next T20 World Cup, he says, it has been a great journey and will hope some youngsters pick up the game after seeing what their home side has achieved.
Ravindra Jadeja wins the Man of the Match award for his exceptional spell with the ball. He says that as a bowler as the ball was dry. Says that sometimes it was turning. Adds that Ashwin has been brilliant with the ball. Mentions that Kohli has been wonderful with his captaincy, with his aggression and also the coaching staff. They have done a tremendous job and hopes in the future whoever comes in will continue with the same passion.
Stay tuned for the presentation.
Namibia ended on the losing side yet again but they will not feel like losers at all. For a team who has been absent from the biggest stage for almost two decades, Namibia put in a lot of heart and made it a tournament to remember for themselves and their fans. They got into the Super 12s and even ended up winning a match in this stage of the tournament. Today, they were outclassed in all aspects, first by the Indian bowlers and then by the opening pair of Sharma and Rahul. Jan Frylinck did vary his pace and ended up getting a wicket but the rest of the bowling was taken to the cleaners. They will look to build on this performance and make sure they qualify for future events like the T20 World Cup.
'All's well that ends well.' This phrase is somewhat apt for Virat Kohli, the coach Ravi Shastri and this Indian team. It was Virat Kohli's final match as T20I captain and was his 50th time captaining the national side in a T20I match. The spin-twins, Ashwin and Jadeja set the tone of the match nicely. Rohit Sharma did ride his luck early on in the innings but played some delightful shots in his quickfire knock of 56 runs from just 37 deliveries. Rahul played second fiddle but whenever he got a chance, played some exquisite shots himself and ended up bringing up his half-century as well. In the end, Rahul and Suryakumar Yadav saw the team through with plenty of time to spare, a truly commanding performance.
A commanding victory for India and Virat Kohli's men end his reign on a high and finish 3rd in their group. Two teams, with different reasons to smile tonight, as Namibia also end off a memorable campaign, albeit with a loss. They did not win today but getting to roll with the big boys sure is a big thing for them.
15.2 overs (4 Runs) FOUR! KL Rahul finishes things off in style. On a length, around off. Rahul stays inside the crease and punches it past mid off to bag a boundary. INDIA WIN THE GAME BY 9 WICKETS.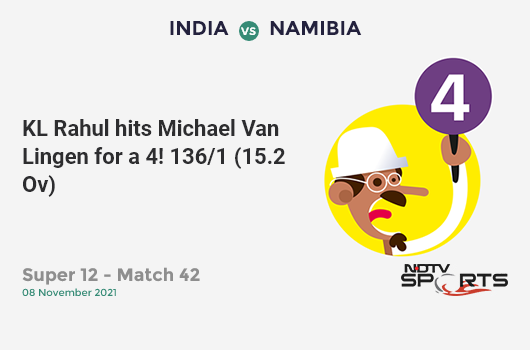 15.1 overs (1 Run) LEG BYE! A length ball, on the pads. Yadav misses his flick. The ball goes towards short fine leg off the pads. They collect a leg bye. Scores level now.
Match Reports
Topics mentioned in this article