Story Progress
Back to home
Australia vs Sri Lanka: ICC T20 World Cup 2021 Live Cricket Score, Live Score Of Today's Match on NDTV Sports
Live Updates of Today Match between Australia vs Sri Lanka from Dubai International Cricket Stadium, Dubai. Check commentary and full scoreboard of the match.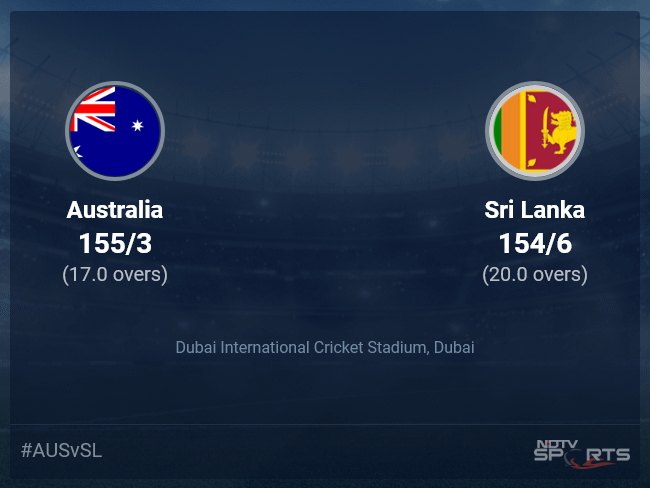 AUS vs SL Latest Score
A dedicated team of experts bring you live score, live cricket score, live match update on Sports.NDTV.com. After 17.0 overs, Australia, chasing a target of 155, are 155/3. The live updates of Australia vs Sri Lanka scorecard is also available. It is the perfect platform to follow your favourite teams in ICC T20 World Cup 2021. Keep a track on your favourite batsmen and bowlers through ICC T20 World Cup 2021 today match, ball by ball commentary, Australia vs Sri Lanka, Australia vs Sri Lanka live score, Australia vs Sri Lanka scorecard. Follow the excitement of the ICC T20 World Cup 2021 on Sports.NDTV.com as you can follow live match updates and live cricket score through our platform.
So, that is it from this game! Australia now have two in two whereas Sri Lanka, lose their first game in the World Cup. Two games coming your way on Friday. It is Bangladesh taking on West Indies first and then Pakistan locking horns with Afghanistan. The action begins at 1400 local (1000 GMT).
Aaron Finch, the skipper of Australia, says that it was a good performance but Zampa and Starc did well earlier to track them back. Says that the wicket was good and they needed to be calm and stick to the plans. Adds that Sri Lanka can take the game away from you but they did well today. Tells that Warner played well today and Zampa made his impact. Tells they are looking forward to the England game.
Dasun Shanaka, the skipper of Sri Lanka, says that the wicket was too good and they did get off to a great start but failed to capitalize on it. Adds that the batter who is set needs to continue on till the 15th-16th over and it is a concern for them. Tells that David Warner and Aaron Finch are good batters and they were not able to contain them. Says that they will try to rectify the same in the next game.
Adam Zampa is the Player of the Match. He says that Sri Lanka got off to a flier but they came back well. Adds that the wicket was a bit slow but the dew helped them in the second innings. Tells that he loves bowling against Sri Lanka as they are good against spin. Says that he likes to play at the back end as well. Credits David Warner by saying that he played really well as he was under pressure.
... Time for the Presentation ...
Earlier in the day, after electing to bowl, the Aussie bowlers took a pounding at the start but then were excellent during the middle overs and death. What seemed like 170 at one moment ended at 154 which was chased easily in the end by the Aussies.
Sri Lanka were quite poor with the ball! They were either very full or too short. Also, the introduction of Hasaranga, who was easily the pick, was quite late. They could have got him when the bowlers were taking a beating. However, the Lankans were actually 20 runs short of what they needed to be competitive.
Quite an easy win for the Aussies and they make it two in a row. Also, that ends the winning streak of Lanka in this World Cup. We did feel the Lankans got to a fighting score but their bowlers showed no fight. Finch and Warner really took the attack to them and in no time added 70 before Finch fell. Maxwell did not last for long but Warner and Smith with another good stand took the Aussies to the brink of victory. Warner was the mainstay. Once he fell though, Stoinis and Smith made quick work of the runs which remained.
16.6 overs (4 Runs) FOUR! Marcus Stoinis hits the winning runs. A full ball, on off. Stoinis cracks it through covers for a boundary. AUSTRALIA WIN BY 7 WICKETS.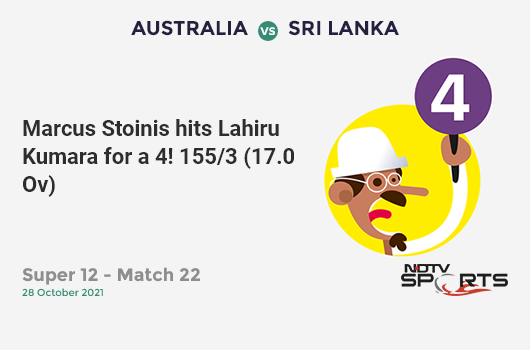 16.5 overs (1 Run) Very full and outside off. Smith punches it to sweeper cover for a single. 4 needed now.
16.4 overs (1 Run) A length ball, on middle, drilled down to long on for a single.
16.3 overs (6 Runs) SIX! What a shot from Stoinis! Pure power! A full ball, angling on middle. Marcus Stoinis stays back and thumps it over long on for a biggie.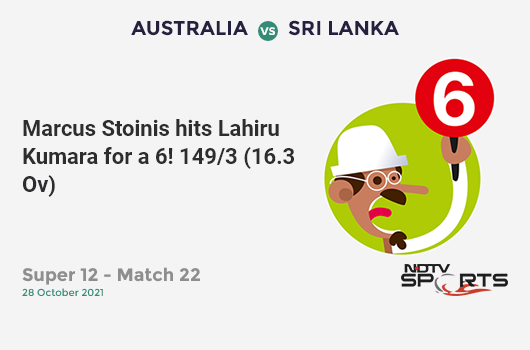 16.2 overs (0 Run) A length ball, on off. Stoinis hits it to cover.
16.1 overs (3 Runs) Three taken! A full ball, outside off. Smith drives it through covers and well away from the running fielder. Picks up three runs now.
Lahiru Kumara (2-0-33-0) comes back to bowl.
15.6 overs (1 Run) Around off. Smith dabs it to short third man for a quick single. A direct hit at the keeper's end but Stoinis was well in.15 needed in 24 balls.
15.5 overs (2 Runs) Wonderful timing from Smith! A full ball, outside off. Smith drives it through covers for two runs. The sweeper cover runs across and cuts it off.
15.5 overs (1 Run) WIDE! too many extras from Sri Lanka today! A short ball, on middle, hits the deck hard. Steven Smith leaves it alone.
15.4 overs (1 Run) On middle, worked to covers for a single.
15.3 overs (4 Runs) FOUR! Nicely played! A length ball, outside off, was another slower ball. Stoinis waits and slaps it through covers for a boundary.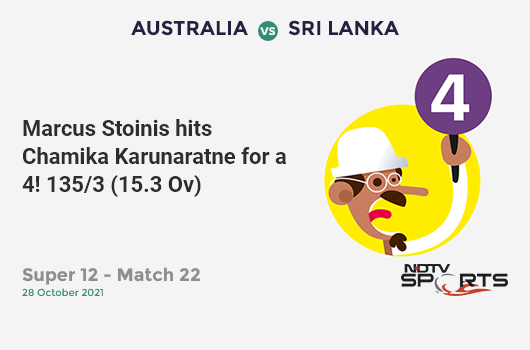 15.2 overs (0 Run) A slower length ball, on off. Blocked out.
15.1 overs (1 Run) Full ball, on the pads, flicked to deep square leg for a single.
Match Reports
Topics mentioned in this article