Story Progress
Back to home
Afghanistan vs Scotland Live Score Ball by Ball, ICC T20 World Cup 2021 Live Cricket Score Of Today's Match on NDTV Sports
Live Updates of Today Match between Afghanistan vs Scotland from Sharjah Cricket Stadium, Sharjah. Check commentary and full scoreboard of the match.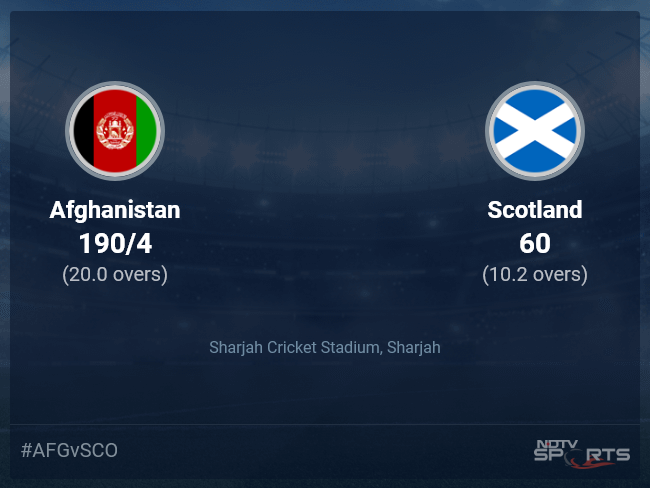 SCO vs AFG Latest Score
Follow the ICC T20 World Cup 2021 live cricket score on Sports.NDTV.com. After 10.2 overs, Scotland, chasing a target of 191, are 60. Get live score, ball by ball commentary and much more. Keep track of ICC T20 World Cup 2021 today match between Afghanistan and Scotland. Everything related to Afghanistan and Scotland match will be available on Sports.NDTV.com. Stay updated with Afghanistan vs Scotland live score. Do check for Afghanistan vs Scotland scorecard. You can get scorecard updates, match related facts. Get quick live updates with ads, Sports.NDTV.com, which is the perfect destination for live cricket score.
Right then, that is all we have from this game. The action in the T20 World Cup continues tomorrow as we have another double-header for you. West Indies will take on South Africa in the first match, followed by a spicy clash between Pakistan and New Zealand. The first match will start at 2 pm local time (10 am GMT). Do join us tomorrow for all the action. Till then, cheers!
The victorious skipper, Mohammad Nabi, of Afghanistan, is up for a chat. He says, this was their plan, to opt to bat and put on a big score. Praises the openers to get going off to a flyer. Adds, Mujeeb and Rashid Khan did what they do best, says it was a treat to watch. Mentions, in the nets there is no respect as the batters pick the bowlers all across the ball. On being asked about Mujeeb's performance, he says, it was his first World Cup game and ended up being the Man of the Match what better could he have asked for.
Kyle Coetzer, the skipper of Scotland, says that it was clearly a bad day. Says they have played good cricket before but credit to Afghanistan on how they played. Says Mark Watt played really well for them. Feels that they fought hard but it was a level-check for them and they will hope to get better in the next game. Adds that they have belief among the players and as a group, they will keep moving forward as there is no time to sit back.
Mujeeb Ur Rahman is the PLAYER OF THE MATCH for his incredible spell of 4-0-20-5. He says this win is for the whole nation. Goes on to say, the people keep the side motivated. He is also glad to perform in his very first World Cup game. Adds that the supporters give positive energy and that gives the side the extra push.
Earlier in the day, Mohammad Nabi won the toss and decided to bat first, with which his counterpart, Kyle Coetzer was pretty happy as well. Coetzer though would not have been happy at half-time as Afghanistan put on a staggering total of 190 runs on board. It was really the second half which was even more disappointing for Scotland as they got bundled out for 60 runs and went on to lose the match by 130 runs. A complete performance from Afghanistan with both the bat and ball and they will be very pleased with it. It's time now for the presentation ceremony...
When it rains, it pours. Well, it rained sixes early on for Afghanistan and then in the second innings wickets poured as well, that too at a rate of knots. The skipper, Mohammad Nabi didn't start off well with the ball but then Mujeeb Ur Rahman came back for his second over and picked up three wickets in that one. This over from Mujeeb Ur Rahman set the tone for things to come as Afghanistan piled on more misery on the Scottish batters. Naveen-ul-Haq picked up a wicket and then it was Rashid Khan who cleaned up the tail with a four-fer. Mujeeb Ur Rahman ended with 5/20, which is also the fifth-best bowling figure in T20 World Cup history. Afghanistan have put on a dominating show in their first match and if this is a sign of things to come, this 'so-called' weaker group will get very interesting.
Scotland started off on a high as George Munsey reversed everything to the boundary. The skipper, Kyle Coetzer was also positive but it just lasted for three overs. In the fourth over, the skipper fell victim to Mujeeb Ur Rahman and then the next two batters, Calum MacLeod and Richie Berrington followed suit in the same over. Matthew Cross fell in the next over for a duck as well and then, the only batter holding fort, Munsey was knocked over by Mujeeb Ur Rahman. This was the final nail in the coffin as Rashid Khan came in and sent the lower order packing. After a terrific performance in the previous stage of the tournament, Scotland have put on a seriously disappointing performance in their first Super 12 match.
The Scottish flame didn't burn too long as it was blown out early by Afghanistan and one person in particular, Mujeeb Ur Rahman. This is a thumping victory for Afghanistan and the scenes from the ground show how much this means to them. Scotland have been completely outplayed and outclassed today.
10.2 overs (0 Run) OUT! TIMBER! Rashid Khan gets rid of Brad Wheal on a golden duck. Afghanistan have won the game by a huge margin. Floated, full and on off. Wheal looks to defend it out but misses. The ball goes through the gap between the bat and the pad. The ball shatters the stumps behind and it is lights out for Scotland. AFGHANISTAN WIN THE GAME BY 130 RUNS.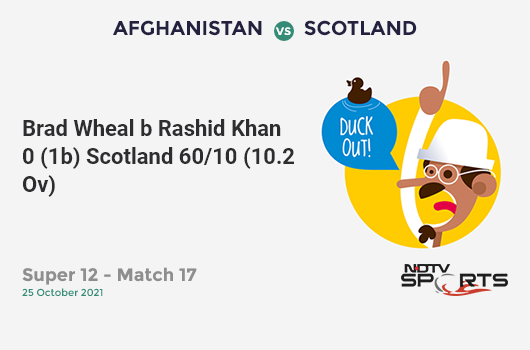 Brad Wheal is the last man in for Scotland.
Scotland have taken the review for an LBW decision. UltraEdge shows that there is no bat involved and Ball Tracker confirms that the ball is going onto hit the leg stump. Chris Greaves has to depart and Scotland lose the review.
10.1 overs (0 Run) OUT! LBW! Rashid Khan picks up his third wicket. Scotland are nine down now. This has been a brutal performance by the Afghan spinners. They did not let the batters breathe here. Loopy ball, around leg. Davey looks to play the reverse sweep but misses. He gets rapped on his pads. Khan appeals and the umpire raises his finger in a flash. Davey decides to use the review. The UltraEdge shows no bat is involved. The Ball Tracker shows three reds and Davey has to walk back to the dressing room.
Match Reports
Topics mentioned in this article