Story Progress
Back to home
Afghanistan vs Scotland: ICC T20 World Cup 2021 Live Cricket Score, Live Score Of Today's Match on NDTV Sports
Live Updates of Today Match between Afghanistan vs Scotland from Sharjah Cricket Stadium, Sharjah. Check commentary and full scoreboard of the match.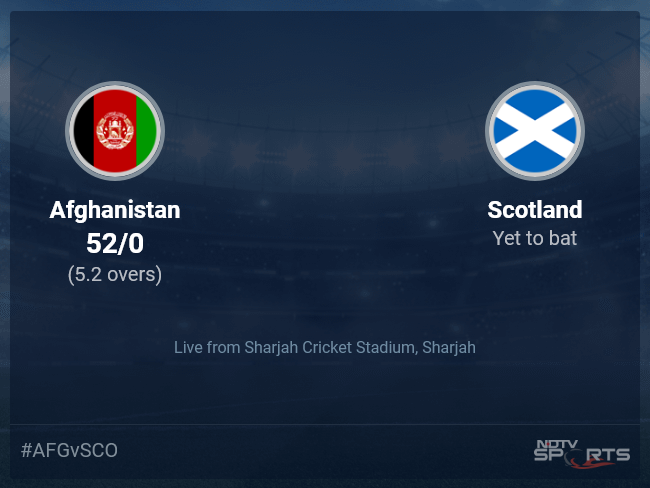 AFG vs SCO Latest Score
A dedicated team of experts bring you live score, live cricket score, live match update on Sports.NDTV.com. After 5.2 overs, Afghanistan are 52/0. The live updates of Afghanistan vs Scotland scorecard is also available. It is the perfect platform to follow your favourite teams in ICC T20 World Cup 2021. Keep a track on your favourite batsmen and bowlers through ICC T20 World Cup 2021 today match, ball by ball commentary, Afghanistan vs Scotland, Afghanistan vs Scotland live score, Afghanistan vs Scotland scorecard. Follow the excitement of the ICC T20 World Cup 2021 on Sports.NDTV.com as you can follow live match updates and live cricket score through our platform.
4.6 overs (1 Run) Back of a length, on off. Shahzad stays back and pulls it off the top end of the blade towards mid-wicket. The batters take a single. 16 runs coming of this over. Afghanistan have the upper hand now.
4.5 overs (4 Runs) FOUR! Nicely played. A full-length ball, on off. Shahzad comes across and heaves it across the line. The ball goes through mid-wicket and into the boundary. Both the openers are on the attack now.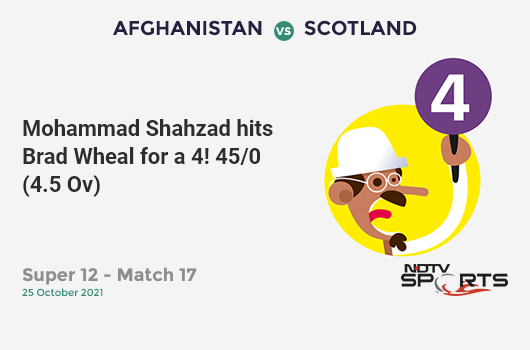 4.4 overs (1 Run) Shortish, around off. Zazai pulls it to deep mid-wicket and rotates the strike.
4.3 overs (0 Run) A length ball, around middle and leg. Zazai defends it back to the bowler.
4.2 overs (4 Runs) FOUR! CRACKED! On a length, outside off. Zazai hangs back and punches it through the gap between point and cover. The fielder gives it a chase but is despair. Boundary.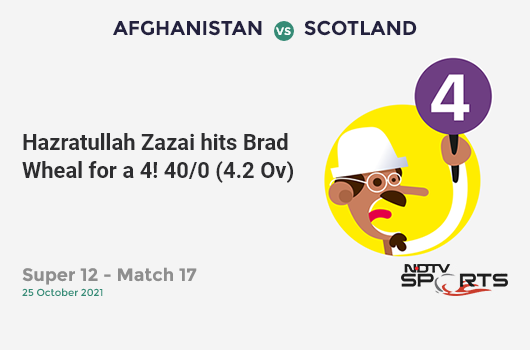 4.1 overs (6 Runs) SIX! All the way! Zazai is on a roll. Fuller and around off. Zazai stays inside the crease and smokes it over the mid-wicket fence for a biggie. This is also the longest boundary. He made that look so easy.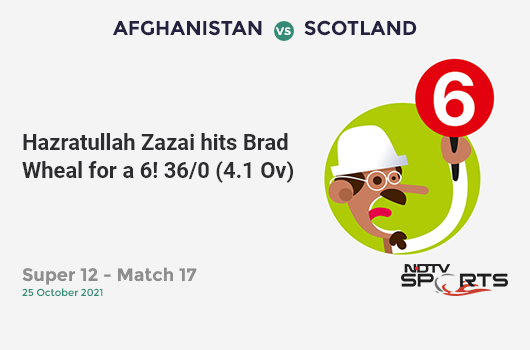 Change. Brad Wheal is back on.
3.6 overs (1 Run) On middle and this is heaved towards deep mid-wicket for one.
3.5 overs (4 Runs) FOUR! This time Davey goes full and wide, allowing Hazratullah Zazai to free his arms a bit. Zazai slices this one over backward point and the ball trickles into the vacant third man fence.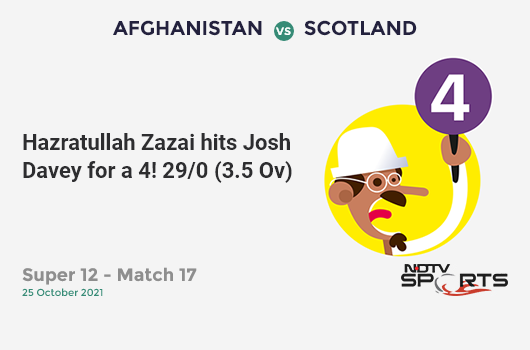 3.4 overs (1 Run) Slower one this time, on off stump. Mohammad Shahzad works it through mid-wicket and gets a single.
3.3 overs (1 Run) Length again, on off and angled in from around the stumps. Zazai is cramped for room again but manages to dab it down towards mid on for a quick single.
3.2 overs (0 Run) Davey hurls across a length ball from wide off the crease and bowls it outside off. Zazai looks to cut but is unable to reach it.
3.1 overs (1 Run) A length ball, on off and angled in. Shahzad whips it towards deep mid-wicket for a single.
Change. Josh Davey to bowl now.
2.6 overs (0 Run) Excellent finish to the over from Safyaan Sharif. A yorker, on off and Zazai can't get it away as he just manages to dig it out. Just 2 coming off the over.
2.6 overs (1 Run) WIDE! This one is angled down the leg side, Zazai looks to flick but misses. Wided.
2.5 overs (1 Run) Short of a length, on middle. Shahzad manages to pull it down towards deep mid-wicket and picks up a single.
2.4 overs (0 Run) Shahzad shuffles across his stumps trying to target the short leg side boundary but Sharif follows him a bit and cramps him for room. In the end Shahzad mistimes it towards short mid-wicket.
2.3 overs (0 Run) Right on the money. A length ball, on top of off and Shahzad keeps it out watchfully.
2.2 overs (0 Run) Well bowled from Sharif. Sharif bowls a slower one, slightly fuller and just outside the off stump. Mohammad Shahzad throws the kitchen sink at it but is unable to make a connection.
2.1 overs (0 Run) Good-length ball, outside off and swinging away a bit. Mohammad Shahzad tries to go a bit too hard at it but ends up mistiming it towards covers.
Safyaan Sharif is into the attack.
1.6 overs (6 Runs) SIX! That sounded so good off the bat! In the slot again and this time Hazratullah Zazai gets on one knee and slog sweeps this one way over the mid-wicket fence for a huge hit. 18 off Leask's first over and Afghanistan already in fifth gear.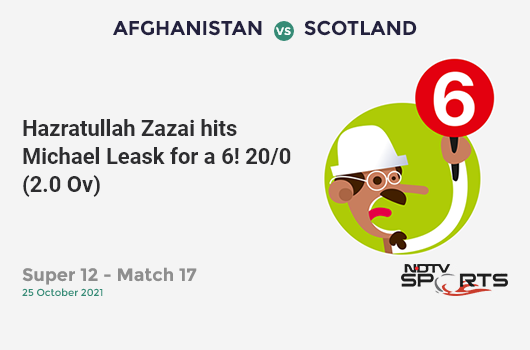 1.5 overs (1 Run) Quicker and flatter, around middle and leg. Shahzad rocks back and turns it on the leg side for a single.
1.4 overs (6 Runs) SIX! WOW! Mohammad Shahzad has been watching Zazai for the past nine deliveries and when his opportunity comes he starts off with a maximum. Full and wide, Shahzad lifts this one over the cover fence with ease.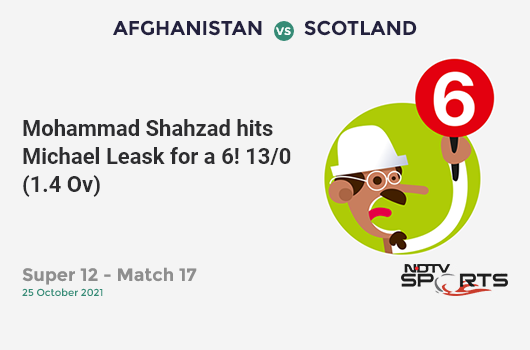 1.3 overs (1 Run) Tossed up, on middle and pushed down to long on for a run.
1.2 overs (4 Runs) FOUR! Leask tries to bowl full and straight but tosses this one up right in the slot. Hazratullah Zazai punches it straight back and finds the fence for the first boundary of the innings.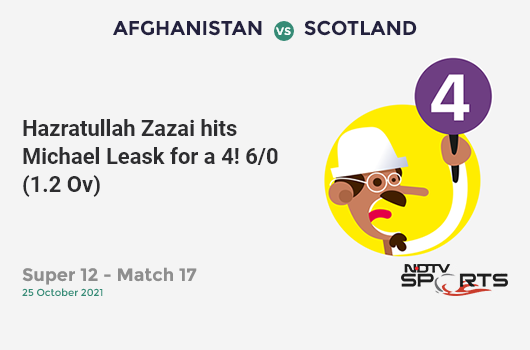 1.1 overs (0 Run) Loopy ball, around off. Zazai pushes it to mid off.
Who will bowl from the other end? It is Michael Leask.
0.6 over (1 Run) Short of a good length, around middle. Hazratullah Zazai rocks back and pulls it to deep mid-wicket and picks up a single to get off the mark. Just 2 runs off the first over.
0.5 over (0 Run) An action replay of the previous ball as Zazai is cramped for room again.
0.4 over (0 Run) No run off the bat yet. Back of a length, around middle and leg, allowing no room to Zazai to free his arms. Zazai dabs it down towards short mid on.
0.3 over (0 Run) On off again and Zazai caresses it towards point.
0.2 over (0 Run) Slightly pitched up, on middle and angling across the left-hander. Zazai stays solid in defense.
0.2 over (1 Run) WIDE! Wheal looks to swing it into the pads but drifts down the leg side. Zazai misses the flick and a wide is signalled.
0.1 over (0 Run) Wheal starts with a length ball, hurled across on off stump. Zazai watchfully keeps it out on the off side.
The players walk out on the field for their respective national anthems. It is Scotland's first followed by Afghanistan's. Done with the proceedings. It is time for the action as the openers of Afghanistan, Mohammad Shahzad and Hazratullah Zazai walk out to the middle. The players take the knee for their support to Black Lives Matter. Brad Wheal to start with the ball.
Kyle Coetzer, the skipper of Scotland, says that they were going to bowl anyway looking at how other games went. Says that the players have a chance to enjoy themselves and in their mind, they have a belief to pass the group stages. Informs that there are no changes as the team is playing brilliantly at the moment.
The Afghanistan skipper, Mohammad Nabi says that they will bat first and says that the wicket is dry and good for batting, so, will look to put on a big score. Adds that in the warm-up match against West Indies, the boys played really well and will look to continue the same. Mentions the pitches look good for batting and will look to restrict the opposition later on.
Afghanistan (Playing XI) - Hazratullah Zazai, Mohammad Shahzad (WK), Rahmanullah Gurbaz, Asghar Afghan, Mohammad Nabi (C), Najibullah Zadran, Gulbadin Naib, Karim Janat, Rashid Khan, Naveen-ul-Haq, Mujeeb Ur Rahman.
Scotland (Playing XI) - George Munsey, Kyle Coetzer (C), Matthew Cross (WK), Richie Berrington, Calum MacLeod, Michael Leask, Chris Greaves, Mark Watt, Josh Davey, Safyaan Sharif, Brad Wheal.
TOSS – Both the skippers stride out to the middle for an all-important toss. The coin goes up and lands in favour of Afghanistan. They have opted to BAT first.
PITCH REPORT - Anjum Chopra, is down near the pitch. She says, there are a few patches on the surface. Bazid Khan joins her down there. He says, the dimensions of the boundary come into the context here, as you will have to put up a plan to protect the shorter boundaries.
Afghanistan had a mixed outing in the warm-ups but they made sure to take down the defending champions, West Indies in the second warm-up game. The game set up by their openers, Hazratullah Zazai and Mohammad Shahzad, as both the batters knocked half-centuries to give their side a solid start. Their skipper, Mohammad Nabi led from the front and returned with some incredible figures of 4-2-2-3 while defending the chase of 190 runs and Afghanistan got over the line pretty comfortably. With the winning momentum on their side, Afghanistan will be hoping to put the right foot forward. Who will come out on top? We shall find out soon. Stay tuned for toss and more updates.
This campaign has been full of surprises and record-breaking events. West Indies and India lost their reign against England and Pakistan respectively. Can Scotland also turn it around in their favour? Well, the Scottish side has been on a roll, coming into the Super 12s. They ended as the table-toppers with three wins on the trot in the qualifiers. Scotland has a potential group of players, who have shown their abilities in their win against the Bangla Tigers. The players to watch out for is Josh Davey, Richie Berrington etc. They would be looking forward to extend their winning run in the campaign.
Hello and a warm welcome to all. The Super 12 fixtures of the T20 World Cup, are up in full swing, it is now time for game number 17 where Afghanistan will be locking horns against Scotland. Scotland have a lot to prove at the biggest stage of them all. Also, Afghanistan have an upper hand against Scotland, as they have beaten the side six times in the past but the last time they faced each other was 5 years ago.
Topics mentioned in this article