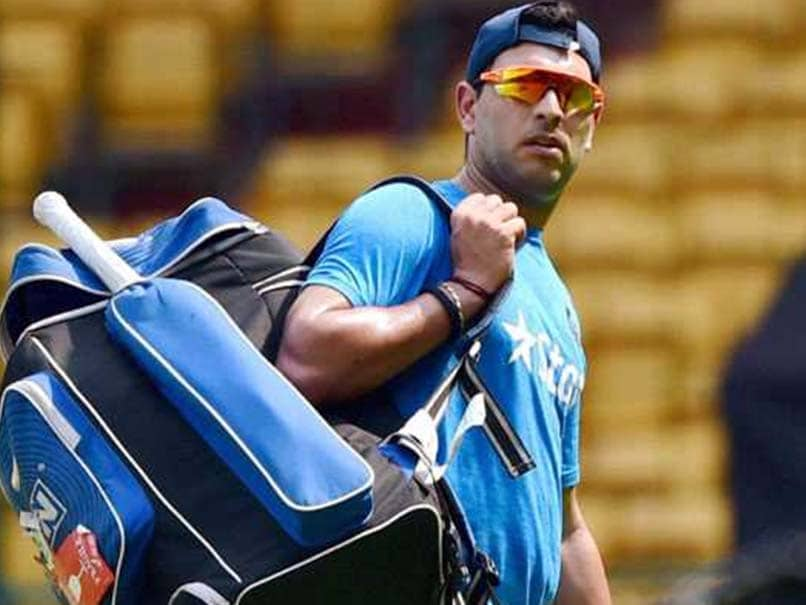 Yuvraj Singh also said his career decisions will be solely decided by him.
© PTI
Out of favour Yuvraj Singh's decision to do fitness training at the National Cricket Academy (NCA) at the expense of Ranji Trophy matches went in his favour as the India all-rounder managed to clear the Yo-Yo fitness test. Just after clearing the test, which was set by the team management for athletes to be eligible for selection are non-negotiable, Yuvraj said he won't give up on his career at least till 2019.
"I am still playing. I don't know what format I am going to play. But I am pushing everyday as hard as I used to, may be harder than before because I am getting older. And I see myself playing cricket till 2019 and obviously take a call after that," Yuvraj said during an interactive session organised by UNICEF.
Yuvraj had reportedly failed the Yo-Yo test in October and then decided to skip four of Punjab's five Ranji Trophy matches to regain his fitness.
In the test, two sets of cones are placed 20m apart, creating two lines. The players have to run between the lines as the beep starts and turn once the beep becomes silent.
The pace of the beep increases after every minute, so does the speed of the cricketers; those who do not make the line on time, will have to contend with more beeps.
The BCCI is said to have set 16.1 as the benchmark score to clear the test.
"So I still believe in myself. As I said I don't know how many people believe in me but I do believe in myself," Yuvraj added.
Yuvraj, who played a pivotal role in India's 2011 World Cup triumph, has been struggling to keep a place in the side for some time now.
"I would like to tell that I am failing. I still fail. I failed the last three fitness tests but yesterday I passed my fitness test. After 17 years I am still failing," Yuvraj, who last played in India colours in June earlier this year, said.
The veteran also said his career decisions will be solely decided by him.
"I am not afraid of failure. I have gone through ups and downs. I have seen defeat and that's what's the pillar of success.
"To be a successful man, to be a successful person in your life, you need failure and you've got to be defeated. That will make you a stronger person and it will take you to the next level," he explained.
The left-hander has played 40 Tests, 304 ODIs and 58 T20 Internationals in his 17-year-career scoring 1900, 8701 and 1177 runs across the respective formats.
(With PTI inputs)