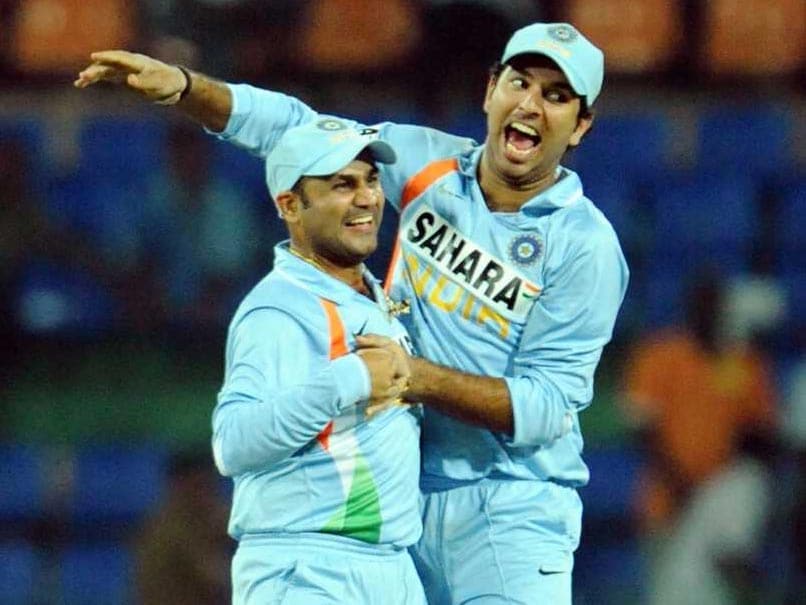 Yuvraj wrote one of the golden chapters of Indian cricket with an innings of a lifetime.
© AFP
September 19, 2007, the date will always remain etched in every cricket fan's heart. India's talismanic batsman Yuvraj Singh wrote one of the golden chapters of Indian cricket with an innings of a lifetime. The Punjab cricketer tore apart England pacer Stuart Broad and clobbered him for six sixes in an over. On the 10th anniversary of the historic feat, former India cricketer Virender Sehwag, who opened India innings against England in that match, revisited Yuvraj's memorable knock. Sehwag posted a video on his Twitter and captioned it: "Congratulations @YUVSTRONG12 on giving all of us a moment to cherish forever."
Here's how Sehwag described Yuvraj's historic innings:
September 19, 2007 - How can I forget this day? India were up against England in Durban. That was a very important match for us. I and Gautam Gambhir opened the innings for India and stitched 100-run plus partnership. The partnership was not that impressive as Yuvraj Singh's innings.
When Yuvi came to bat, he tired apart England bowing attack and sent on a leather hunt.
He scored 14 runs off the first six balls.
The moment Andrew Flintoff thought India have less score on the board, England started to sledge our tiger Yuvi. They started exchanging words with Yuvraj. But, it was Stuart Broad who paid the price at the end. Broad was hammered for six sixes by Yuvraj at every part of the Kingsmead ground.
With this, Yuvraj became the King of the Kingsmead. This was an unforgettable innings from Yuvi. I can't forget his knock and it will remain etch in my heart forever. Playing a historic knock, he notched up his half-century off just 12 balls. Thank you so much, Yuvraj for the memories. All the very best.
The onslaught left England a target of 219 to chase in 20 overs.
India went on to win the match by 18 runs as England managed to score 200 for 6.
The West Indies legend Gary Sobers was the first man to achieve the feat on August 31, 1968, in a match between Nottinghamshire and Glamorgan. The former India all-rounder Ravi Shastri and now the coach of the Indian cricket team was the second man to hit six sixes in an over on 10th January 1985 playing against Baroda.
Former South African opener Herschelle Gibbs became the first player to hit six sixes in an ODI against Netherlands in the 2007 World Cup.