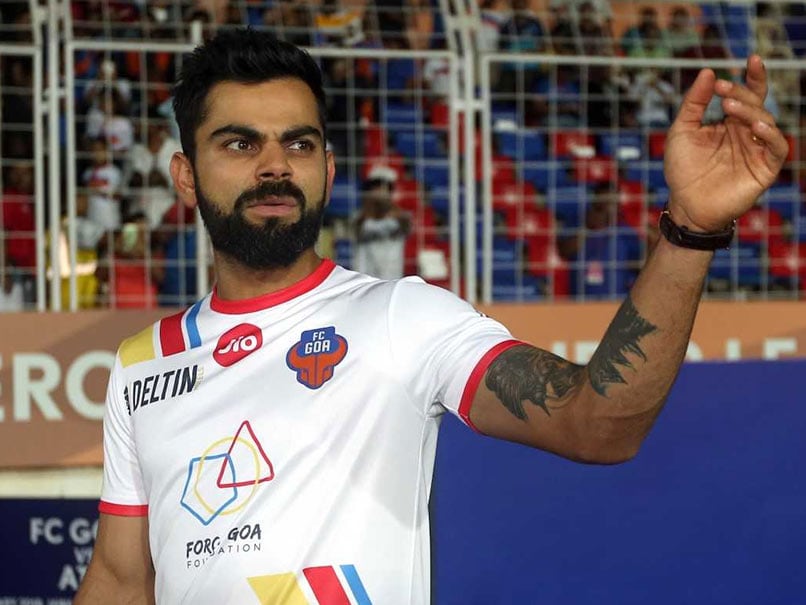 India skipper Virat Kohli revealed that he wants to see a sporting culture in India.
© ISL
India captain Virat Kohli is a go-getter on the cricketing field as he strives for excellence whenever he steps out to play. His records justify his zeal and enthusiasm to eke out victories for Team India. His recent overseas success in the shorter format of the game drew plaudits from all quarters. Kohli's passion isn't only limited to cricket. He wants the country to excel in other sports as well. 
Speaking to the Times of India, Kohli expressed his desire to develop a sporting culture in India. He also revealed that his ambition in life is to realise this dream. 
"My ultimate aim in life, in general, is to have a sporting culture in India where people know each and every sport inside out; to be able to follow all sports equally. I am certainly excited about the fact that we are at a juncture where we have a chance to create that in the next 10-15 years and we foresee Goa as the hub where footballers feel, if I want to become a high-class footballer in India, I need to go there and train", Kohli said.
The India skipper went on to say that cricket garnered more success in India in comparison to football due to the lack of top-level leagues for the latter sport.
"It's lack of leagues like this at a major level. There is nothing like globalising the sport. With the kind of visibility on television and the kind of access that people have, it's creating awareness. People know Indian players. People even watched all those who played at the Under-17 World Cup. It's all about visibility. Unless you get to show your talent, on television screens, it's very difficult for people to start liking something", he said.
"It happened with me as well. If our Under-19 World Cup wasn't televised, maybe I wouldn't have been sitting here. Our matches were televised and we got our chance to portray our talent. Then people started talking about us. The kind of visibility that the league has will play a major role", he added.
Kohli and MS Dhoni have been rested for the upcoming tri-series in Sri Lanka beginning March 6. Rohit Sharma will lead India's new-look 15-member team that will be minus quite a few regular starters. Shikhar Dhawan has been named vice-captain of the Indian side.
Bhuvneshwar Kumar and Jasprit Bumrah, wrist spinner Kuldeep Yadav and all-rounder Hardik Pandya too have been rested while Deepak Hooda and Washington Sundar earned a call-up to the Indian side. Vijay Shankar and Mohammad Siraj have also been included in the India squad while Rishabh Pant will be the second wicketkeeper in the team.