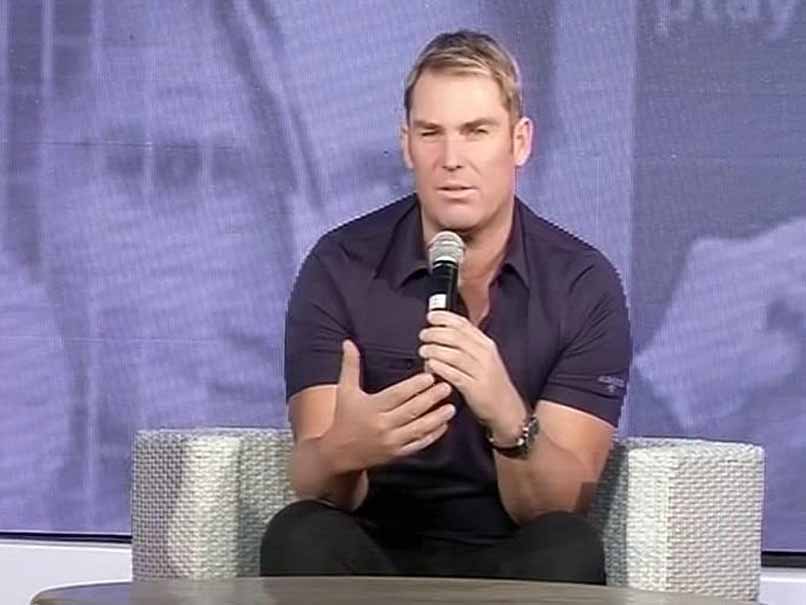 Shane Warne heaped praise on Indian Test skipper Virat Kohli on Wednesday.
© NDTV
Virat Kohli is the undoubtedly the number one batsman in the world, said Shane Warne in Pune on Wednesday. The Australian added that the India skipper is the best in the world and is better than AB de Villiers among others. The spin legend lauded Kohli, saying that he is a mix of greats like Viv Richards, Sachin Tendulkar and Brian Lara. Kohli, who is in prolific form with the bat, has led India to an unbeaten run of 19 matches in Tests, as well as six consecutive Test series wins.
"Virat Kohli is the number one batsman in the world. It is uncanny how he has scored so many international hundreds and so quickly. He has the swag of Viv Richards, he is like Tendulkar or Lara. I am a big fan of his and love watching him. He is a bit of a mongrel as a captain and aggressive too and I love that about him. He is different," Warne said during a discussion at SporTale, India's first sports-themed literary festival.
Talking about the upcoming four-match Test series between India and Australia, Warne said that the hosts are the favourites to win the series. However, the 47-year-old also said that the visitors, though are underdogs, are still quietly confident.
"India are huge favourites in the upcoming series. They have had a remarkable run and are always difficult to beat at home. We won against them in 2004 but after that we have failed to repeat the same. Australia nowadays rely on too few which is a bit of a problem. There is too much reliance on Steve Smith and David Warner and this series will be an opportunity for the others to step up," said the former leg-spinner who played 145 Test matches for Australia.
"The series is going to be very close than what people think. Australia have to go in with an attacking mindset. This will be the sort of series where you need to attack. There is a risk of being bowled and losing but the best chance is to attack."
Warne, who has 708 Test wickets to his name, said he loved watching Ravichandran Ashwin and Ravindra Jadeja bowl in tandem.
"Jadeja usually bowls into the rough which becomes hard to play and Ashwin is the best bowler in the world currently. I love watching Ashwin bowl. He has aggression and patience at the same time," said Warne, who also played in 194 One-Day Internationals (ODI).
Talking of the past, Warne added that Mark Taylor was the best captain he played under and that he would have also loved to captain Australia, which he never did.
"I would have loved to captain Australia. I was lucky to have played under couple of great captains. Allan Border was like a father figure but Mark Taylor was the best tactical captain I played under. Steve Waugh and Ricky Ponting were different," said Warne.
He concluded by saying that Sachin Tendulkar and Brian Lara were the best batsmen he bowled to.