Story Progress
Back to home
Suresh Raina, Hardik Pandya, Shikhar Dhawan Appear In The Kapil Sharma Show
The cricketers share some laughs before the serious business begins again.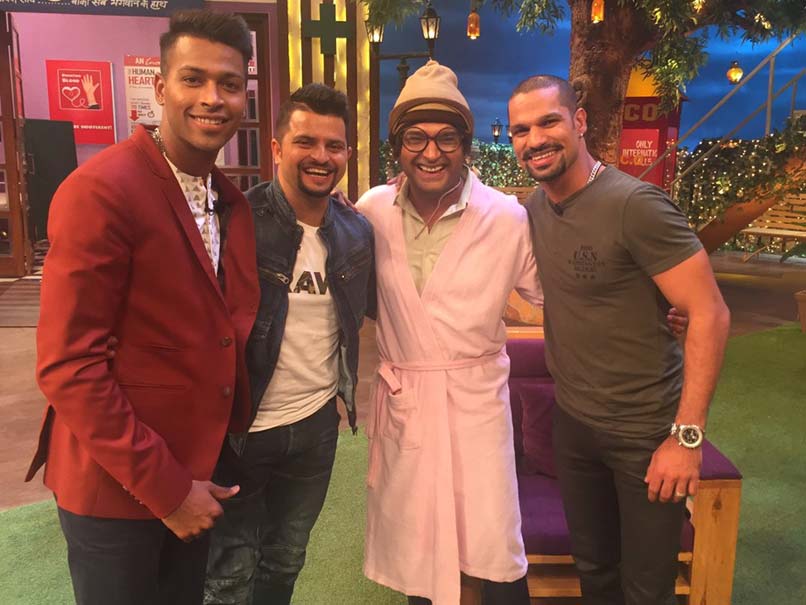 Raina, Hardik, Dhawan appeared in The Kapil Sharma Show
© Twitter
Highlights
Raina, Hardik and Raina appeared in The Kapil Sharma Show

India next play Champions Trophy in England and Wales

The tournament will start from June 1
Free time is always at a premium for cricketers, especially Indian cricketers, who are involved in some tournament or the other at any time of the year. No sooner than the Indian Premier League (IPL) ended, they were all set for the ICC Champions Trophy 2017. But whatever little time they get, the players tend to still be in the thick of things. Suresh Raina, Hardik Pandya and Shikhar Dhawan found themselves in The Kapil Sharma Show during their free time and obviously they had a blast.
"Good fun tonight with Kapil Sharma, Suresh Raina and Hardik Pandya. Full on mast," Dhawan wrote on his Instagram account.
Hardik Pandya tried his version of comedy. "Stumped, caught and bowled with laughter! ...Guys, can you guess where am I? ??Outfit by @tisastudio."
Raina too was in the thick of things. "Good fun at Kapil Sharma show#fun #laughinghard #fullmasti ...."
Seems like these shows have their own attraction, with other players too having been seen on the show.
Yuvraj Singh, with wife Hazel Keech, was seen here. On another occasion, current India captain Virat Kohli was also on the show.
Promoted
Raina led Gujarat Lions in the IPL, while Pandya was a key member of the champion Mumbai Indians side. Dhawan was one of the key batsmen for Sunrisers Hyderabad.
Pandya and Dhawan are also part of the Indian squad for the Champions Trophy, beginning in the England and Wales from June 1. The Indian cricket team will start their campaign against Pakistan on June 4.
Topics mentioned in this article