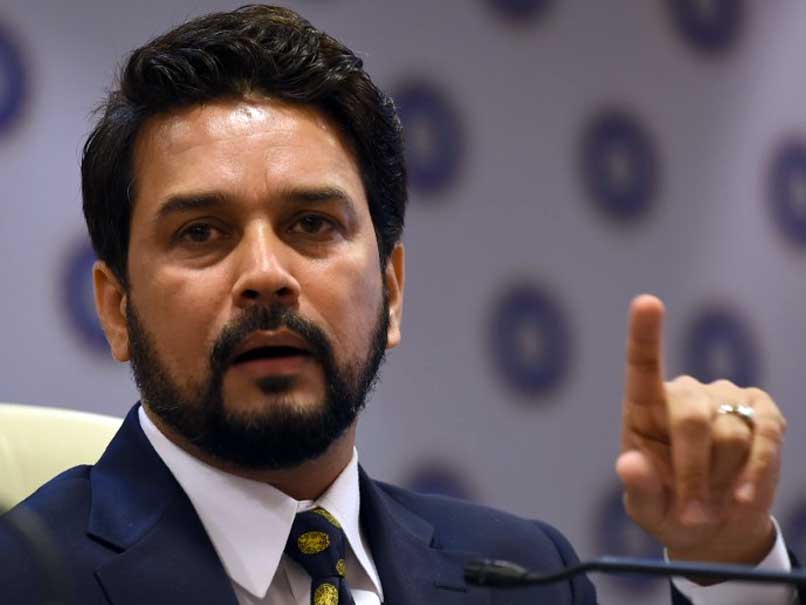 Anurag Thakur is the former President of BCCI
© AFP
The Supreme Court on Friday agreed to drop contempt charges against former Indian cricket board president Anurag Thakur if he appears before the court in person and tender an unconditional and categorical apology. Thakur should appear and seek apology, the court ruled, asking the former Board of Control for Cricket in India (BCCI) president to appear before it on July 14. A bench comprising Justices Dipak Misra, A M Khanwilkar and D Y Chandrachud said it was not going to consider the earlier affidavit of apology filed by Thakur and asked him to file a "one-page short affidavit" tendering unconditional apology.
The bench indicated that it was willing to accept the apology and close the contempt proceedings against Thakur, a BJP MP from Hamirpur in Himachal Pradesh.
Senior advocate P S Patwalia, appearing for Thakur, said though his client was willing to tender an unconditional apology, he has got a very good case on merit through which it can be proved that he did no wrong.
The apex court has fixed the matter for July 14 and asked Thakur to remain present before it on that day.
The court had initiated contempt proceedings against Thakur on January 2 this year for filing a false affidavit over writing to the ICC on the issue of autonomy.
"The conduct of the President of BCCI in seeking a letter from the President of ICC in August 2016, after the final judgement and Order of this Court, is nothing but an attempt on the part of the head of BCCI to evade complying, with the Order of this Court," the apex court had said while issuing the show cause notice to Thakur.
Thakur, who had battled long and hard against the restrictions recommended and ultimately imposed on the BCCI, had initially tendered an unconditional apology to the Supreme Court on March 6 on the perjury charges slapped on him by the former Chief Justice TS Thakur last year.
On January 2 of this year, the Supreme Court had stripped one of the most powerful men in world cricket of all his powers.
Thakur, like former BCCI supremo N Srinivasan, had tried to fiercely protect his flock. He gave them voice and pursued their case in the Supreme Court till Justice Thakur knocked him out for "obstructionist attitude" earlier this year.
(With inputs from Rica Roy and PTI)