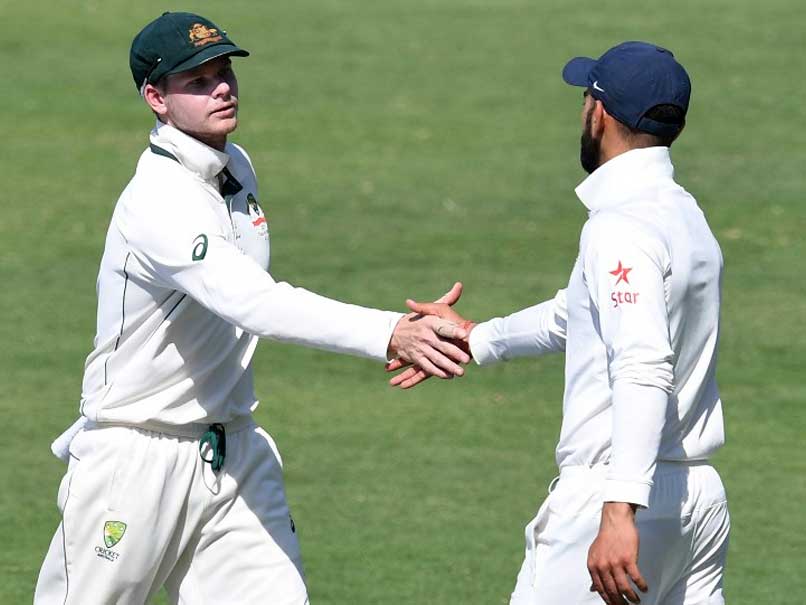 Steve Smith and Virat Kohli were in constant battle during the recent India vs Austraia series.
© AFP
The rivalry between Steve Smith and Virat Kohli had sometimes threatened to boil over during the recent India vs Australia series, especially after the 'brain fade' controversy. However, the mutual respect the two captains share is quite obvious. Australia have always played their brand of cricket -- aggresively and with positive mindset and Smith acknowledged that India had adopted a similar approach under the captaincy of Kohli. The Australian skipper admitted that India's style of playing cricket changed a bit from the time of Sourav Ganguly and MS Dhoni leading the team.
"Australian cricket hasn't changed a great deal. We have always tried to play an up-tempo and positive brand of cricket. We were always trying to take the game on and be sort of entertainers and try and be as positive as possible," Smith told NDTV.
"India, I think, have adopted a similar mindset, they try to be very aggresive in how they go about things and that certainly seems to be Virat's approach. I think it's a great way to play cricket," he added.
"There has been a little bit of a shift in India's approach. There is a lot more aggressiveness on the field and a bit of banter here and there, which is always fun."
Refusing to get into the nitty gritties of the 'brain fade' controversy, Smith said that the DRS scandal that took place during the Bengaluru Test was now in the past and he had moved on from it.
He said that he had learnt from his mistakes but sometimes in cricket the emotions could get the better of an individual.
"I don't want to really cover that issue, it is all in the past. Sometimes your emotions can get the better of you and that's just the way international sport goes. People learn from their mistakes, continue to improve and get better," said the 27-year-old.
Asked if he had any advice to give to his Indian counterpart Kohli, Smith said he had none for the Indian skipper except "keep playing cricket and enjoying it".
"Quality player, I'm sure he is going to be India's leader for a very long time. But no advice just keep playing cricket and enjoying it," he added.
The Rising Pune Supergiant skipper admitted that the Ashes (series against England) remains the 'be-all and end-all' for Australian Test cricketers but the rivalry against India is also one thing the Australians look forward to.