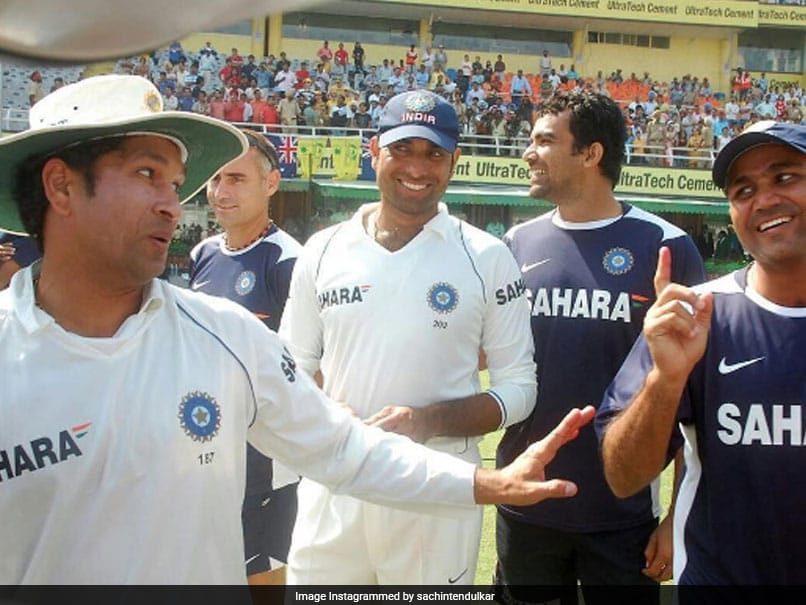 Sachin Tendulkar posted a photo on social media with Virender Sehwag
© Sachin Tendulkar/Instagram
Everyone is scared of Virender Sehwag. Many bowlers have had sleepless nights when he was playing and several batsmen too fell prey to his innocuous off-spin. But even after he retired, Viru has been quite a scary proposition for a lot of people with his new weapon. His wit is his new bat and the Twitter handle his new pitch. It has made him so famous (or notorious?) that even the megastars of cricket, like Sachin Tendulkar, are a little wary of what Viru will end up saying. After all, he has trolled practically everyone, including Mahendra Singh Dhoni.
It seems from a picture posted on Instagram by Tendulkar that Viru was equally deadly even in his playing days. Tendulkar looks almost a little apprehensive as Viru comes up with one of his jewels during what looks like a post-match presentation, with VVS Laxman and Zaheer Khan obviously enjoying the exchange.
"What do you think we were saying," Tendulkar asks his fans in the picture caption.
Evidently it was something to keep them all tickled. Tendulkar, though amused, seems keen that Viru puts a lid on it, while the latter seems to be in no mood to stop.