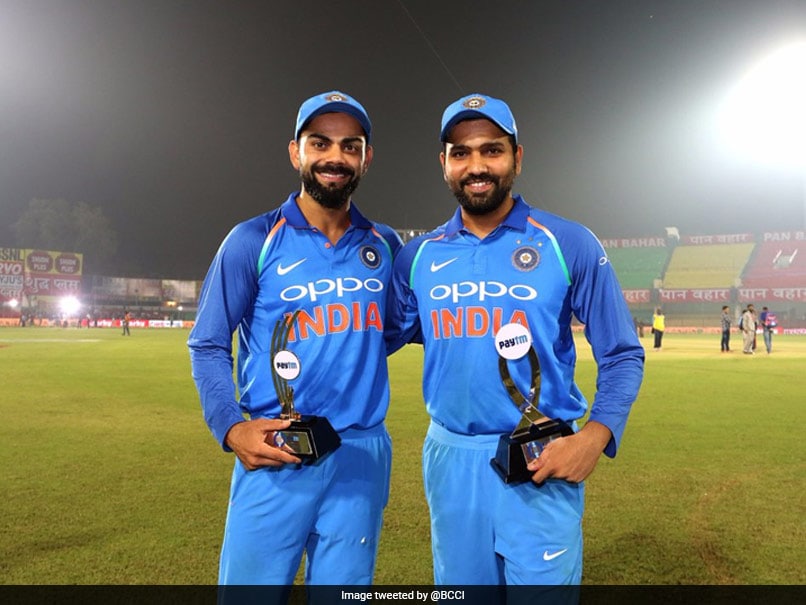 Rohit Sharma is leading the Indian side in Virat Kohli's absence in the ODI series vs Lanka.
© BCCI
Stand-in India captain Rohit Sharma's congratulatory message for newlyweds Virat Kohli and Anushka Sharma carried with it an offer of help and a piece of advice. To Virat, Rohit offered the hushand's handbook, while he advised Anushka to retain her surname. "Congratulations you two! @imVkohli , I'll share the husband handbook with you. @AnushkaSharma , keep the surname," he tweeted on Tuesday. Virat and Anushka, both 29, married according to Hindu rites at a countryside resort in Tuscany on Monday. According to a statement released on behalf of the couple, the wedding was attended by close family and a few friends as "they wished their wedding to be a very private affair".
India collapsed to 112 all out and Sri Lanka completed the chase in just 20.4 overs in the 1st ODI at Dharamsala to hand India a shock defeat. Rohit, who is in charge of the side in Virat's absence, described the performance as 'forgettable'.
Asked about his ODI captaincy debut in the absence of Virat, Rohit said: "Not such a great experience. Nobody likes to be on the losing side. We have to focus on the coming back in two games and come as hard as possible."
Though, he promised that the team will learn from Dharamsala debacle and bounce back in the remaining two games.
"It is important to thrive in these conditions and come out good. It is an eye-opener for all of us," Rohit had said after the seven-wicket loss.