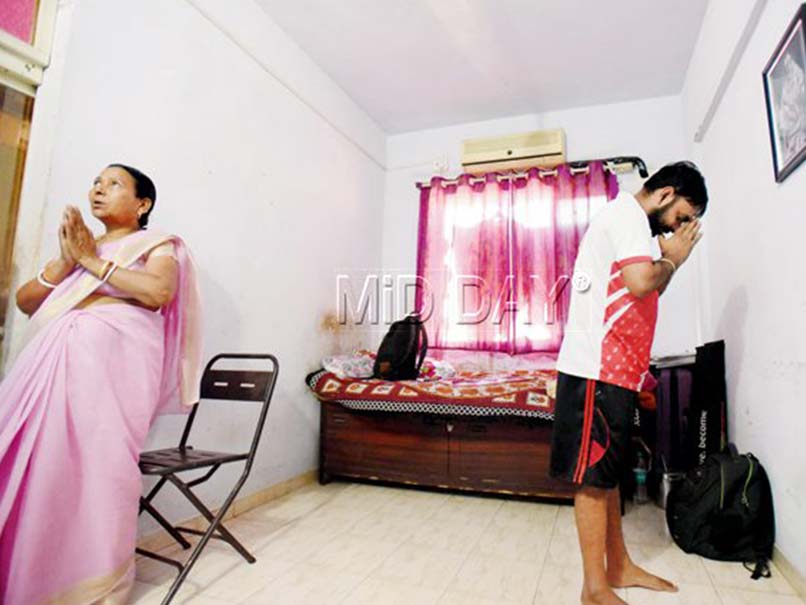 Prithvi Shaw's father Pankaj (R) and grandmother Dulari pray at their Santacruz residence
© Ashish Rane/Mid-Day
Vakola's most famous son had the locals on the edge of their seats as he steered Mumbai into the Ranji Trophy final yesterday. We were greeted by a tetchy, slightly nervous family as we entered young Prithvi Shaw's home in the Santacruz (East) vicinity while the 17- year-old was batting for Mumbai in Rajkot. He was creeping towards his century but still in the nerve-wracking 90s.
Prithvi edged closer now, at a tantalising 99, at which he was declared out. "Yeh kya kar diya beta?" (what did you do, son?), Prithvi Shaw's father, Pankaj's face, said it all as Prithvi was caught on 99 at gully by Baba Indrajith off Vijay Shankar's second delivery in the 51st over.
His father's dream had crumbled, his grandmother, Dulari, walked out of the living room and into the bedroom without saying a word. The dark moments were dispelled soon enough though. It was soon learnt the Mumbai opener had survived because the pacer had over-stepped the line and the delivery was declared as a no-ball.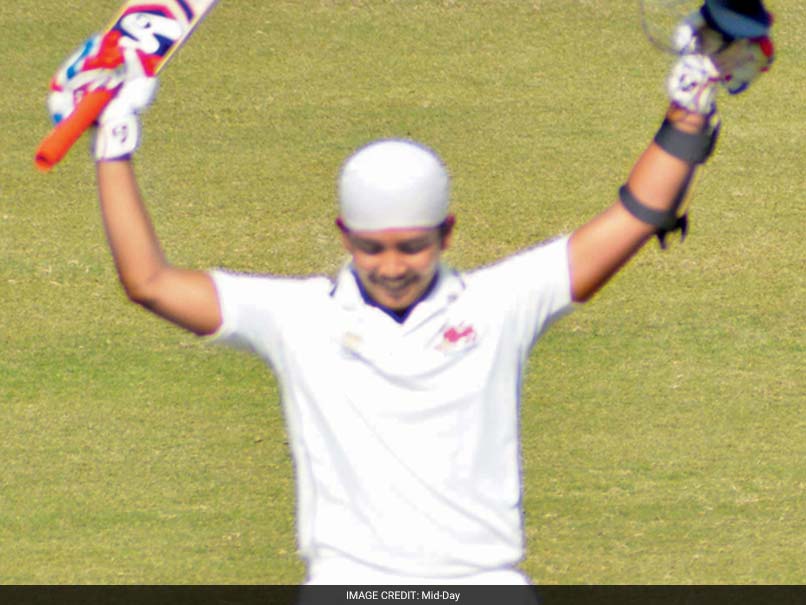 13:56:45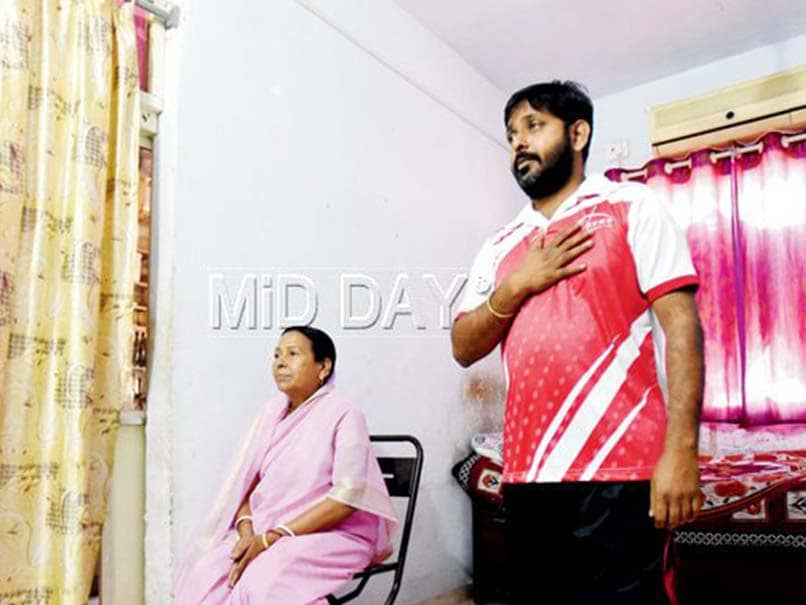 13:58:02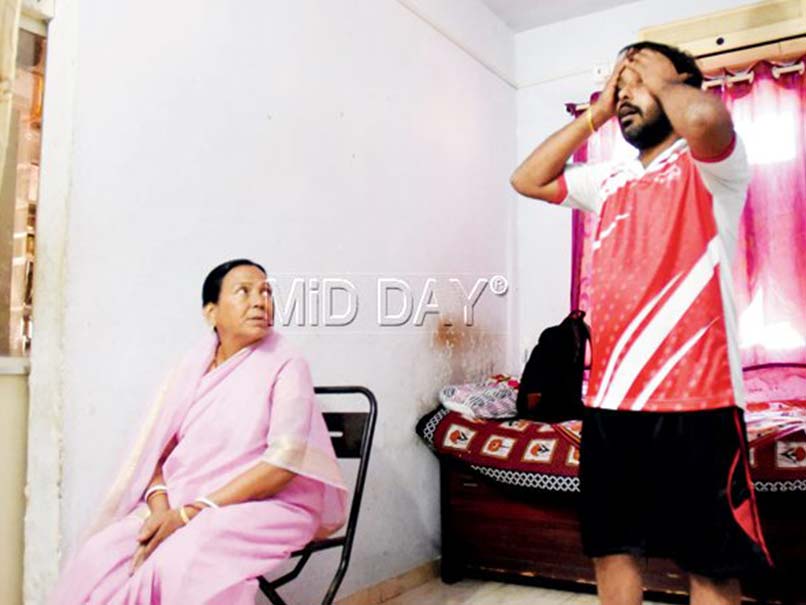 14:00:17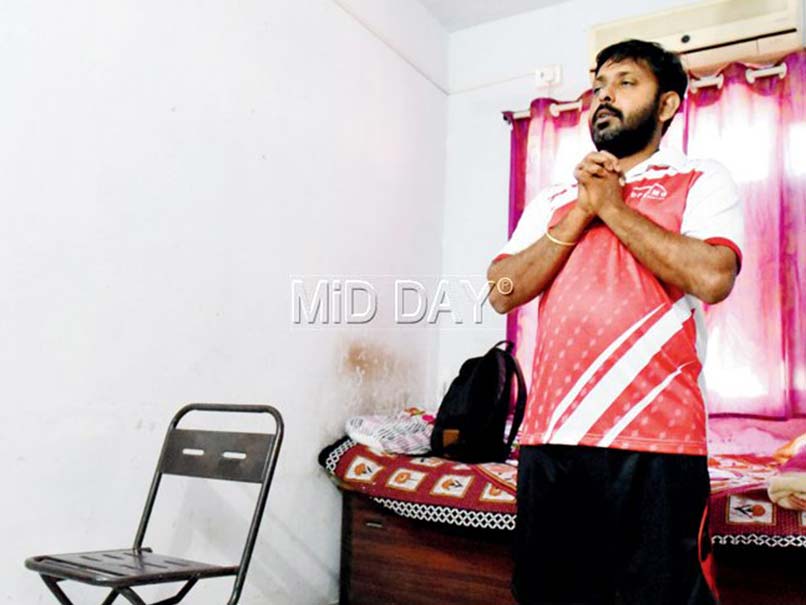 14:02:16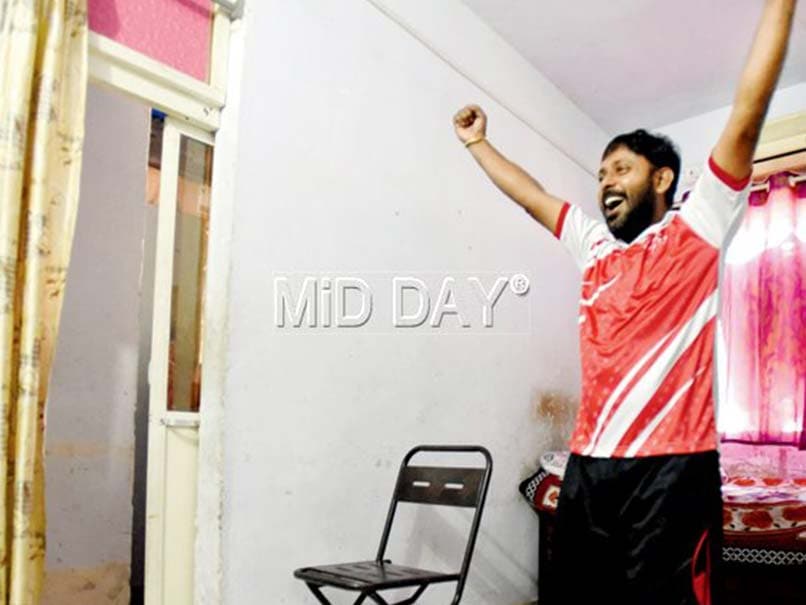 haw's survival spelt immediate relief for his father. The residents below his building in Vakola were not so restrained. Crackers went off after TV replays showed the Tamil Nadu pacer landing his front foot outside the crease.
'Dar mat Pankaj, bhagwan hamare saath hai' (Don't be afraid Pankaj, God is with us), said a neighbour, reassuring Prithvi's tense father.
"Sambhal kar beta," (play carefully, son) said Prithvi's father to the television screen, as Prithvi was about the face the next ball. "Chalega chalega" (will do, will do) Shaw Sr said as Prithvi defended the next two deliveries. He then cut a short ball outside the off stump to point, but took no run. "Arre run ho sakta tha" (he could have grabbed the single) said his nervous father.
That happy moment was just around the corner and Prithvi's father joy knew no bounds as he saw his son square-drive to point for a single. History was made, Prithvi became the second youngest, at 17 years 57 days, to score a first-class century for Mumbai, after Sachin Tendulkar (15 years, 231 days in 1988). He also became the first Mumbai player to score a century on first-class debut in 23 years. The last player to do so was Amol Muzumdar (260) in 1994 against Haryana.
The teenager's father jumped and clapped in delight, first thanking God for his son's achievement. Shaw Sr's phone then didn't stop ringing for almost an hour as his friends and relatives called to congratulate him. "I didn't answer any phone calls since morning as I was nervous, but now I want to thank everyone who prayed for my son," he said in elation.
Shaw Sr said he had advised Prithvi to grab the Ranji opportunity with both hands in the second innings, after he was dismissed for just four in the first. Shaw Sr said, "I spoke to him yesterday (Wednesday) night and told him this is the last opportunity you have, even if you score 50 or 60, you will cement your place in the final. I knew he had it in him to score big. He was unfortunate to chase the ball outside off stump in the first innings. He can do better if he focuses well."
Prithvi took 25 balls to get from 90 to 100, "He is always hasty once he gets in 90s. We used to never even tell him that he was in 90s while playing school cricket for Rizvi Springfield," Shaw Sr added, recalling Prithvi's school days where he had given signal of his phenomenal talent. Maturity and experience will temper that impetuousness, his dad then reasoned while still fielding calls at his Vakola residence, made by politician Sanjay Potnis.
When did Pankaj start believing that a debut century could be a possibility? Shaw Sr says, "I thought he could get there (100) after he crossed 70. It's always a dream for every cricketer to play in the Ranji Trophy. I cannot ask for anything more than this. I hope he continues the same form in the final." (Mumbai will play the final against Gujarat in Indore from January 10-14).
Even as Shaw Sr, spoke, Prithvi was caught by T Natarajan off spinner Aushik Srinivas on 120. He had done more than enough though by taking Mumbai to the brink of victory. With the celebrations came a sobering thought. Shaw Sr wished Prithvi's mother Sunita, who died when he was three years old was alive to see her son's stupendous achievement.
(Except for the headline, this story has not been edited by NDTV staff and is published from a syndicated feed.)