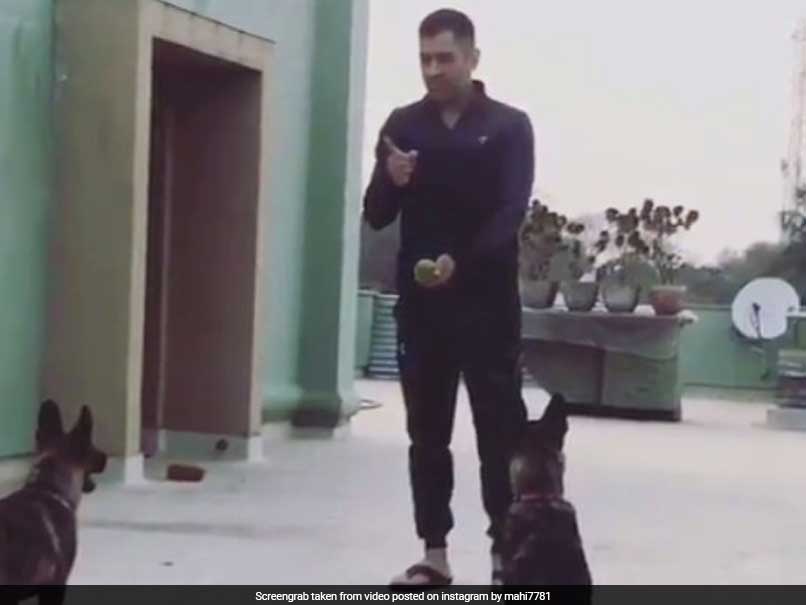 MS Dhoni posted a video of playing catch with his dogs on a terrace.
© MS Dhoni/Instagram
Mahendra Singh Dhoni seems to be enjoying his time away from the rigours of cricket. The former India captain posted a video on social networking site Instagram where he was seen playing catch with his dogs. With a busy Test cricket home schedule for the Indian team, Dhoni has had ample time to take a back seat and enjoy the family life. On Tuesday, the 35-year-old posted a video on Instagram and Twitter, where he was seen crawling on the ground and imitating daughter Ziva.
 
Dhoni, a self-proclaimed 'absolute pet lover', is seen goofing around with his three dogs and then testing their catching skills on a terrace.
 
Sadly for Mahi, his glove work behind the stumps is yet to rub off on his dogs, who failed to take their chances.
Dhoni was also was recently photographed with Ziva and wife Sakshi Dhoni at Dehradun airport. Sakshi, who is very active on the social media, shared pictures of the family vacation on Instagram.
 
The former India captain was visiting his in-laws' house in Mussoorie to celebrate daughter Ziva's birthday on February 6. Sakshi posted a series of pictures of the Dhonis holidaying in the company of family and friends.
 
Dhoni played an important role in the recently-concluded ODI and T20 series against England. While Virat Kohli and his side gear up for the upcoming Test series against Australia starting on February 23, the former Indian captain seems to be enjoying his time away from the sport.