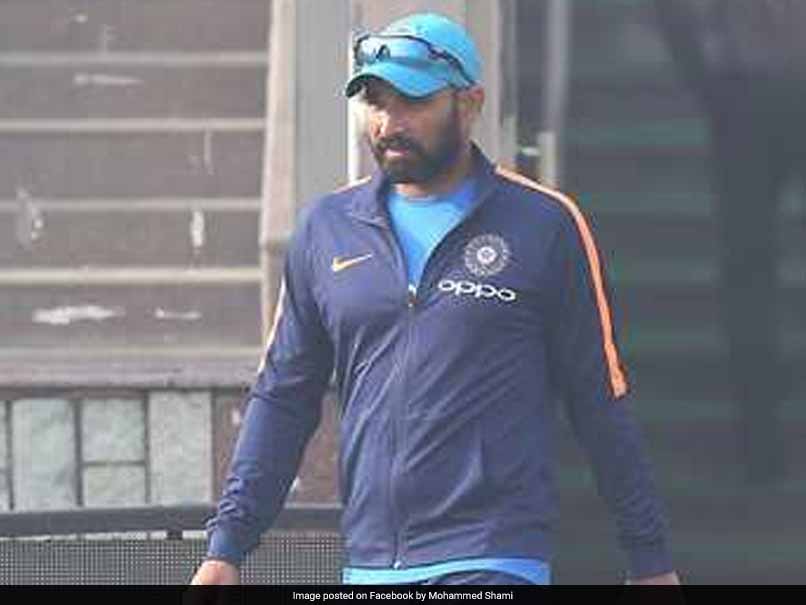 Mohammed Shami was involved in a road accident on Sunday morning (File Pic).
© Facebook
Mohammed Shami had a narrow escape as he was involved in a road accident while travelling from Dehradun to Delhi. Shami, who was practicing in Dehdradun for the last two days, got four stitches on his head after his car was hit by a truck. Shami has been in the news after his wife Hasin Jahan made a series of allegations, including adultery and domestic violence, and lodged a police complaint against him. Shami has denied all the allegations.
The 27-year-old Shami trained for two days at the Abhimanyu Cricket Academy (ACA), run by Bengal batsman and India 'A' player Abhimanyu Easwaran's father in Dehradun to rejuvenate himself mentally and physically.
"Mohammed Shami is safe and sound. He was returning to Delhi from Dehradun after training when there was a minor collision. He was taken to the hospital and got a few stitches on his head. He is perfectly fine and advised rest for a day. He is at a private place after being discharged yesterday only. He will return to Delhi tomorrow if health permits. There is no such injury which can hamper his participation in IPL," Abhimanyu's father Easwaran RP told PTI.
Shami's wife Hasin Jahan had also alleged that her husband was involved in match-fixing. Following an investigation, the BCCI, earlier this week, cleared the India fast bowler's central contract after its Anti-Corruption Unit (ACU) exonerated him of corruption charges.
Shami has been given a Grade 'B' annual contract, which will make him richer by Rs 3 crore. He will also be free to play in the Indian Premier League, starting April 7, for his franchise the Delhi Daredevils.
The right-arm fast bowler was bought by the Delhi Daredevils in the mega IPL auction 2018 using the Right to Match (RTM) card.
Delhi Daredevils CEO Hemant Dua said he was happy with the development as Shami is an integral part of their bowling unit.
"I have just received the confirmation from the BCCI that Shami has been absolved of all charges related to corruption allegations. It's a welcome news for the franchise and we are happy to have him back. We expect him to join the camp from the very first day," CEO Dua said.
(With Inputs from Dinesh Mansera and PTI)