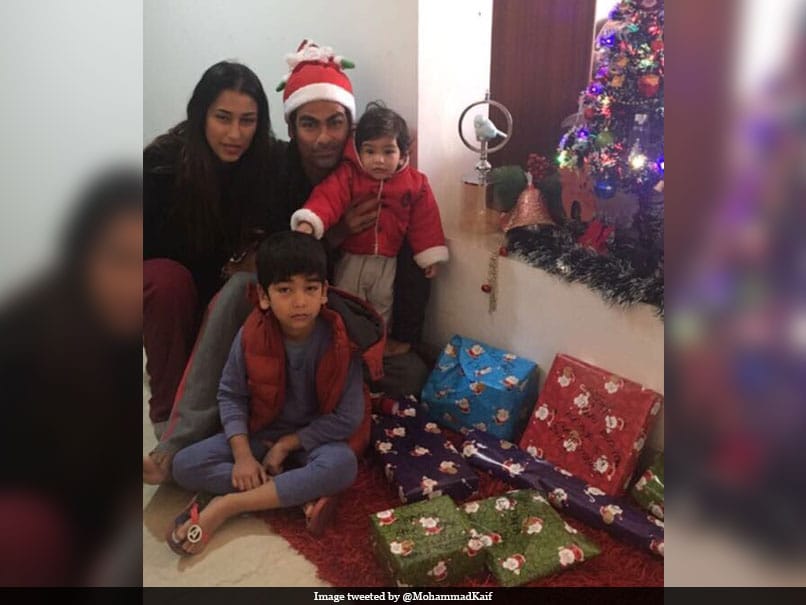 Mohammad Kaif was trolled for celebrating Christmas.
© Twitter
Former India cricketer Mohammad Kaif was once again under attack from social media trolls after he posted a photo celebrating Christmas with his family. "Merry Christmas ! May there be love and peace," he captioned the photo which shows the Kaif family posing next to a Christmas tree. Upset by Kaif's photo, some of his followers trolled him for allegedly defying the traditions of Islam. Previously, the 36-year-old has faced criticism for playing chess, doing a Surya Namaskar and supporting the Triple Talaq verdict.
Merry Christmas ! May there be love and peace. pic.twitter.com/DnZ2g7VTno

— Mohammad Kaif (@MohammadKaif) December 25, 2017
 Here is how some of Kaif's Twitter followers reacted to his tweet.
Shame on you

— sagir ahmed (@rockstar3817) December 25, 2017
secular country... Secular people...But think about your religion first.. Before doing this kind of activity.

— Md Younus Khan (@Younus21) December 25, 2017
Bhaijaan I don't like this post ye new year hota to theek tha but ye tyohaar hum musalmaanon ka nahi hai I hate this post please delete and (Allah) se tauba karo

— MOHAMMAD Aftab Alam (@AftabAl79667292) December 25, 2017
Kaif sir aap musalman hokar merry christmas bol rahe ho sharam aani chahiye aapko iska matlab hota he ki allah ke yanha beta huwa he astaghfirullllah

— Ajmal Yunus (@YunusAjmal) December 25, 2017
Apni Duniyan keliye Islam ku sharminda na karo.tum jo wish kiye ho uska matlab pehle samjho.Mohammed naam rakhne se Musalman nahi banjata hai koi..

— Mohammed Anees (@aneesm986) December 26, 2017
ikk musalman ho k chrismas manatee huwe sharamm nhi ati apko????? thodaa too khuda se khauff khao kaif bhaiii

— Rahim Sheikh (@SheikhRahim_) December 25, 2017
Earlier in the year, Kaif had shown interest in the post of fielding coach of the Indian cricket team. In a question-answer round on the micro blogging site Twitter, Kaif was asked by a fan whether he is looking forward to become Team India's fielding coach. Kaif replied by saying, "Would be wonderful to be able to contribute in this capacity."
Kaif was a brilliant fielder in his heydays and was often compared with the likes of South Africa fielding star Jonty Rhodes. With his spectacular fielding, Kaif had taken India's standards to another level. He used to field mostly at cover and point region and his domination could be seen clearly.
Kaif, who played 125 ODIs and 13 Tests for India, served as the fielding coach of the Gujarat Lions in the recently-concluded 10th edition of Indian Premier League (IPL).
(With inputs from PTI)