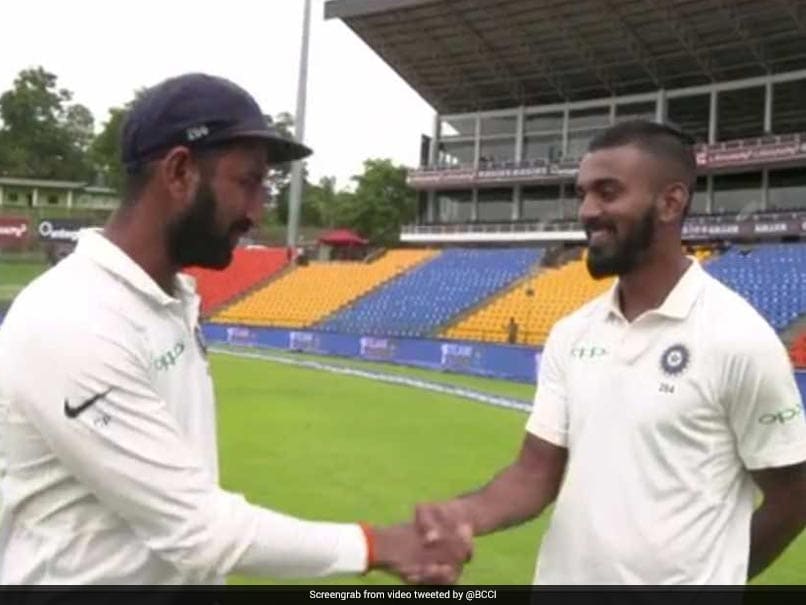 KL Rahul broke into the top-10 at 9th in the latest ICC Test rankings
© BCCI Twitter
KL Rahul missed the opening match of the three-Test series against Sri Lanka due to viral fever but India's regular opener made a solid comeback in the remaining two Tests. The Karnataka batsman scored 142 runs in two Tests at an average of 71.00, with two half-centuries. In a video interview with his senior Cheteshwar Pujara, Rahul opened up on the dressing room talk, visiting the National Cricket Academy and also said he sometimes has to face banter from his seniors.
"Whenever I visit NCA nowadays, I see only one footprint and that is of KL Rahul. So, tell me about that, bro. Has this transitioned all about that?" Pujara asked Rahul in a video interview on bcci.tv.
Must watch fun and banter with #TeamIndia batsmen @cheteshwar1 & @klrahul11 - by @28anand https://t.co/bk062auh9E

— BCCI (@BCCI) August 16, 2017
In reply, Rahul said: "Don't ask me, Puj. I don't like going to the NCA for rehab. It's been a tough time going to NCA. I mean, I enjoy going there for training and for practice, and not for rehab. Unfortunately, I've had a lot of injuries on the way and I think I hold you equally responsible for my injuries because you don't share the short-leg duties with me now. You are abusing the youngster".
Pujari cuts off the conversation and put another question in front of Rahul.
"No, No, No. I'm going to interrupt him here. He has improved as a short-leg fielder and is one of the best in the Indian team," Pujara asked.
"I'm still learning and getting better at my short-leg skills but Pujara is the legend of short-leg. Every time he is at that position, he makes a wicket happen. The ball just seems to find him, so I've been putting pressure on him to be there all day and take the responsibility and take one for the team," Rahul replied.
Pujara also shared a moment when Murali Vijay and Rahul termed him as the 'best'.
"One person who will agree with him is Murali Vijay. Both of them have ganged up on me. They say that I'm the best but I feel Rahul has improved a lot," Pujara said.
In reply, Rahul laughed and said: "This is clear indication that the senior-junior thing is still happening in the dressing room. The seniors are abusing youngsters like me."
Rahul broke into the top-10 at 9th in the latest ICC Test rankings after India's clean-sweep of Sri Lanka in a three-match series.