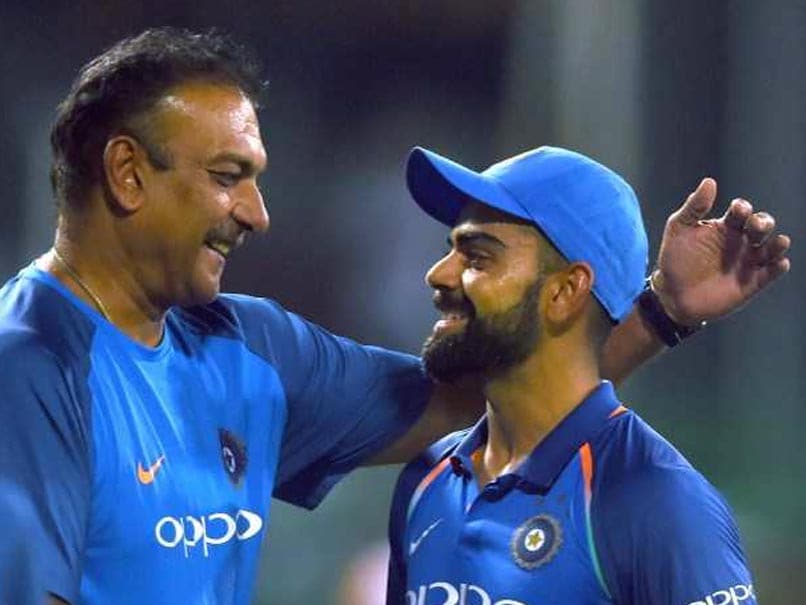 Dean Jones thinks that the Virat Kohli-Ravi Shastri duo is doing very well together
© AFP
Cricket legend Sunil Gavaskar, during an exclusive chat with NDTV, had termed the current Indian cricket team the best ever. Rightly so, looking at the recent performance of the Virat Kohli-led side, the team is bound to get accolades. After the Indian skipper notched up his 50th international hundred last week, India coach Ravi Shastri had also heaped high praise on him and said that "sky is the limit" for the skipper. Former Australian star Dean Jones thinks that the Kohli-Shastri duo is doing very well together and is likely do a good job in South Africa as well.
Kohli, who was not in good terms with former coach Anil Kumble, seems to have gelled well with Shastri and looking at the recent results both of them enjoy one another's company. Jones reiterated the fact and said that Shastri brings the best out of Kohli.
"Virat Kohli is my favourite player and he has taken over from Virender Sehwag. I love his aggression and belief to score runs on any pitch and Ravi Shastri brings the best out of Kohli as well. I'm expecting Virat to do a good job in South Africa," he said speaking to NDTV.
Under Shastri's tenure as India coach, Virat Kohli has played 24 matches (5 Tests, 13 ODIs and 6 Twenty20 matches) in all formats and scored 1459 runs at an average of 72.95 and with the help of seven centuries. The highest being 213, which he scored at Nagpur against Sri Lanka in the ongoing series. Since the time Shastri took over, India won 19 and lost only 4 out of 24 matches, the winning percentage being 79.16.
After the Sri Lanka assignment, India are scheduled to tour South Africa for three Tests, 6 One-day internationals and three Twenty20 matches.
When asked about India's chances to win against South Africa, Jones said," Bowling is India's key and they have got really good pace attack. I love Shami, I love he goes about his bowling. Ashwin too will lead the spin attack. All in all, I won't be surprised if they try to do it (win the Test series)."