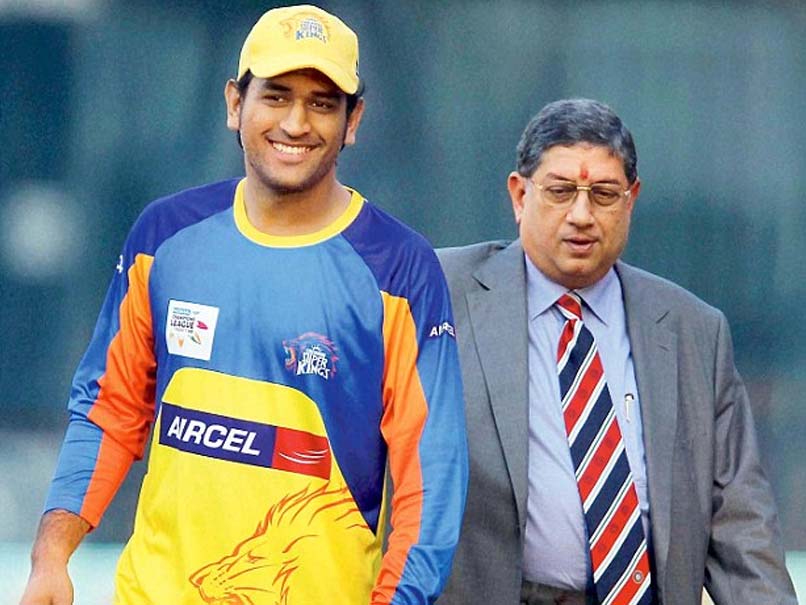 MS Dhoni and N Srinivasan have always shared a good rapport.
© PTI
Former India captain MS Dhoni has enjoyed a relatively controversy-free cricket career. Perhaps the only time he faced serious media scrutiny was in the aftermath of the 2013 IPL spot-fixing scandal. Several questions were raised about his equation with then Board of Control for Cricket in India (BCCI) boss N. Srinivasan, who was also running India Cements, a company that had close links with the Chennai Super Kings. The wicketkeeper-batsman was also accused of allegedly defending Srinivasan's son-in-law Gurunath Meiyappan before a Supreme Court-appointed probe panel. At the time, Dhoni held the position of a vice-president in India Cements. Several conspiracy theories did the rounds but Dhoni did not break his silence on the issue.
Dhoni's side of the story has now been published in a book written by Rajdeep Sardesai. The book, titled Democracy's XI, reveals how Dhoni and Srinivasan really think about each other.
"Let me tell you, it is an absolute lie that I told a probe panel that Meiyappan was only a cricket enthusiast, all I said is he had nothing to do with the team's on-field cricketing decisions. I can't even pronounce the word 'enthusiast"," Dhoni is quoted as saying in an excerpt published by ESPNcricinfo.
"I really don't care what people say, I found Srinivasan as someone who was always there to help cricketers," Dhoni further adds.
Srinivasan has also made an interesting admission, that of not sacking Dhoni from the captaincy after disastrous tours of England and Australia.
"Yes, it is true that I vetoed the decision to drop Dhoni as captain. How can you drop someone as captain within a year of his lifting the World Cup?" the former board president said.
In a sense, Dhoni is his own man. Despite all the controversies, he still drops by the Srinivasan residence or the India Cements office when Team India plays in Chennai.
Dhoni was also seen at the opening ceremony of the Tamil Nadu Premier League, a property of the TNCA of which Srinivasan is president.