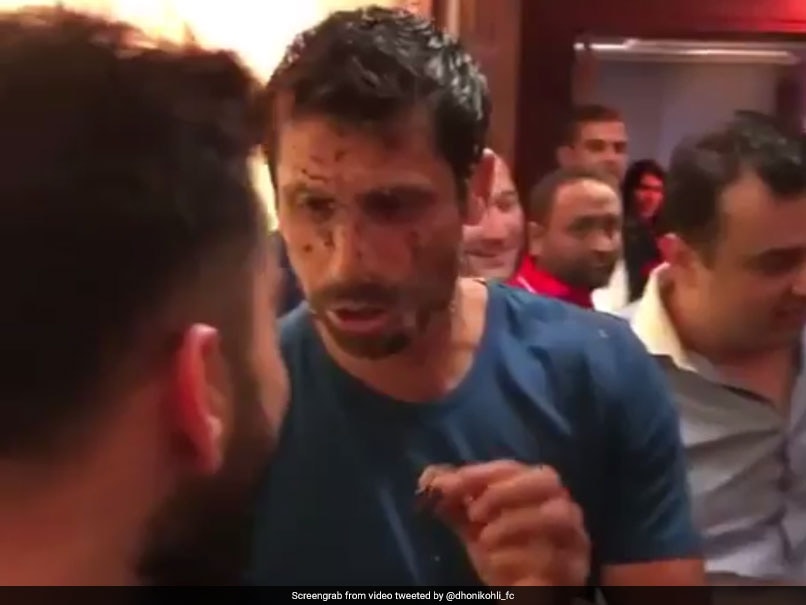 Ashish Nehra's face was smeared with cake during his farewell party.
© Twitter
Ashish Nehra brought down curtains on his illustrious 18-year-old career which started back in 1999 on November 1. Nehra, who played his last match at the Feroz Shah Kotla against New Zealand, had also played his first match at the same venue in 1997. India captain Virat Kohli, after the match, praised Nehra for his resilience and said that he had been a great servant of Indian cricket. While different social media platforms flooded with pictures and videos of the 38-year-old, a Mahendra Singh Dhoni and Kohli fan group uploaded a Nehra farewell party video.
The video uploaded by @dhonikohli_fc on Twitter is captioned as '#ViratKohli at #AshishNehra's farewell party."
In the video, the nation's beloved 'Nehra ji' can be seen giving a piece of cake to the Indian skipper who in turn returns the favour. Along with them, former India opener Virender Sehwag was also seen smearing cake on Nehra's face and then patting him.
Apart from the video, the fan group also uploaded two photos from the farewell party.
The left-arm-pacer during a post-match conversation with former Indian cricketer Sanjay Manjrekar mentioned that he is probably the one bowler who has bowled the most number of last overs for India.
The former left-arm pacer also did not fail to mention that Kohli wanted him to bowl much earlier in the last match that he played but he insisted to bowl the last over.
"I must be one bowler who bowled the most number of last overs for India, but it was different sort of pressure and today was much more comfortable. Virat was on my case for the last 2-3 overs and I said I will bowl the last over."
Praising Nehra on his career, in which he appeared in 17 Tests, 120 One-day Internationals (ODIs) and 27 Twenty20 Internationals (T20Is), Kohli said, "To have played 19 years is very hard for a fast bowler. I know how professional he's been and how hard he's worked. He deserved this kind of a farewell with the crowd cheering him. He can now spend time with his family, he's got a beautiful family. We'll stay in touch but we'll miss him and I wish him all the best."