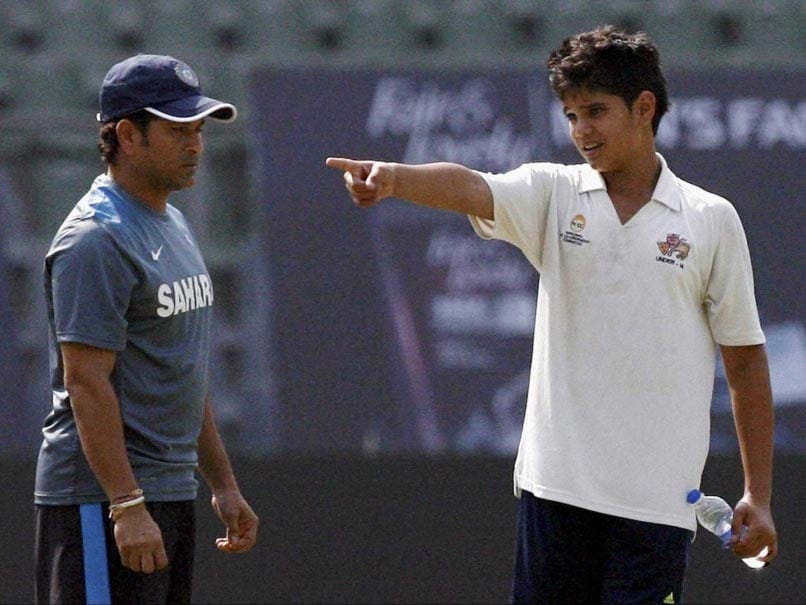 Sachin Tendulkar does not want his son Arjun Tendulkar to be compared with him.
© PTI
India great Sachin Tendulkar said his son Arjun shouldn't be compared to him as he should have his own name and niche. The legendary batsman, who attended the Auto Expo in Greater Noida on Wednesday, spoke about how he gives freedom to his son to choose his priorities but maintained that Arjun should give his best. When asked 'Do you read the next Sachin in him', the Master Blaster said that the comparison should not happen. "No, he should be 'Arjun'. He should be Arjun. There shouldn't be any comparison," Tendulkar was quoted as saying by the Times of India.
Reiterating his point, Tendulkar said, "He's trying. Like my father gave me freedom, I'm giving him freedom. Whatever he wants to be in life, he has to give his best."
Asked about the pressure of being the son of a cricket great, Sachin remarked that he should focus on the game.
"Those things are there but his focus should be on the game and on his passion. That is what as a parent I would want. Comparisons would happen; if they want to do it, they will. But what I've learned from my father is that whatever work you've gone to do, keep your focus on that," he said.
"Rest of the things will continue to happen. Ups and downs are part and parcel of life. That'll happen as long as you stay passionate. Then you will be in a position to overcome those obstacles. You'll push yourselves. And I've tried to do that. My experience was really good, the way my father gave me freedom, responsibility came alongside that freedom. So that is what I am trying to do," Tendulkar added.
Arjun was recently in the news for displaying an all-around performance in the global Twenty20 series in Australia, organised by the Sydney Cricket Ground in January earlier this year.
The 18-year-old had garnered much praise in the Australian media as he took four wickets in as many overs at the Bradman Oval and scored a quick-fire 48 runs off 27 balls in the match.