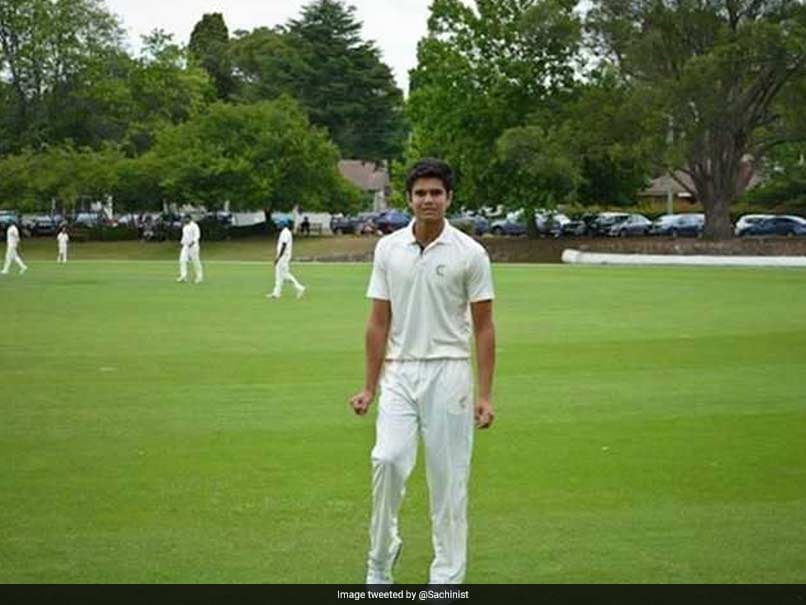 Arjun Tendulkar picked up four wickets in four overs.
© Twitter
Arjun Tendulkar is leaving no stone unturned to make it big in cricket. He came into the limelight after doing well for his junior team in Mumbai. Now, in the on-going global Twenty20 series in Australia, organised by the Sydney Cricket Ground, Arjun showcased a brilliant all-round performance for which he grabbed many eyeballs and praise in Australian media. He took four wickets in four overs at the Bradman Oval ground and also scored a quick-fire 48 runs off 27 balls in the match. After the performance, Arjun said that he is privileged to play on the ground named after Sir Donald Bradman.
"I'm just so privileged to play on the ground named after the Bradman, it's unbelievable," Arjun Tendulkar was quoted as saying by abc.net.au.
Unlike Sachin, who was a batting maestro, Arjun has his eyes fixed on fast-bowling and said that he loves bowling fast since childhood. He also said that Mitchell Starc and Ben Stokes are his role models.
"I just got stronger, grew taller and I loved bowling fast from my childhood. I thought I may as well be a quick bowler because there aren't many in India," Arjun said.
Hong Kong batsman Mark Fuzes, who faced Arjun, said, "I wasn't out there for long enough to feel too much facing him but it's good. It's nice to see a young lad with a lot of expectation on him come out here."
Talking about his style of play, Arjun said that he doesn't take the pressure and stays focused. Along with this, he relies on his father's advice.
"[He says] just play fearlessly, play for your team, be a team man and give everything you've got," Arjun remarked.
"I don't take that pressure, when I bowl I just hit the deck hard on every ball and when I bat just play my shots and choose which bowlers to take on and which bowlers not to," Arjun added.