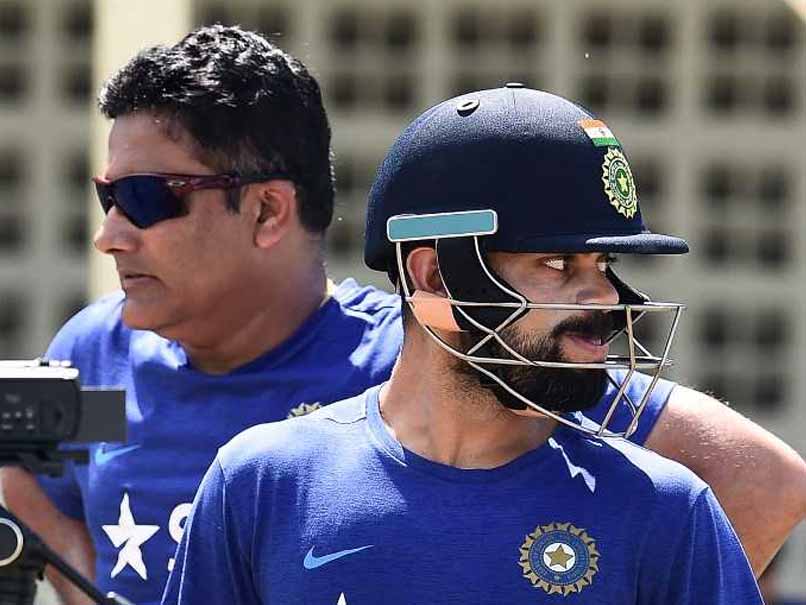 Anil Kumble had resigned from the post of Indian coach after Champions Trophy 2017.
© AFP
Former Committee Of Administration (COA) member Ramachandra Guha on Friday said that the clash between former India coach Anil Kumble and captain Virat Kohli is not the first dispute that has happened in the game of cricket and it is similar to the fallout between former India captain Vinoo Mankad and chief selector CK Naydu in 1952. Guha, who resigned from the COA six months ago, during a function at the Bombay Gymkhana, spoke about the massive dispute between Naydu and Mankad. He also said that this was not the first time that he was commenting on cricket in public.
"I resigned from the Committee of Administrators six months ago and this is for the first time that I am commenting in public on cricket. (There is a) story about a massive dispute between Col CK Nayudu and Vinoo Mankad," Guha said.
"So essentially Nayudu was the chairman of selectors and Mankad was India's great cricketer. India was touring England in 1952 and Mankad had been offered a contract with Lancashire League," the eminent historian recalled.
"So when Mankad told the BCCI that if you assure me that I will be on the England tour of 1952 I will not take this contract. (To which) Nayudu said we will not give you an assurance. India lost the first Test (and) Mankad played in Lord's."
Although India lost the Lord's Test, he scored 72 and 184 along with figures of 5/196 in the England first innings.
"My one point on cricket today it struck me is that the relationship between Nayudu and Mankad in 1951-52 was akin between Anil Kumble and Virat Kohli."
On a cheeky note, Mankad said that in 50's it was the administrators, who had upper hand while nowadays it's the players, who rule the roost.
"With this difference, in 1952, the administrators, selectors and managers had an upper hand compared to the players. Abhi ulta hai (now it is opposite)."
(With PTI Inputs)