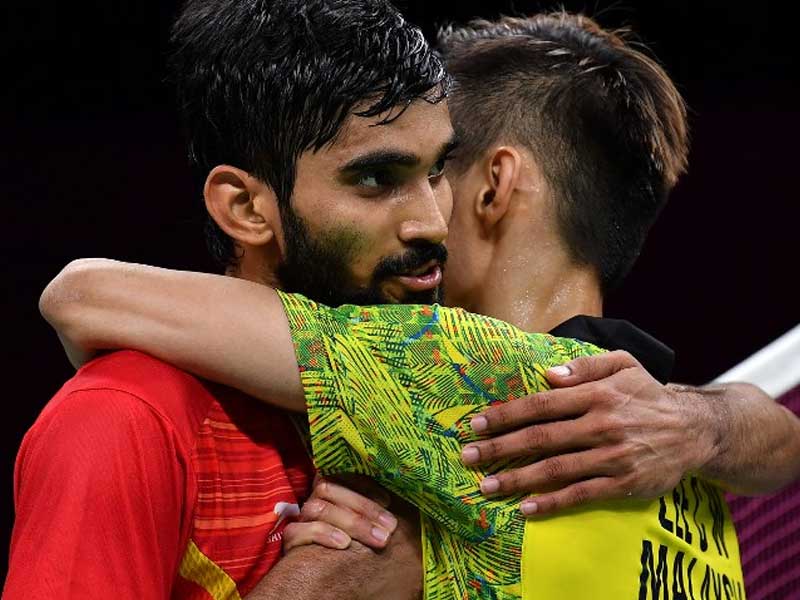 Kidambi Srikanth took home the silver after losing to Lee Chong Wei in men's singles final.
© AFP
Kidambi Srikanth put up a valiant fight but it wasn't enough as Malaysian badminton legend Lee Chong Wei came up trumps in the men's singles gold match at the 2018 Commonwealth Games in Gold Coast, Australia on Sunday. The Malaysian superstar eked out a 19-21, 21-14, 21-14 win over the newly crowned World No.1 from India to clinch his third individual Commonwealth Games gold. Srikanth, who won the first game, couldn't make his advantage count and had to settle for a silver medal to add to the gold he won in the mixed badminton team event.
Srikanth had beaten Lee Chong Wei in the mixed team final earlier in the Games but could not repeat the feat as the Malaysian added another gold to his kitty.
A decade older than the Indian, Lee kept his best for the last, showing off the legendary reflexes that have earned him cult status in international badminton.
But it was not all smooth sailing for him on Sunday as Srikanth started off confidently.
It took Indian star just eight minutes to go from being 0-4 down to be 10-7 ahead. The Indian was the better of the two in executing drop shots and even managed to match Lee's ability to mix power with precision. Srikanth led 11-9 at the break.
Srikanth remained a step ahead until 14-13 before a misdirected smash gave Lee the equalising point.
But Lee was surprisingly off when it came to retrieving the shuttle and his usual agility on the court was only there in flashes. To Srikanth's credit, he made the most of his opponent's lack of intensity and took the first game 21-19 in 25 minutes.
A slight moment of drama came in the second game when it seemed Lee had struck the shuttle twice to claim a point but was not penalised for it and the match went on despite Srikanth's protest.
Lee's lackadaisical approach improved considerably thereafter and after leading 11-9 at the interval, he displayed some of the many stylish shots in his armoury to draw level and stay afloat in the high-intensity match, which was as much about elegance as sheer power.
Leading 9-5 in the decider, Lee went for a change of racquet and it only got him better results as he grabbed an 11-5 lead to take the psychological upper hand. The smashes that were landing outside in the opening game became just the bit accurate and difficult for the Indian to retrieve.
Lee did show the tendency to take things for granted, exhibiting poor judgement in leaving a shuttle while leading 16-8.
But even at his erratic worst, the Malaysian, who has multiple Olympic silver medals to his credit, was simply unstoppable for the Indian and claimed the match pretty comfortably.
(With PTI Inputs)