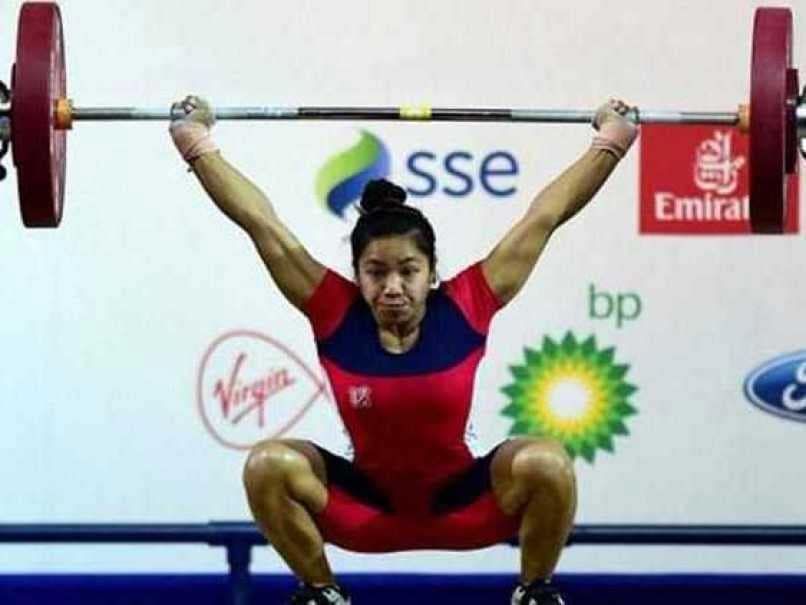 Mirabai Chanu went on a record-smashing spree to secure India's first gold.
© PTI
World champion weightlifter Mirabai Chanu rose to the occasion on Day 1 of the 2018 Commonwealth Games to win a gold in the women's 48kg. Mirabai Chanu went on a record-smashing spree, claiming three of them in a power-packed performance, to secure India's first gold. In a remarkable performance, Chanu smashed the Commonwealth and the Games record in snatch, pulling off clean lifts in all her three attempts (80kg, 84kg and 86kg).
#MirabaiChanu claims Gold in 48kg &
Created Games record /Commonwealth record by lifting 196 kg in total. She is a TOPS Athlete. Congratulations to the star weightlifter for the magnificent performance! The entire nation is proud of you! #SAI??????

— SAIMedia (@Media_SAI) April 5, 2018
She then lifted more than double her body weight (103kg, 107kg and 110kg) in three successful attempts to claim the clean and jerk as well as the overall Games record.
The showing helped her better the silver she had won in the 2014 Glasgow CWG.
The Indian ended with a score of 196kg (86kg+110kg), earning a massive applause from the fans at the Carrara Sports and Leisure Centre.
Every lift from her broke a CWG record. Nari Shakti at its best. Super proud of #MirabaiChanu for winning the first Gold for India. #CommonwealthGames2018 pic.twitter.com/C6NavwLfQ0

— Virender Sehwag (@virendersehwag) April 5, 2018
First, a Silver medal to begin the day and then a record-breaking Gold Medal. Congratulations, #Gururaja and #MirabaiChanu, on winning big and putting smiles on a billion faces. is proud of you. My best wishes to the Indian contingent for the rest of the games. #GC2018 pic.twitter.com/pYexsSd52u

— Sachin Tendulkar (@sachin_rt) April 5, 2018
The 23-year-old's previous best was a total lift of 194kg (snatch 85kg and 109kg in clean and jerk) achieved in the World Championships a few months ago.
Her nearest but still a very distant rival, Amanda Braddock of Canada failed to complete a single lift in the clean and jerk after managing a best of 76kg in snatch.
Earlier, P Gururaja claimed a silver medal in the men's 56kg event to open India's medal account in the quadrennial extravaganza.
(With inputs from PTI)