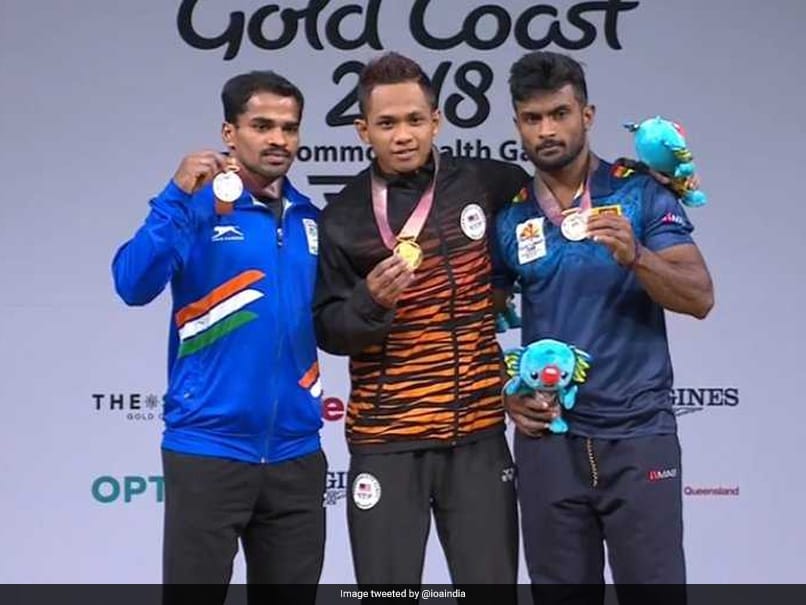 Gururaja won India's first medal at the 2018 Commonwealth Games.
© IOA
Weightlifter P Gururaja opened India's medal account on the first competition day of the 21st Commonwealth Games, winning a silver in the men's 56kg category on Thursday. The 25-year-old Gururaja equalled his personal best of 249kg (111+138) to finish second in a field where Malaysia's three-time Commonwealth Championships medallist Muhammad Izhar Ahmed (117+144) broke the Games record for snatch and overall lift.
#GC2018Weightlifting #GC2018

The mighty GURURAJA comes in 2nd winning #TeamIndia its first ?? #Medal at the @GC2018 lifting total weight of 249kg in the Men's 56kg event! #Congratulations #TeamMalaysia & #TeamSriLanka @WeightliftingIN @Media_SAI pic.twitter.com/qgH7Aam0ls

— IOA - Team India (@ioaindia) April 5, 2018
Gururaja was third after snatch, pulling off a best of 111kg after two good lifts before surviving a few nervy moments in clean and jerk. The Indian failed in his first two attempts before managing a good lift off his last chance to zoom to the top half of the table.
We have our first medal. Many congratulations to GURURAJA for coming second and winning?? #Medal at the @GC2018 lifting total weight of 249kg in the Men's 56kg event! Super proud of you Gururaja !#GC2018Weightlifting pic.twitter.com/gde39VMfoZ

— Virender Sehwag (@virendersehwag) April 5, 2018
Ahmed, meanwhile, bettered his compatriot Hamizan Amirul Ibrahim's snatch record of 116kg, created in 2010 Delhi Commonwealth Games. He then broke the overall Games record, which was also in the name of Ibrahim.
The third position was taken by Sri Lanka's Lakmal Chaturanga (114+134).
Gururaja, a low-ranking Indian Air Force employee, is a quintessential Indian sports story of immense hardships and just a tiny bit of luck.
Son of a truck driver, Gururaja had aspired to be a wrestler for the longest time before being pushed into weightlifting by a watchful coach who saw potential in him.
(With inputs from PTI)