Story Progress
Back to home
Commonwealth Games 2018, Day 1, Highlights: Mirabai Chanu, P Gururaja Shine For India On Day 1
Commonwealth Games 2018, Day 1, Highlights: Weightlifters S. Mirabai Chanu and Gururaja sparkled to deliver a gold and a silver, respectively, for India on the opening day of the 21st edition of the Commonwealth Games.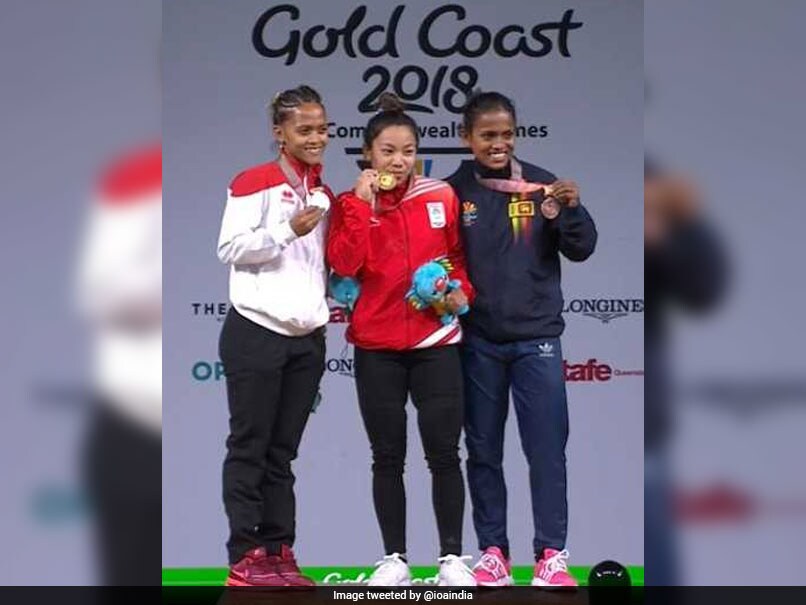 CWG Highlights: Mirababi Chanu won a gold and set a new CWG record.
© Twitter
Weightlifters S. Mirabai Chanu and Gururaja sparkled to deliver a gold and a silver, respectively, for India on the opening day of the 21st edition of the Commonwealth Games. Mirabai, the reigning world champion, delivered a power-packed performance in the women's 48-kg category, leaving the competition far behind by setting Games and Commonwealth records in the snatch, clean and jerk as well as the total. The Manipuri powerhouse registered 86 kg in the snatch and 110 kg in clean and jerk for a total of 196 kg. Such was her dominance that she net a record in each of her six lifts in the competition. In the men's 56-kg category, Gururaja had a best attempt of 111 kg in the snatch and 138 kg in the clean and jerk for a total of 249 kg to bag the silver medal. The performances of Mirabai and Gururaja meant that weightlifting as a discipline continues to be a main medal-provider at the CWG. The third weightlifter in action, Muthupandi Raja, finished sixth in the men's 52-kg competition, lifting a total of 266 kg. The 18-year-old's best effort in the snatch event was 116 kg and in the clean and jerk, he lifted 150 kg. (Medals tally)
Highlights of 2018 Commonwealth Games, straight from Gold Coast, Australia
18:31 IST: This is it from the opening day of the Commonwealth Games 2018. Do join us tomorrow.
17:50 IST: CYCLING (TRACK): India finish sixth in women's team sprint qualifying.
17:45 IST: BASKETBALL: India lose 87-96 to Cameroon in men's preliminary round Pool B match
Men's #Basketball put up a brave fight before going down agnst #TeamCameroon at #GC2018 #GC2018Basketball

Women's #TeamIndia lost to #TeamJamaica earlier!#CheerUp boys & girls, as @KingJames says 'Don't be afraid of Failure, This is the way to Succeed! @BFI_basketball pic.twitter.com/9qKKBX1eyf

— IOA - Team India (@ioaindia) April 5, 2018
17:25 IST: BADMINTON: India's Ashwini Ponappa and Ruthvika Gadde beat Pakistan's Mahoor Shahzad and Palwasha Bashir 21-6, 21-10. India won the contest 5-0 against Pakistan.
17:02 IST: BADMINTON: India's Chirag Shetty and Pranaav Chopra beats Pakistan's Irfan Bhatti and Murad Ali 21-7, 21-11 in men's doubles match. India are leading 4-0 against Pakistan
16:56 IST: SQUASH: Harinder Pal Sandhu goes down 0-3 (8-11, 6-11, 1-11) to Malaysia's Ivan Yuen.
16:39 IST: WEIGHTLIFTING: India's Raja Muthupandi finishes with a total lift of 266kg in the men's 62kg category
16:27 IST: TABLE TENNIS: India men's team beat Ireland 3-0. Sathiyan and Sharath Kamal won their respective singles matches. Sathiyan-Harmeet won their doubles match.
16:24 IST: BADMINTON: Saina Nehwal beats Pakistan's Mahoor Shahzad 21-7, 21-11 to give an unassailable 3-0 lead against Pakistan.
16:10 IST: BASKETBALL: India lose 57-66 to Jamaica in women's Preliminary Round Pool B match.
15:53 IST: BADMINTON: In the men's singles badminton, Kidambi Srikanth beats Pakistan's Murad Ali 21-16, 22-20. With Srikanth's win, India take 2-0 lead against Pakistan in the match.
15:50 IST: BADMINTON: India's Saina Nehwal is in action against Pakistan's Mahoor Shahzad.
15:44 IST: BOXING: India's Manoj Kumar beats Osita Umeh of Nigeria in Men's 69 kg Round of 32
15:30 IST: BOXING, Men's 69 kg Round of 32: India boxer Manoj Kumar in action against Osita Umeh of Nigeria.
15:25 IST: India's mixed doubles badminton pair of S Ranki Reddy and Sikki Reddy win the first match 21-10, 21-13 against Pakistan.
15:15 IST: India vs Pakistan badminton match is underway.
15:05 IST: SQUASH: With their respective victories, Dipika and Chinappa have entered the pre-quarterfinals of women's singles event.
14:54 IST: In SQUASH, Joshna Chinappa beats Papua New Guinea's Lynette Vai 3-0 in women's singles round of 32.
14:52 IST: In SQUASH, Dipika Pallikal beats Trinidad and Tobago's Charlotte Knaggs 3-0 in women's singles round of 32.
14:30 IST: In SWIMMING, Virdhawal Khade and Srihari Nataraj have qualified to compete in Semifinal 2.
#TeamIndia Swim Team competed in #GC2018Swimming events:

Men's 50m Butterfly: @virdhawalkhade qualified 16th best to compete in SF2
Men's 100m Backstroke @srihari3529 qualified to compete in SF2@swim_sajan will compete in 100m & 200m Butterfly later#AllTheBest guys! #gc2018 pic.twitter.com/40qx54yLA1

— IOA - Team India (@ioaindia) April 5, 2018
13:58 IST: BASKETBALL: India vs Jamaica, women's preliminary round Pool B match is underway.
13:48 IST: TABLE TENNIS: India women's team beat Wales 3-0 in match 2.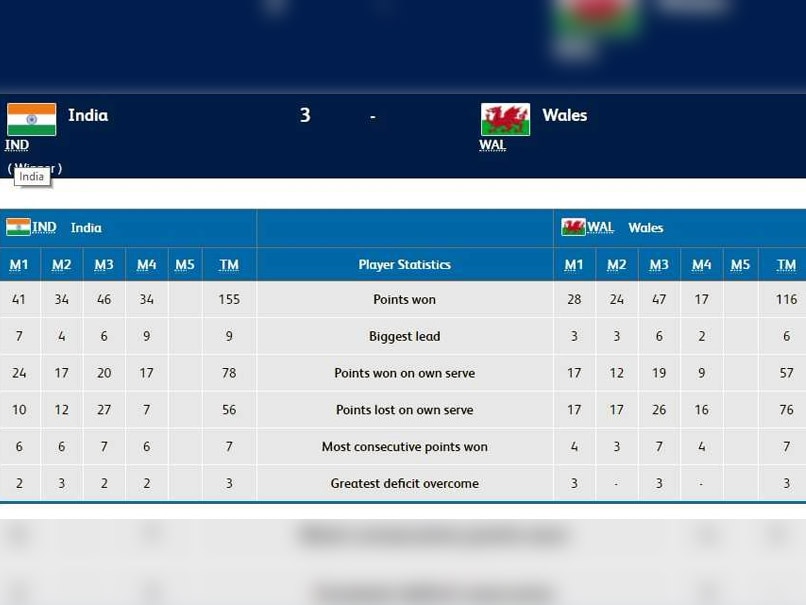 13:26 IST: Prime Minister Narendra Modi congratulates Mirabai.
Congratulations to Saikhom Mirabai Chanu for winning India's first Gold at the #GC2018 games and breaking three CWG records. India is delighted by these achievements: PM @narendramodi @GC2018 pic.twitter.com/XHyFh8blVw

— PMO India (@PMOIndia) April 5, 2018
13:19 IST: India woman wrestler Geeta Phogat also hailed Gold medallist Mirabai.
Congratulations #MirabaiChanu for winning 1st Gold medal for 1.3 Billion Indians. Well Done Looking for more golden moment #CommonwealthGames2018 pic.twitter.com/cBFyE4BNOr

— geeta phogat (@geeta_phogat) April 5, 2018
13:01 IST: India's Beijing Olympic gold medallist Abhinav Bindra's message for Mirabai Chanu.
The medals where an athlete is "Expected" to win are generally the toughest internally for the athlete. Many congratulations to #MirabaiChanu on a spectacular performance at @GC2018

— Abhinav Bindra OLY (@Abhinav_Bindra) April 5, 2018
11:45 IST: In snatch, Mirabai lifted 80, 84, 86 kgs in her three attempts respectively, while in Clean and Jerk she lifted 103, 107 and 110 kgs in her three lifts respectively. With a total of 196 kgs, Mirababi Chanu also set a Commonwealth Record and a Commonwealth Games Record.
Sheer World Class performance by our #Champion #MirabaiChanu in the #gc2018weightlifting Women's 48kg Finals breaking all records lose in every lift attempt. Well done #TeamMauritius #TeamSriLanka#Proud moment for #TeamIndia #GC2018 @WeightliftingIN @Ra_THORe pic.twitter.com/bSSSXU531S

— IOA - Team India (@ioaindia) April 5, 2018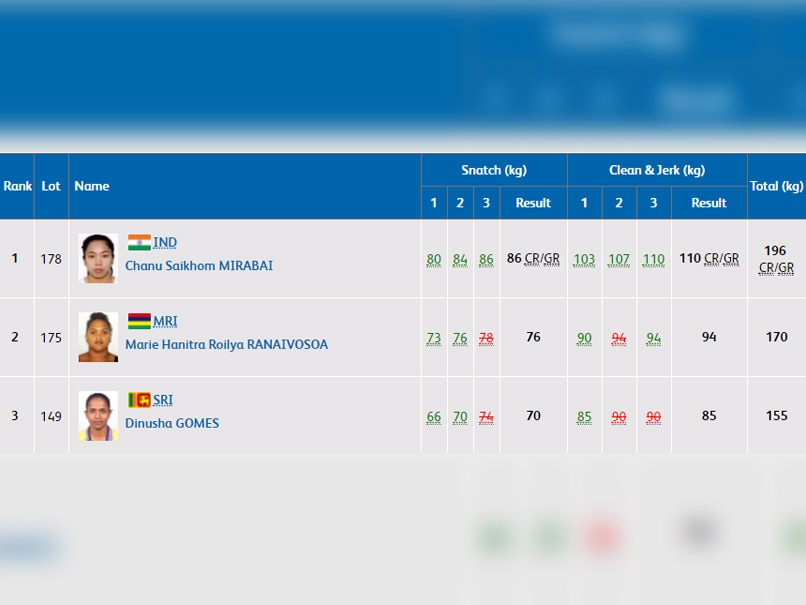 Outstanding! Massive congrats to #MirabaiChanu who has claimed India's first gold at #GC2018! #GC2018weightlifting #SHARETHEDREAM https://t.co/mILY2bVuYi

— Gold Coast 2018 (@GC2018) April 5, 2018
11:20 IST: Mirabai Chanu in action. The only thing that stands between her and the gold medal is Mauritius' Marie Hanitra Roilya, who lifted a total of 170 kgs.
11:00 IST: In the women's 48 kg category, with a total lift of 150 kg and one lift remaining, Papua New Guinea's Thelma Toua is currently topping the contest.
10:45 IST: After conquering Sri Lanka in round one, India is ready for round 2.
Round 2 in evening against Pakistan ... at 7 pm ..@P9Ashwini @sikkireddy #CommonwealthGames2018 pic.twitter.com/NJtNUlvPsH

— Saina Nehwal (@NSaina) April 5, 2018
10:30 IST: TERRIFIC, TERRIFIC start from Mirabai Chanu. She sets a new Commonwealth record and a commonwealth games record with an 86 kg lift in snatch in the 48kg women's category. India inch closer to its first gold.
What a brilliant performance! #India's weightlifter Mirabai Chanu (48kg) has broken the #Commonwealth record/ games record in snatch by lifting 86kg at #GC2018. She's a TOPS athlete!#SAI

— SAIMedia (@Media_SAI) April 5, 2018
10:10 IST: Sandhu beat Stafford in the round of 64, advances to the next round. Great start for India in squash.
09:50 IST: Sandhu leads Stafford 2-1 in the men;s singles round of 64. The fourth game is under way, can he win and advance to the next round.
09:40 IST: Women's 48 kg weightlifting starts. Can Mirabai Chanu give India its first gold medal in CWG 2018?
09:30 IST: Harinder Pal Sindhu faces Cameron Stafford in Sqaush Men's Singles Round of 64
09:15 IST: Australia's Sally Pearson pulled out of the Commonwealth Games after failing to recover from an Achilles problem. Pearson, the 100 metres hurdles world champion, said she was "disappointed" but added that she needed to give herself the best chance of competing at the Tokyo 2020 Olympics.
IN FOCUS | "Gutted, absolutely gutted. There was a lot of tears flowing. I guess you could call it grief," #GC2018 Ambassador @sallypearson on her decision.
Read: https://t.co/RNDA6xwF4z pic.twitter.com/N3QLsPUudU

— Gold Coast 2018 (@GC2018) April 5, 2018
09:00 IST: India's Virdhawal Khade advanced to the semi-finals in the men's 50 metre butterfly event. Khade, who competed in Heat 5 along with teammate Sajan Prakash, overcame a slow start in lane 6 to finish fifth, clocking 24.52 seconds.
08:45 IST: In Table Tennis, India continue their fine run as they beat Trinidad and Tobago 3-0 in the men's team event.
08:30 IST: In Gymnastics, the Indian team comprising of Ashish Kumar, Rakesh Patra and Yogeshwar Singh are in action.
08:20 IST: In Lawn Bowls, Jo Edwards of New Zealand beat Pinki of India 21-16 in the women's singles section. Meanwhile in men's triple section, Wales beat India 23-9. 
08:15 IST: India have been really impressive in the mixed team event in badminton as they trounce Sri Lanka 5-0.
Read: Kidambi Srikanth, Saina Nehwal Hand India Easy Mixed Team Badminton Win
08:10 IST: Flora Duffy of Bermuda won the first gold medal of the Commonwealth Games in Women's triathlon.
IN FOCUS | First gold medal goes to @floraduffy in the #GC2018Triathlon. It was a strong performance from the World No.1! Read: https://t.co/JPR7TuRXcp pic.twitter.com/5t5OJVSPyz

— Gold Coast 2018 (@GC2018) April 5, 2018
08:05 IST: India are currently cruising in badminton against Sri Lanka.
#GC2018Badminton #gc2018 #TeamIndia's NSaina has beaten #MadushikaDilrukshiBeruwelage 21-8 21-4 in Women's Singles in Group event against #SriLanka@P9Ashwini & @sikkireddy in advantage against #Hendahewa & #Sirimannage in Women's Doubles! @BAI_Media @Media_SAI pic.twitter.com/7jKmEim8xw

— IOA - Team India (@ioaindia) April 5, 2018
07:42 IST: India's Gururaja wins silver in men's 56 kg weightlifting. INDIA have their first CWG medal!
We have our first medal. Many congratulations to GURURAJA for coming second and winning #Medal at the @GC2018 lifting total weight of 249kg in the Men's 56kg event! Super proud of you Gururaja !#GC2018Weightlifting pic.twitter.com/gde39VMfoZ

— Virender Sehwag (@virendersehwag) April 5, 2018
Read: Gururaja Wins India's First CWG Medal, Grabs Weightlifting Silver​
#GC2018Weightlifting #GC2018

The mighty GURURAJA comes in 2nd winning #TeamIndia its first #Medal at the @GC2018 lifting total weight of 249kg in the Men's 56kg event! #Congratulations #TeamMalaysia & #TeamSriLanka @WeightliftingIN @Media_SAI pic.twitter.com/qgH7Aam0ls

— IOA - Team India (@ioaindia) April 5, 2018
07:40 IST: Team India advance after beating Sri lanka 3-0 in women's team event in Table Tennis.
#gc2018tabletennis #gc2018 #TeamIndia advance after beating #SriLanka 3-0 in #Women's Team Event @ttfitweet @Media_SAI

— IOA - Team India (@ioaindia) April 5, 2018
07:10 IST: A mixed start for India on the opening day of the CWG. While India beat Sri Lanka 3-0 in the mixed team event in badminton, the Indian women's hockey team lost the opening game 2-3 to Wales.
07:00 IST: Hello and welcome to the live blog of Day 1 of the 2018 Commonwealth Games.
While Chanu's medal prospects make her the top draw for the Indian contingent, also in action will be the shuttlers, boxers, the women's hockey team and the table tennis players among others. The hockey team had finished fifth the last time around and will be beginning its campaign against Wales on Thursday morning. The Indians had done well in the tour of South Korea coming into the Games, winning the series in a morale-boosting effort.
The most star-studded Indian line-up in the Games, the badminton squad, has a busy schedule on the first competition day. The team will be in action in the mixed event and has clashes lined up against Sri Lanka and Pakistan. While the Sri Lanka match is scheduled for the morning, the face-off against the rivals from across the border is due in the second half of the day. The likes of PV Sindhu, K Srikanth are not expected to be stretched much in these matches.
Then there are the boxers. Only one of them -- the 2010 CWG gold-medallist Manoj Kumar (69kg) -- will be taking the ring. The veteran would be up against Nigeria's Osita Umeh in his opening clash and will be aiming to ensure that the focus firmly shifts from the needle controversy that marred the squad's build-up.
On the squash court, Dipika Pallikal, Joshna Chinnappa, Sourav Ghosal and Harinder Pal Sandhu will kick off their singles campaigns. Pallikal and Chinnappa had claimed the women's doubles gold in the 2014 Games and it remains to be seen whether a singles medal becomes a reality this time around.
While the women's team will square off against Vanuatu and Fiji, the men's team comprising the likes of veteran A Sharath Kamal and G Sathiyan will be facing Trinidad and Tobago and Northen Ireland.
Away from the spotlight and having dealt with their fair share of selection controversies prior to the Games, the Indian men's team of artistic gymnasts will be presenting their challenge on the opening day of competition. The spotlight here will be on comeback-man Ashish Kumar, who had scripted history by becoming the first Indian gymnast to claim CWG medals. He had claimed a bronze in floor exercise and a silver in vault. Plagued by injuries ever since Ashish would be aiming to reclaim the lost time with a strong showing.
Promoted
Also, there would be the cyclists even though medal expectations from them are not too high. Nonetheless, a certain Deborah Herold's name continues to evoke some curiosity despite the former Asian medallist's lack of any recent achievements.
The men's and women's basketball teams will also be playing their respective opening matches tomorrow, against Cameroon and Jamaica.
Topics mentioned in this article