Story Progress
Back to home
CWG 2018: Record-Breaking Anish Bhanwala, 15, Wins Gold In Men's 25m Rapid Fire Pistol
Anish Bhanwala, 15-year-old shooter, became India's youngest ever gold medallist at the Commonwealth Games.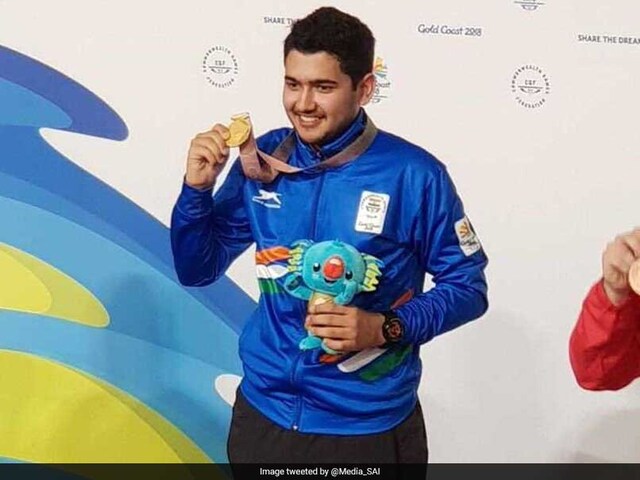 Anish Bhanwala created history by becoming India's youngest ever gold medal winner at Commonwealth Games.
© Twitter
Highlights
Anish Bhanwala wins gold in men's 25m rapid fire pistol

Bhanwala is India's youngest gold medallist in Commonwealth Games

Bhanwala also broke the CWG record on way to his gold medal
Anish Bhanwala, 15-year-old shooter, made history by not only smashing the Commonwealth Games record on Friday in Gold Coast, Australia on his way to a gold medal in the men's 25m Rapid Fire Pistol event but also became India's youngest ever gold medallist at the Commonwealth Games. Bhanwala registered registered a total score of 30, a new Games record, to finish top of the charts in the final. Neeraj Kumar, however, finished fifth after being eliminated in Stage 2 of the finals.
Australia's Sergei Evglevski bagged the silver with a score of 28 while Sam Gowin of England took home the bronze, shooting a total score of 17.
This was India's 16th gold at Gold Coast and 34th medal overall, making it the fourth most successful Commonwealth Games after New Delhi 2010 (38 golds), Manchester 2002 (30 golds) and Melbourne 2006 (22 golds).
Bhanwala was on the mark in the qualification stage, finishing top ahead of compatriot Neeraj Kumar. But while the Indian teen shooter carried the same form into the finals, Neeraj couldn't follow suit.
The 15-year-old, Bhanwala started with perfect scores in the first two series of Stage 1, Neeraj was left sweating with a less than impressive outing in Stage 1.
Neeraj did improve a little by the time Stage 2 - the elimination phase started. He leapfrogged Muhammad Khalil Akhtar of Pakistan into fifth place to avoid being the first shooter to be eliminated.
In the next round, Neeraj was involved in a shoot-off with England's Sam Gowin but a poor shot cost the Indian dear as he became the next to be eliminated.
All this was taking place as Bhanwala was blazing his own trail at the top. Australia's David Chapman did his level best to stay in touch with the Indian teenager but to no avail.
Promoted
A poor shot in Stage 2 from Bhanwala did allow some of his competitors to close the gap but the Indian immediately got back his focus and fended off any late charge, which did come from silver medallist Sergei Evglevski.
By winning the gold, Anish bettered compatriot Manu Bhaker, who had become the youngest Indian Commonwealth Games gold medallist earlier this week when she emerged champion in the women's 10m air rifle finals.