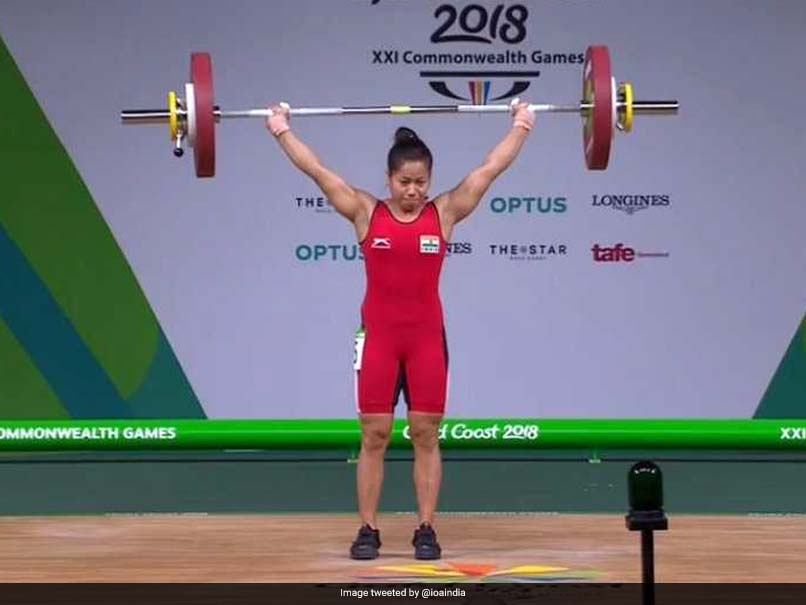 CWG 2018: Sanjita Chanu won the gold medal in women's 53kg weightlifting event.
© Twitter
Sanjita Chanu gave India it's second gold medal of the 2018 Commonwealth Games in Gold Coast, Australia by winning the women's 53 kg weightlifting event on Friday. Sanjita overcame a stiff challenge from 2014 Glasgow gold medallist Dika Toua of Papua New Guinea with a total lift (snatch plus clean and jerk) of 192 kg for India's second gold in the weightlifting category. Sanjita registered a Games record in snatch with a lift of 84kg that put her in pole position in the event. This was the second Commonwealth gold for the Manipur weightlifter, having won the 48kg event in Glasgow four years back. This is India's third medal of CWG 2018 with Mirabai Chanu winning gold on Day 1 while P Gururaja claiming the silver -- both in weightlifting.
#GC2018Weightlifting #CHANU STORM hits Gold Coast!
2 Days, 2 Chanus, 2 Golds

So proud of our #Weighlifters @WeighliftingIN for bringing us such glory at the #GC2018 #CommonwealthGames #TeamIndia #Congratulations @Media_SAI @Ra_THORe @IndiaSports @GC2018 pic.twitter.com/03mOHOhnYD

— IOA - Team India (@ioaindia) April 6, 2018
Sanjita started off with a lift of 81kg in snatch and in her second attempt managed to lift 83kg. She then broke the Commonwealth Games record set by compatriot Swarti Singh in Glasgow by lifting 84lg in her third snatch attempt. 
Sanjita looked in complete ease as she began the clean and jerk round with a lift of 104kg and then all but sealed the gold with a successful 108kg lift. High on confidence, the Indian weightlifter, went for a Commonwealth Games record in clean and jerk by attempting to lift 112kg but despite a clean pickup, she failed to get a successful lift, giving Dika Toua a ray of hope.
Needing a successful lift of 113kg to take the gold away from Sanjita, Dika Toua failed in her attempt.
On the Day 1 of the 2018 Commonwealth Games, World champion weightlifter Mirabai Chanu of India rose to the occasion to win a gold in the women's 48kg.
Mirabai Chanu went on a record-smashing spree, claiming three of them in a power-packed performance, to secure India's first gold. In a remarkable performance, Chanu smashed the Commonwealth and the Games record in snatch, pulling off clean lifts in all her three attempts (80kg, 84kg and 86kg).
She then lifted more than double her body weight (103kg, 107kg and 110kg) in three successful attempts to claim the clean and jerk as well as the overall Games record.
The showing helped her better the silver she had won in the 2014 Glasgow CWG.
Earlier in the day, P Gururaja claimed a silver medal in the men's 56kg event to open India's medal account in the quadrennial extravaganza.