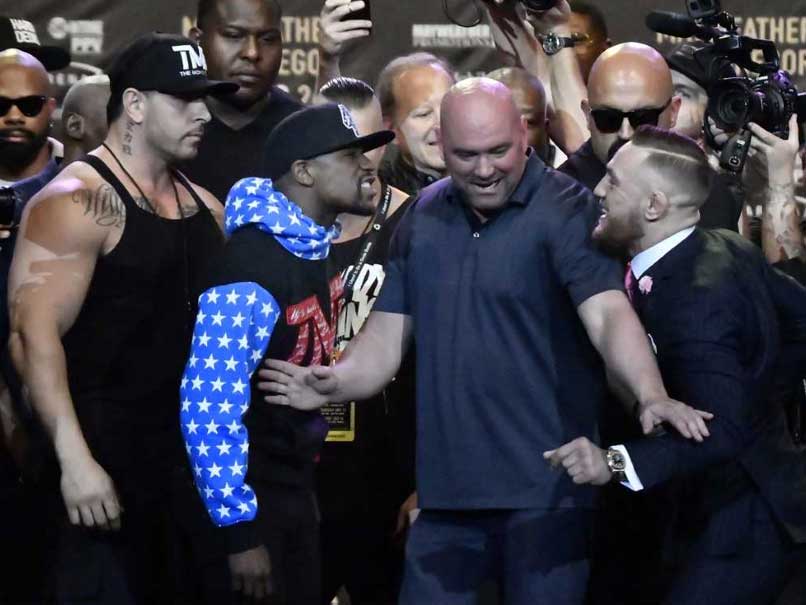 Floyd Mayweather vs Conor McGregor at Las Vegas
© AFP
Floyd Mayweather stopped martial arts star Conor McGregor in the 10th round of their money-spinning superfight. Undefeated welterweight boxing world champion Mayweather overcame a spirited start from a brave but outclassed McGregor, dominating from the fourth round onwards. The end came with a tired McGregor doubled over on the ropes as Mayweather landed two hard left hooks.
Catch all the highlights of the Mayweather vs McGregor straight from Las Vegas here.
10:25 IST: Round 10
That's it! Mayweather wins with a knockout. What a fight!
10:23 IST: Round 9
Again, Conor fails to cause any damage. Floyd though lands quite a few blows in that round. This is almost headed for a knockout.
10:19 IST: Round 8
McGregor is tired and struggling to hit Mayweather. The American has been clinical and is ahead in the contest now. He's almost toying with Conor.
10:14 IST: Round 7
Mayweather lands a powerful right. McGregor is being outdone by Floyd's experience. The Irishman could be in deep trouble now.
10:12 IST: Round 6
Mayweather showcases his brilliant defense. Conor is finding it hard to connect here. The contest is slowly turning Floyd's way.
10:05 IST: Round 5
None of the Conor's punches have caused major damage. Mayweather, however, hits with a left. At the end of that round, Mayweather shoves McGregor out of his way.
10:02 IST: Round 4
Mayweather finally shows his pedigree. He connects with a straight right to the body and then follows it up with another on the chin. Mayweather lands another with a left cross. Some comeback from the American, this.
09:58 IST: Round 3
Mayweather dives in and tried to plant a right into McGregor's body. Little success. This has been an unconventional performance from Conor so far. Looks like he's won Round 3 too.
McGregor is out-boxing Mayweather. Amazing.

— Piers Morgan (@piersmorgan) August 27, 2017
09:55 IST: Round 2
Mayweather catches one from McGregor. Mayweather forced to defend here. The Irishman walks back to his corner with a smile on his face. He has already surprised most people with this start.
09:54 IST: Round 1
Mayweather did not attack much. He appears a tad bit nervous out there. Conor on the other hand did land an uppercut. He's ahead in this round.
9:50 IST: That's how Floyd entered the ring.
.@FloydMayweather is making his way down NOW! #MayweatherMcGregor pic.twitter.com/SUE4qeucuT

— T-Mobile Arena (@TMobileArena) August 27, 2017
09:45 IST: And we are almost ready to go
Fighters being introduced. Atmosphere is electric inside the arena. #Mcgregor cheered, #mayweather received with a mix of boos and cheers

— Richard Conway (@richard_conway) August 27, 2017
09:34 IST: This will get you in the mood for the fight.
09:21 IST: Fans will have to wait a little longer for the main event.
Breaking: #MayweatherMcGregor "delayed slightly" pic.twitter.com/948a72aVG6

— Richard Conway (@richard_conway) August 27, 2017
09:09 IST: Mayweather tweets his final thoughts before going into battle.
Without God, none of this is possible. THANK YOU

— Floyd Mayweather (@FloydMayweather) August 27, 2017
08:58 IST: Hello and welcome to our live boxing blog for the much-awaited contest between two of combat sports' biggest names.
McGregor is the top pay-per-view draw in UFC while Mayweather had been the money-spinner in some of boxing's biggest bouts, including matchups with Filipino legend Manny Pacquiao and US star Oscar De La Hoya. Mayweather earned USD 250 million for his fight against Pacquiao.
Estimates vary but some projections indicate Mayweather could make as much as USD 200 million from the much-awaited contest, with McGregor collecting around USD 100 million.
Mayweather has fought at 154 pounds before but is more used to fighting at welterweight (150 pounds). McGregor however has fought at 170 pounds in MMA.