Story Progress
Back to home
Premier Badminton League 2017, Highlights: Awadhe Warriors Thrash Delhi Acers 6(-1)
Saina Nehwal and Kidambi Srikanth led Awadhe Warriors charge as they outclassed Delhi Acers to win the tie 6(-1) in the Premier Badminton League on Thursday.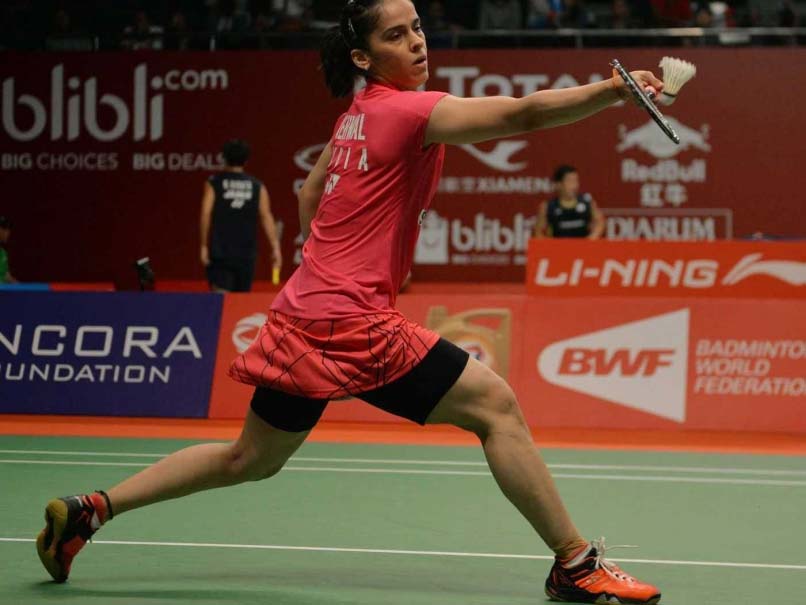 Saina Nehwal will head Awadhe Warriors' challenge vs Delhi Acers in the Premier Badminton League 2017.
© AFP
Delhi Acers were handed a humiliating defeat by Awadhe Warriors as they lost the tie by -1,6 in the Premier Badminton League match on Thursday. With this win, Lucknow team reaches at the top of the points table with 11 points and Delhi are still at the bottom. 
Catch the highlights of the match here
21:45 IST: That's it from us. Adios!
21:40 IST:  Awadhe Warriors thrash Delhi Acers 6/-1 to win the tie. The win takes them top of points table while Delhi crash out of the competition
21:34 IST: An emphatic victory for Wong Ki Vincent! What a fantastic win for the young shuttler. He wins by 11-8, 11-6
21:26 IST: It's a trump match for Delhi Acers and if they lose the final score will be 6- (-1)
21:20 IST: Everything going well for Awadhe Warriors today. Wing Ki Vincent Wong beat Son Wan Ho in the men's singles' first game 11-8
21:00 IST: The Thai pair have won it for Awadhe Warriors again as they outclassed Delhi Acers 12-10, 11-5 to take 5-0 lead in the tie
20:58 IST: The Thai pair are leading 4-3 in the second game
20:54 IST: Everything is going wrong with Delhi Acers as Jwala and Vladimir lose mixed doubles' first game too by 12-10
20:45 IST: All eyes will be on Delhi Acers' Jwala Gutta and Vladimir Ivanov who are up against Bodin Isara and Savitree Amitrapai of Awadhe Warriors in MIxed Doubles
20:44 IST: Awadhe Warriors have won the tie and the next two matches will be dead rubber now
20:40 IST: Kidambi Srikanth stuns World No.2 Jan O Jorgensen 11-9, 11-13, 11-9 to give 4-0 lead to Awadhe Warriors
20:37 IST: Srikanth is celebrating and Jorgensen opts for a challenge
20:36 IST: Srikanth in the lead now and match point for him
20:35 IST: Jorgensen had tucked the shirt in and it's not allowed at all. He has to take it out
20:29 IST: It's a decider now. Srikanth leads 6-4 against the Denmark player in the third game
20:22 IST: And here we go! The world No.2 wins it by 13-11
20:21 IST: Sensational net play by Srikanth and it's 11-11 now
20:19 IST: It's 9-8 in the second game and Jorgensen is struggling
20:11 IST: Delhi Acers are in trouble here. Srikanth beats Jorgensen 11-9 in the first game
20:04 IST: This is the repeat of Rio Olympics 2016 pre-quarterfinals 
20:00 IST: Next up in men's singles are Jan O Jorgensen and the local favourite Kidambi Srikanth
The Awadhe fans are jubilant and why not! That was one epic victory for @NSaina. #AWDvDEL #PBL2017#BaddiesAreBack pic.twitter.com/yJEcusLjYX

— PBL India (@PBLIndiaLive) January 5, 2017
19:55 IST: Saina Nehwal wins it in two games. She beats Nitchaon Jindapol 14-12, 11-7 to give Awadhe Warriors 3-0 lead
19:50 IST: Both of them are putting up a great exhibition with long rallies
19:47 IST: This is a trump match for Awadhe Warriors. Two points for win and negative point for a loss
19:46 IST: Brilliant court coverage by Jindapol as she level the scores 6-6
19:45 IST: Saina Nehwal leads the second game by 5-4
19:38 IST: And Saina Nehwal wins the game finally by 14-12
19:36 IST: After a super rally, the scores are again 12-12
19:35 IST: It's 10-10 now!
19:33 IST: Saina has come back well to level the scores at 9-9
19:28 IST: The Thai player takes 6-4 lead in the game
19:26 IST: Jindapol is leading 5-2 in the first game
Jindapol takes an early lead. 4-1 against @NSaina. #AWDvDEL #PBL2017#BaddiesAreBack

— PBL India (@PBLIndiaLive) January 5, 2017
19:21 IST: It's Saina Nehwal now, who is up against Thailand's Nitchaon Jindapol in women's singles match 
19:18 IST: Awadhe Warriors beat Delhi Acers 11-4, 11-4 in the men's doubles match 
19:14 IST: Powerful smashes from Kido/ Goh. Lead by 8-4
19:12 IST: Awadhe Warriors are leading by 6-3 in the second game 
19:11 IST: Awadhe Warriors win the first game 11-4
Superb atmosphere in Lucknow! Kido/ Goh take a 5 point lead at the break. 6-1 against Ivanov/ Dewalkar. #AWAvDEL #PBL2017#BaddiesAreBack

— PBL India (@PBLIndiaLive) January 5, 2017
19:10 IST: Meanwhile, Awadhe Warriors are leading 9-2
19:06 IST: The next match will be between Saina Nehwal and Jindapol in the women's singles
19:00 IST: Delhi Acers are the defending champions but they are at the bottom of the table this year
18:57 IST: The players of both the teams are out on the court and the first up will be men's doubles match where Akshay Dewalker and Vladimir Ivanov of Delhi Acers will play against Shem V Goh and Markis Kido of Awadhe Warriors
18:55 IST: Welcome all to the live-blog of Delhi Acers vs Awadhe Warriors match
Delhi Acers have not won a tie and are currently bottom of the table but the team which boasts of Jwala Gutta, All England champion pair of Vladimir Ivanov-Ivan Sozonov and also world No.3 Jan O Jorgensen, will be tough nut to crack.
Promoted
Awadhe Warriors started their campaign on a high by thrashing Hyderabad Hunters in the first game and thereby accumulating five points. They will look now look to get one over the defending champs and extend their lead and reach at the top of the points table.
Apart from Saina, the Warriors have World No.1 in Men's/Mixed doubles Goh W Shem, young star Kidambi Srikanth and Vincent Wong Wing Ki.
Topics mentioned in this article