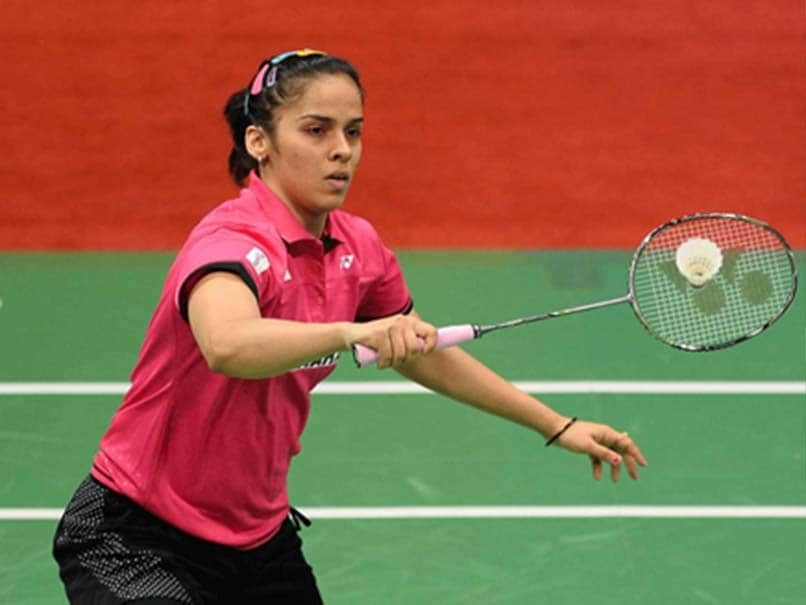 Saina Nehwal is the top seed at the Macau Open.
© AFP
Saina Nehwal came from a game down to beat Indonesian shuttler Hanna Ramadini 21-23, 21-14, 21-18 in the first round of the Macau Open on Wednesday.
The 26-year-old Indian won 63 of the total 118 points played during the duel that lasted for an hour and three minutes. (NEWS)
16:42 IST: That's it! Saina wins Game 3 21-18. She is through to Round 2 of the Macau Open.
16:38 IST: Saina Nehwal is just two points away from booking her spot in the next round.
16:36 IST: 18-11 in favor of Saina.
16:33 IST: 16-9 now. Saina is inching closer to a win.
16:30 IST: The Indian shuttler is turning out to be too good for the Indonesian. She leads 14-8!
16:28 IST: At the half-way mark in Game 3, Saina leads 11-6.
16:27 IST: Saina continues her domination in Game 3. She now has a 10-5 lead.
16:26 IST: Saina maintains her two-point advantage. She now leads 6-4.
16:25 IST: Saina takes the early lead. 4-2!
16:24 IST: Game 3 is underway.
16:21 IST: Time for the decider. Can Saina carry forward the momentum to Game 3.
16:20 IST: Saina closes out Game 2 rather easily with a 21-14 win. It's one game apiece now.
16:19 IST: Saina on the verge of winning Game 2. She needs just 2 points.
16:17 IST: Saina brings her experience in to play to stretch the lead. She leads 17-12!
16:15 IST: Hanna reduces the deficit. She trails 12-15.
16:14 IST: Saina maintains her grip on Game 2 with a 13-8 lead.
16:10 IST: At halfway point in Game 2, Saina leads 11-6.
16:08 IST: The 26-year-old is absolutely flying now. Saina leads 9-3.
16:07 IST: Saina has taken an early lead in the second game. 6-2!
16:06 IST: Game 2 is underway.
16:06 IST: Can Saina fightback in the second game?
16:05 IST: Out of the total 44 points played, Saina won 21, while Hanna secured 23.
16:02 IST: Saina loses the first game 21-23 in 24 minutes.
16:00 IST: 20-20! What a tense finish to this first game. Who will close this out?
15:59 IST: 18-18. This has been an enthralling first game here in Macau. High-quality badminton on display.
15:58 IST: Finally, Saina restores parity. 17-17!
15:57 IST: Hanna holds a two-point advantage. She leads 17-15!
15:54 IST: Saina mounts a mini comeback. She now trails 14-16.
15:53 IST: Saina needs to dig deep here. She trails 11-15.
15:51 IST: Hanna extends her lead to four points now. 14-10!
15:49 IST: It's 12-10 now. No signs of nerves from the Indonesian. Remember, Saina is a former world no.1.
15:48 IST: 11-8 in favor of Hanna now. Saina struggling at the moment.
15:46 IST: We could be in for a major upset here. The world no. 44 now leads the Indian 10-8.
15:45 IST: The Indonesian has now seized the initiative in this contest. She leads 9-6.
15:44 IST: Saina was initially trailing 2-5, but has now fought back to level matters at 6-6.
15:30 IST: Welcome to our live coverage of Saina Nehwal's opening clash against Hanna Ramadini
The former World No. 1 Indian, who takes on Indonesia's Hanna Ramadini in the opening round on Wednesday, will look to add momentum to her season with a resounding win.
Saina is slowly attaining full fitness after recovering from a serious knee injury which affected her Rio Olympics run earlier in the year.
She underwent a knee surgery in August and made a comeback at China Open but lost in the opening round. Last week, Saina put up a spirited show at the Hong Kong Open where she bowed out in the quarter-final.