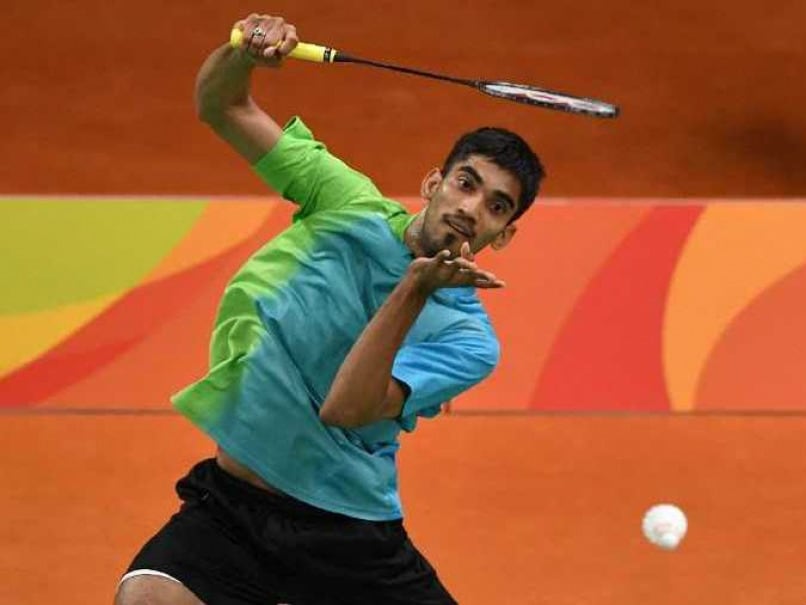 Kidambi Srikanth beat Kazumasa Sakai to win the title in Indonesia.
© AFP
Kidambi Srikanth capped a brilliant week in Jakarta winning the Indonesia Open Super Series Premier title on Sunday beating Japan's Kazumasa Sakai 21-11, 21-19 in 37 minutes. The world No. 22 Indian beat the world No. 47 for the second Super Series Premier win of his career in the first meeting between the two. This was the fourth Super Series final for Srikanth, who had reached the summit clash in Singapore in April and won the 2014 China Open (Super Series Premier) and the 2015 India Open.
Srikanth had earlier defeated world No 1 Son Wan Ho of South Korea to reach the summit clash. He had beaten the South Korean 21-15, 14-21, 24-22 in the semi-final. Srikanth had a 2-4 head-to-head record against Son, having lost to the South Korean four times in the last four meetings but all that didn't matter in the semi-final as he survived a battle of attrition at the Jakarta Convention Center.
"He was playing well, especially in the second game and I think for me coming back from 6-11 down and make it 13-13 was the turning point," said Srikanth after winning the final. "My coach will have a special place in my heart as after he came, I reached the finals at Singapore and to win this tournament, which is considered the biggest tournament. I want to thank all the fans who have been rooting for me all this week."
Srikanth played a patient game and didn't allow his opponent to engage in any fast-paced rally. He dictated the pace with his precise angled returns and unleashed his smashes at perfect intervals to down his rival. He dominated the proceedings and zoomed to a 19-11 lead, sealing the first game with two lucky net chord points.
After the change of sides, Sakai was more aggressive in his approach and produced an improved net game to dominate the rallies. Soon, the Japanese was leading 7-3 as he entered the break with an 11-6 lead with the help of a backhand return near the net.After the interval, Srikanth's aggressive game gave him the desired results.
He turned the tables and caught up with the Japanese at 13-13 with an on-rushing smash at the net. The duo moved neck and neck after that till 19-19 before Srikanth produced two fantastic smashes to seal the issue and punch the air in celebration.
(With PTI inputs)