Story Progress
Back to home
India vs Pakistan: Asia Cup, 2022 Live Cricket Score, Live Score Of Today's Match on NDTV Sports
Live Updates of Today Match between India vs Pakistan from Dubai International Cricket Stadium, Dubai. Check commentary and full scoreboard of the match.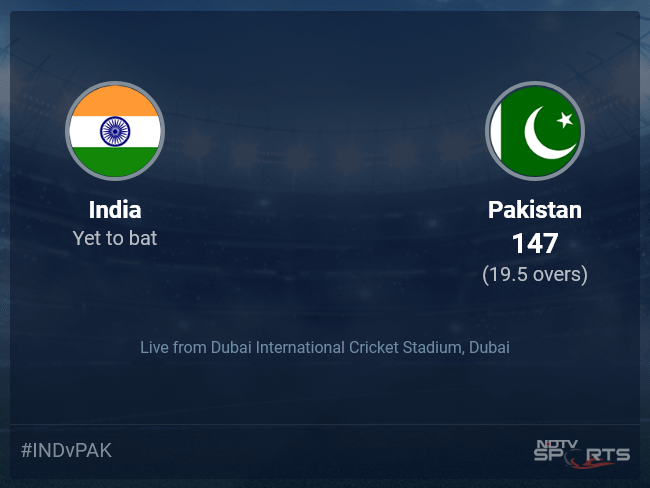 IND vs PAK Latest Score
A dedicated team of experts bring you live score, live cricket score, live match update on Sports.NDTV.com. After 19.5 overs, Pakistan are 147. The live updates of India vs Pakistan scorecard is also available. It is the perfect platform to follow your favourite teams in Asia Cup, 2022. Keep a track on your favourite batsmen and bowlers through Asia Cup, 2022 today match, ball by ball commentary, India vs Pakistan, India vs Pakistan live score, India vs Pakistan scorecard. Follow the excitement of the Asia Cup, 2022 on Sports.NDTV.com as you can follow live match updates and live cricket score through our platform.
Rohit Sharma made the perfect decision of bowling first on a grassy wicket and his decision was justified by his bowlers. They grabbed two scalps within the Powerplay and took control of the game. They made sure not to leak many runs in the middle phase and took wickets at regular intervals. Although they would be disappointed about how things have ended for them. They leaked over 30 runs in the final 3 overs and let Pakistan get away with a fighting total. Bhuvneshwar Kumar was the leader of the pack he grabbed four wickets in his spell, while Hardik Pandya was impressive as well. He ended his spell with three wickets. India hold the upper hand at the halfway mark of the match and will fancy their chances of getting over the line.
It's been a disheartening performance from the Men in Green, but they will be satisfied with how things have ended for them. Pakistan did not get off to the brightest of starts. Babar Azam and Mohammad Rizwan did play a few fine strokes but the fomer perished while trying to play a big shot. Fakhar Zaman too followed him back to the pavilion at the end of the Powerplay. Mohammad Rizwan did get off to a positive start but he always looked tentative at the crease and fell prey to Pandya in trying to up the ante. Post that, Pakistan lost wickets in a heap and found themselves reeling at 114 for 7. But a good finish thanks to Shadab Khan and Shahnawaz Dahani has helped them put on a competitive total.
A late blitz by Shahnawaz Dahani has helped Pakistan get a competitive total. They scored 33 runs in the last 3 overs and have given their bowlers something to bowl at. But it's been a sensational bowling performance from the Men in Blue! They have bowled expectationally well and have bundled out Pakistan for a par score of 147! They will be mightily pleased with their bowling show barring the late flourish by the tail-enders.
19.5 overs (0 Run) OUT! TIMBER! Arshdeep Singh comes back strongly and finishes things off in style! This is bowled from around the wicket and very full, right at the base of the stumps. Shahnawaz Dahani makes room and tries to heave it leg side but is beaten for pace. The ball shatters into the stumps and Pakistan have been bundled out for 138!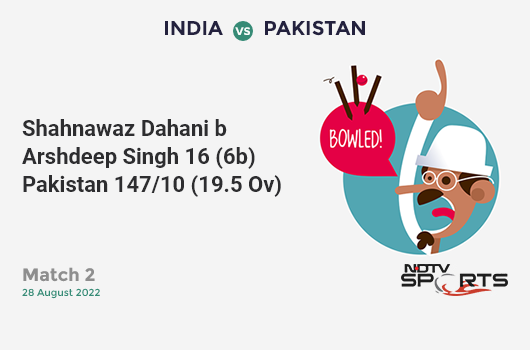 19.4 overs (6 Runs) SIX! Oh, Shahnawaz Dahani is bringing Pakistan back in the game here. Banged in short and at the body, Dahani pulls it right off the middle of the bat and over the mid-wicket fence for a biggie.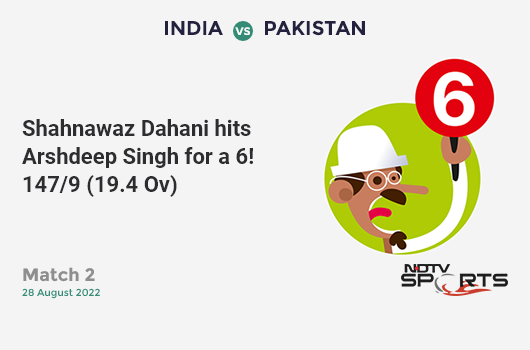 19.3 overs (2 Runs) Two more! Length ball, following the batter down the leg side. Shahnawaz Dahani hits it right down the ground and rushes back for two.
19.2 overs (3 Runs) In the air...dropped! Pitched up around off, Haris Rauf goes after it but miscues it badly. The ball goes over the cover region. Rohit Sharma there runs back and tries to take it over his shoulders but ends up spilling it. The batters take three.
19.1 overs (0 Run) A shortish delivery, angling in from around off. Haris Rauf tries to take it on but misses.
18.6 overs (2 Runs) Length again, around middle and this is pulled away uppishly towards deep mid-wicket for a couple of wickets.
18.5 overs (6 Runs) SIX! Well, no one saw that coming! A length ball around middle, Shahnawaz Dahani stays put and clobbers it way, way over the wide long on fence for a huge hit.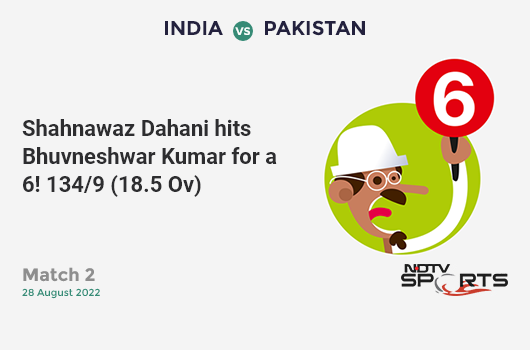 18.4 overs (0 Run) No hat-trick! A touch fuller and attacking the off stump, Shahnawaz Dahani defends it solidly off the front foot.
Shahnawaz Dahani walks out to face the hat-trick ball.
18.3 overs (0 Run) OUT! LBW! Two in two now for Bhuvi and Naseem Shah is out for a golden duck on debut. This is on a perfect length, on off stump and the ball nips back in sharply. Shah gets pushed onto the back foot and fails to get any bat on it. The ball thuds into the pads. Another appeal for LBW and it is given! Naseem Shah has no choice but to review it. The UlraEdge is checked first and there's no spike. Ball Tracking shows that it is umpire's call on wickets and Bhuvneshwar Kumar is on a hat-trick!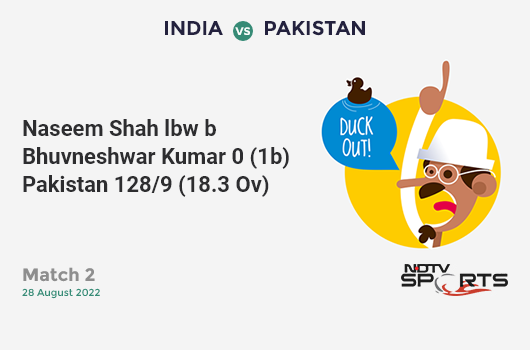 Naseem Shah is the new man in.
18.2 overs (0 Run) OUT! LBW! Bhuvneshwar Kumar goes a tad fuller and around off stump, angling it in. Shadab Khan goes on the back foot, looking to work it leg side and gets pinged on the pads. A huge shout for LBW and the finger is raised in a jiffy. Shadab Khan though has opted for the review but this one looks plumb. UltraEdge shows that there's no bat involved and Ball Tracking confirms that the ball is hitting the off stump. The original decision stands and Pakistan lose their eighth wicket.
18.1 overs (4 Runs) FOUR! A poor delivery from Bhuvneshwar Kumar and it is put away. A full toss on the pads, Shadab Khan lofts it behind square on the leg side and picks up a boundary.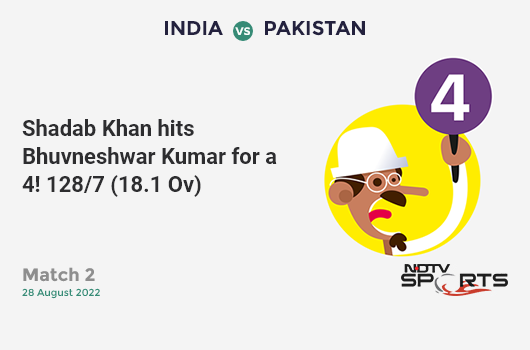 17.6 overs (4 Runs) FOUR! Haris Rauf does connect this time and picks up a much-needed boundary. Length ball, angling into middle. Rauf swings and gets it past mid-wicket for a boundary.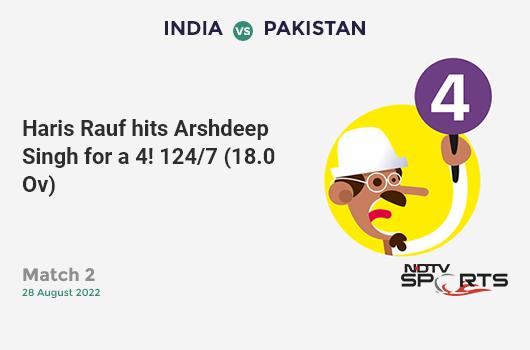 17.5 overs (0 Run) Good change up! Slower one, on a fullish length and around off. Rauf throws his hands at it as he looks to go leg side but is well beaten.
17.4 overs (0 Run) Excellent bowling! Full and angled into off stump. Haris Rauf looks for the heave but gets an inside edge onto the boot and towards the keeper.
17.3 overs (4 Runs) FOUR! Good effort from the keeper but in vain! Short delivery, angled at the body. Haris Rauf tries to pull it away but the ball goes off the gloves. Dinesh Karthik leaps to his left and manages to get a hand on it but the ball goes down to the fine leg fence.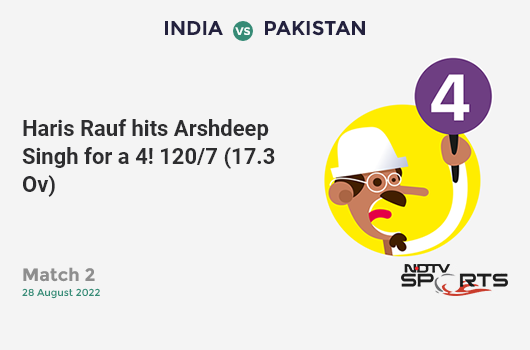 17.2 overs (2 Runs) In the air but just over! This is pitched up around off, Haris Rauf takes it on and lofts it off the toe end of the bat and over mid off. Ravindra Jadeja from inside the circle runs back but fails to get to it. Two taken.
Haris Rauf is the new batter in.
17.1 overs (0 Run) OUT! CAUGHT BEHIND! Arshdeep Singh sends Mohammad Nawaz packing! This is bowled from over the wicket, on a nagging length and around off. The ball just nips away a touch and Nawaz dangles his bat at it. The outside edge is found and Dinesh Karthik does the rest behind the sticks. Pakistan in danger of getting bundled out here.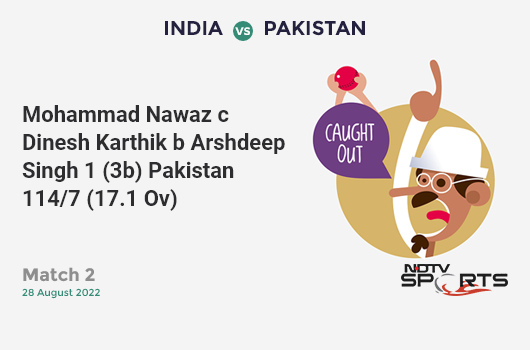 Arshdeep Singh (2-0-12-0) is brought back into the attack. He replaces Yuzvendra Chahal
16.6 overs (1 Run) Drop and run! Length again, around off, Nawaz plays it with soft hands towards short cover and scampers through for the single.
16.5 overs (0 Run) Lovely! This is pitched up a bit further and close to the off pole. Mohammad Nawaz goes back to a fuller ball and gets beaten past the outside edge.
16.4 overs (1 Run) Back of a length, around off, this is guided off the back foot down to third man for a run.
Mohammad Nawaz comes to the crease.
16.3 overs (0 Run) OUT! CAUGHT! Bhuvneshwar Kumar comes back into the attack and picks up a wicket. Bhuvi goes fuller and on off. Asif Ali gets low and launches it high but off the toe end of the bat. The ball goes towards long off and Suryakumar Yadav over there takes a simple catch. Pakistan going doing in a hurry here and India right on top of things.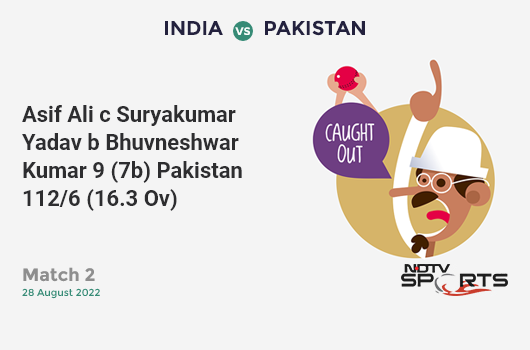 16.2 overs (1 Run) Length ball, around off, hit on the up and down to long off for just a single.
16.1 overs (0 Run) A slower delivery from Bhuvneshwar Kumar to start off with, fuller and outside off. Shadab Khan looks to cut but is beaten for the lack of pace.
Bhuvneshwar Kumar (2-0-11-0) comes back to bowl.
15.6 overs (0 Run) A low full toss on off, this is gently pushed back towards the bowler.
15.5 overs (2 Runs) Around middle, Asif Ali heaves it away towards wide long on but Virat Kohli from long on is quick to get across and keeps it down to a single.
15.4 overs (1 Run) Full and straight, this is drilled right back past the bowler down to long on for a single.
15.3 overs (3 Runs) Aerial but falls safely. This is tossed up around off, Asif Ali goes inside-out and lofts it over covers. The fielder in the deep misfields and the batters get back for three runs.
15.2 overs (1 Run) Quicker one, around off, this is cut away by Shadab Khan down to third man for one more.
15.1 overs (1 Run) This is a tad shorter and around off, Asif Ali goes on the back foot and works it past point for a single.
Match Reports
Topics mentioned in this article