Story Progress
Back to home
West Indies vs India Live Score Ball by Ball, West Indies vs India, 2022 Live Cricket Score Of Today's Match on NDTV Sports
Live Updates of Today Match between West Indies vs India from Central Broward Park, Lauderhill, Florida. Check commentary and full scoreboard of the match.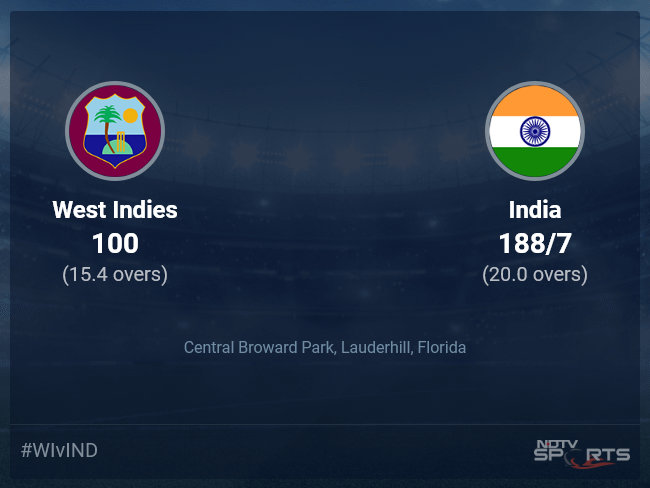 IND vs WI Latest Score
Follow the West Indies vs India, 2022 live cricket score on Sports.NDTV.com. After 15.4 overs, West Indies, chasing a target of 189, are 100. Get live score, ball by ball commentary and much more. Keep track of West Indies vs India, 2022 today match between West Indies and India. Everything related to West Indies and India match will be available on Sports.NDTV.com. Stay updated with West Indies vs India live score. Do check for West Indies vs India scorecard. You can get scorecard updates, match related facts. Get quick live updates with ads, Sports.NDTV.com, which is the perfect destination for live cricket score.
That's a wrap to India's tour of the West Indies. They pocketed the ODI series and then outclassed the hosts in the T20I series as well. Their preparation for the upcoming T20 World Cup is going strong, and they also tried out quite a few new players successfully. India will now fly to Zimbabwe for a 3-match ODI series while West Indies will get ready to host New Zealand. Plenty of action lined up, do join us in future for all the action. Cheers!
Hardik Pandya, the captain of India, says that it's special to lead your country and to get a victory like this means a lot to him. Calls it icing on the cake. When asked about becoming the permanent captain, Pandya says he will like to one day but right now, the focus is on the upcoming T20 World Cup. Wants his team to keep improving the skill set. Tells that the kind of talent they have and the freedom with which they are playing make them more dangerous. Credits the whole group for a great environment. Shares that he wanted to give Axar Patel the new ball to get his confidence back. States that spin was a big factor and he doesn't have to do much as a captain. Feels that India are ready for the World Cup but they want to keep learning and improving. Signs off by thanking all the fans for supporting them.
Nicholas Pooran, the captain of West Indies, says that they were not good enough. Adds that they didn't learn much but feels that the bowlers are getting better. Mentions that they need to learn faster. Admits that they were not up to the challenge. Praises Hetmyer for his knock but regrets that they didn't get any partnerships. Tells that when you come up against a top team, you learn a lot. Hopes that they are building for the T20 World Cup and will do it right. Feels that in hindsight, they could have played with two spinners. He is looking forward to the next series and congratulates the Indian team.
Arshdeep Singh is the Player of the Series. The young fast bowler says that he is really grateful to represent his country and he tries to keep it simple. They are a process-based team and focus on doing the process right. Mentions that he works hard in the nets and wants to be adaptable. Credits the team management for giving him clarity about his role in the team. Shares that his dad is his mentor.
Axar Patel says that his plan was to vary the pace as he knew the wicket was on the slower side. Adds that he backs his strength and tries to vary the pace which is important. Regarding the pitch, Patel says that it has been on the slower side and pitching the ball up has worked for him. Tells that he wants to be known as an all-rounder, as on a given day when he does well with the bat, he is a batting all-rounder and when he does well with the ball, he is a bowling all-rounder.
Stay tuned for the presentation...
Despite resting a few key players, India were clinical in all aspects of the game. Shreyas Iyer and Deepak Hooda set the tone with their sparkling batting and helped India post a big total on the board. West Indies needed a strong start but they lost three wickets in the Powerplay and were never in the chase. The decision to rest the likes of Brandon King and Kyle Mayers is quite questionable. India have the luxury to do that but West Indies, currently, don't have the same bench strength. A lot of soul-searching is needed for Nicholas Pooran and team.
A comprehensive win for India! Axar Patel, Kuldeep Yadav and Ravi Bishnoi ruled the roost with the ball and the West Indian batters had no response to their clever variations. Barring Shimron Hetmyer's fighting knock, it was a meek surrender from the other batters. Yet another flavourless show from the Men in Maroon and their fortune in shorter formats is just refusing to change.
15.4 overs (0 Run) OUT! INDIA WIN BY 88 RUNS! All ten wickets fell to the spinners, for the first time in a T20I game, informs the on-air commentator. Flighted and around off, turning away, Obed McCoy goes down to heave it across the line but does not get enough power behind his shot. A simple catch for Deepak Hooda at long on and Ravi Bishnoi finishes with a 4-wicket haul.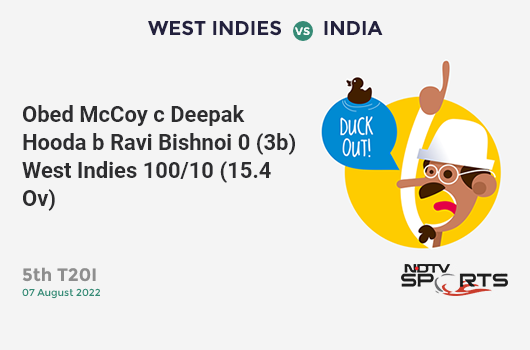 15.3 overs (0 Run) Darts it down the leg side, Obed McCoy looks to slog sweep it but misses as the ball hits his pads.
15.2 overs (0 Run) Flatter and outside off, Obed McCoy looks to punch it but misses.
Obed McCoy is the number 11 batter.
15.1 overs (0 Run) OUT! Hetmyer holes out and that's the final nail in the coffin for West Indies. A googly, fuller in length and around leg, Shimron Hetmyer clears his front leg for a big shot but only manages to mistime it in the air towards long off. Shreyas Iyer takes the catch with ease in the deep. The end is nigh for West Indies.
Match Reports
Topics mentioned in this article