Story Progress
Back to home
West Indies vs India: West Indies vs India, 2022 Live Cricket Score, Live Score Of Today's Match on NDTV Sports
Live Updates of Today Match between West Indies vs India from Warner Park, Basseterre, St Kitts. Check commentary and full scoreboard of the match.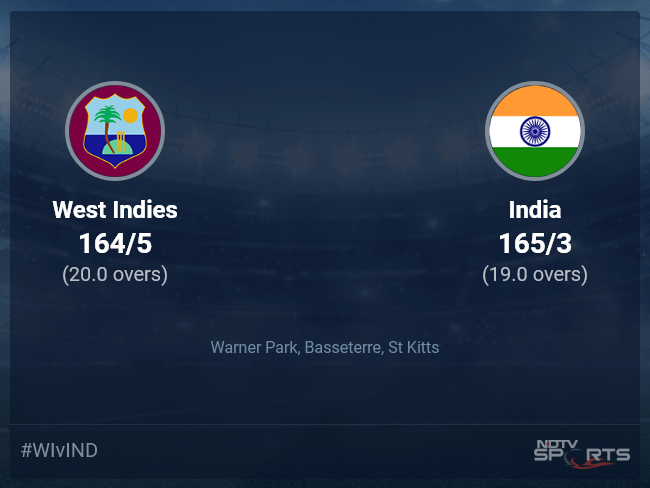 WI vs IND Latest Score
A dedicated team of experts bring you live score, live cricket score, live match update on Sports.NDTV.com. After 19.0 overs, India, chasing a target of 165, are 165/3. The live updates of West Indies vs India scorecard is also available. It is the perfect platform to follow your favourite teams in West Indies vs India, 2022. Keep a track on your favourite batsmen and bowlers through West Indies vs India, 2022 today match, ball by ball commentary, West Indies vs India, West Indies vs India live score, West Indies vs India scorecard. Follow the excitement of the West Indies vs India, 2022 on Sports.NDTV.com as you can follow live match updates and live cricket score through our platform.
Right then! Three games done and two still to go. India have the advantage as they are 2-1 up and need just one more win to seal the series victory. The action now moves to Lauderhill, Florida in the USA for the remaining two T20Is and it sure will be exciting. The 4th T20I will be played on Saturday, the 6th of August and will begin at 8 pm IST (2.30 pm GMT). Our build-up though will begin much sooner. Do join us then, take care and goodbye!
The Indian skipper, Rohit Sharma says that he is fine and they have a few days before the next game so he has time for recovery. Mentions that they bowled well in the middle overs and they used the conditions very well. Adds that even the way they chased was very clinical and was achieved with minimal risks. Says that it is very important in this format to convert the starts and when you get past 70 or 80 runs, then that makes a difference. Says that when you chase such a target, anything could happen but they played the right shots.
Nicholas Pooran, the skipper of West Indies says they should have taken some early wickets. He feels they had enough runs on the board but India bowled really well despite the wicket being on the slower side. Shares that they kept losing wickets regularly after getting to a good start. Mentions there are a lot of things to learn. Feels like they were 10-15 runs short but early wickets could've changed the game for them though.
Suryakumar Yadav (76 off 44 balls) is the PLAYER OF THE MATCH for his match-winning innings. He says that he is very happy with his performance. Adds that it was important to bat deep as the skipper departed early. Says that they were aware of the pitch and someone had to bat deep and win the game for the team. Shares that he has done this in the Indian T20 League before so he loves to play this kind of innings. Ends by saying he backs himself and enjoys the game.
The presentation ceremony...
Earlier in the game, Rohit Sharma won the toss and decided to bowl first which didn't work out in the Powerplay with Kyle Mayers taking a liking to the Indian pacers. But once Hardik Pandya got the first breakthrough, the run rate slowed down. Even though India weren't able to get wickets, Pandya and Ashwin bogged down the Windies batters. With Mayers back in the hut as well, it was time for Rovman Powell and Shimron Hetmyer to flex their muscles and Avesh Khan was majorly on the receiving end of the carnage throughout the innings. Having asked to get 165 runs on a pitch that was used and favoured the pacers, it was Suryakumar Yadav for India who took on the responsibility of killing the chase in the first 10 overs and he did exactly that. In the end, the hosts were outclassed and will now have to bounce back yet again if they are to level the series.
At the halfway mark, West Indies would have been certain that they have a more than a defendable score on the board but their bowlers have let the team down. The Indian batters had a bit of an issue against the left-handed bowlers and hence, Dominic Drakes was brought in as well but he proved to be largely ineffective. The hero of the previous game, Obed McCoy couldn't repeat the trick this time around and only Akeal Hosein showed a bit of control with the ball. In the end, the pitch didn't have enough wear and tear on it to trouble the batters and the Windies bowlers were blown away.
The pitch was a used one and West Indies had an above-par score on the board. India would have found it a bit more challenging to get the win but the way Suryakumar Yadav attacked the Windies bowlers right from the off, the game was completely turned on its head. Skipper Rohit Sharma retired hurt after a breezy start but then came the partnership between Suryakumar Yadav and Shreyas Iyer, where Yadav was in full flow. Later on, Yadav got out after a big score but by that time India had the game in the bag and Rishabh Pant added the finishing touches to take his side over the line.
A very comfortable victory in the end for India as they have put on a commanding show to take a 2-1 lead in the five-match series against West Indies. The visitors will now head into the USA leg of the tour needing just one win to seal the series.
18.6 overs (4 Runs) FOUR! YES, HE DOES! India lead the series now by 2-1! A fuller ball, outside off, angling on. Pant stays back and thumps it through mid-wicket for a boundary. India win by 7 wickets.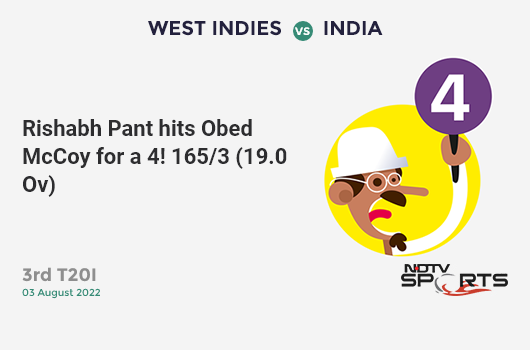 18.5 overs (1 Run) Hooda steps across and down. Mccoy serves it around off. This is hit to deep mid-wicket for a single. Will Pant finish in this over itself?
18.4 overs (2 Runs) Full and on middle. Hooda tries to play on the leg side but gets a leading edge over covers for a couple of runs. 5 runs needed now.
18.3 overs (0 Run) McCoy goes for the widish yorker and he nails it. Hooda fails to squeeze it out.
18.2 overs (1 Run) Fuller and on middle. Pant with a flick of the wrist to deep square leg for a single.
18.1 overs (1 Run) Too full and outside off. Hooda dabs it to cover-point for one run.
Obed McCoy (3-0-25-0) to bowl the penultimate over of the innings.
17.6 overs (1 Run) On middle on a length, drilled down to long on for a single.
17.5 overs (4 Runs) FOUR! Beautiful shot from Hooda! Overpitched, outside off. Hooda shows full face of the bat and drives it crisply through covers for a boundary. The fielder in the deep doesn't even try to give a chase.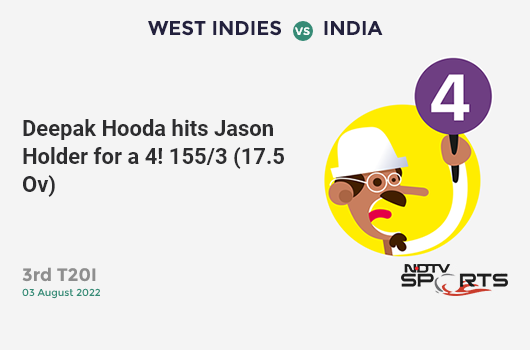 17.4 overs (1 Run) Fuller ball, outside off. Pant smashes it hard to mid off where Nicholas Pooran gets a hand on it. The ball rolls behind and the batters get a single.
17.3 overs (1 Run) Length ball, outside off. Hooda punches it through point for a single.
Deepak Hooda walks in at number 5.
17.2 overs (0 Run) OUT! CAUGHT BEHIND! West Indies get the wicket but is it a little too late! Short in length and around off. Hardik Pandya tries to pull this but gets an outside edge to Devon Thomas who gobbles it up. It was there to be hit but Pandya swings under the bounce of the ball and gives away his wicket.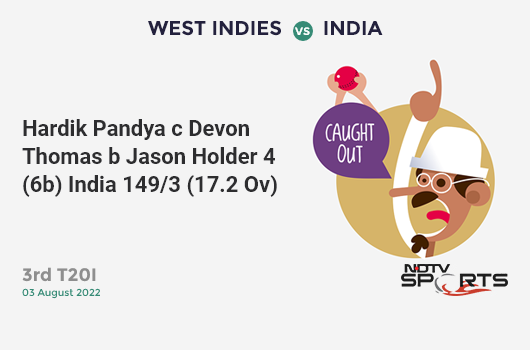 17.1 overs (1 Run) This is full and outside off. Pant shuffles way across and whips it to deep mid-wicket for a single. Didn't get the whole of it.
Jason Holder (2-0-22-0) is back on.
16.6 overs (1 Run) An off-pace delivery, on a length and on off, pulled to deep square leg for a single. 17 needed off the last three overs.
16.5 overs (1 Run) Around off, pushed through covers for a single.
16.4 overs (1 Run) Bye! An action replay of the previous ball and Pant again misses his reverse hit. The ball bounces in front of the keeper, making it hard for him to catch and it rolls behind for a bye.
16.3 overs (0 Run) Hits the deck hard, on a length and on middle. Pant tries to reverse hit but misses it completely.
16.2 overs (4 Runs) FOUR! India running away with the game! Short of a length and outside off. Pant pulls it past mid-wicket for four.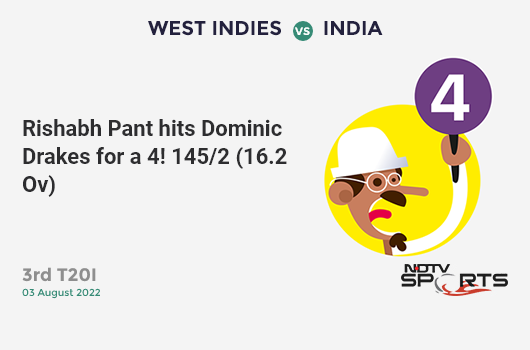 16.1 overs (1 Run) Length ball, outside off. Pandya cuts it to deep point for a single.
15.6 overs (0 Run) An effort ball to end the over! A widish yorker, outside off. Pant fails to jam it out.
15.5 overs (1 Run) A full ball, around off. Pandya works it to long on for a single.
15.4 overs (1 Run) Length ball, outside off. Pant punches it to deep point for a single.
15.3 overs (1 Run) Short again, this time Pandya controls his pull shot to deep square leg for a single.
15.2 overs (0 Run) This is short and outside off, drifting a bit away. Pandya throws the kitchen sink at it but only to miss it.
15.1 overs (1 Run) Length ball, outside off. Pant slaps it to long off for a single.
Match Reports
Topics mentioned in this article