Story Progress
Back to home
West Indies vs India Live Score Ball by Ball, West Indies vs India, 2022 Live Cricket Score Of Today's Match on NDTV Sports
Live Updates of Today Match between West Indies vs India from Warner Park, Basseterre, St Kitts. Check commentary and full scoreboard of the match.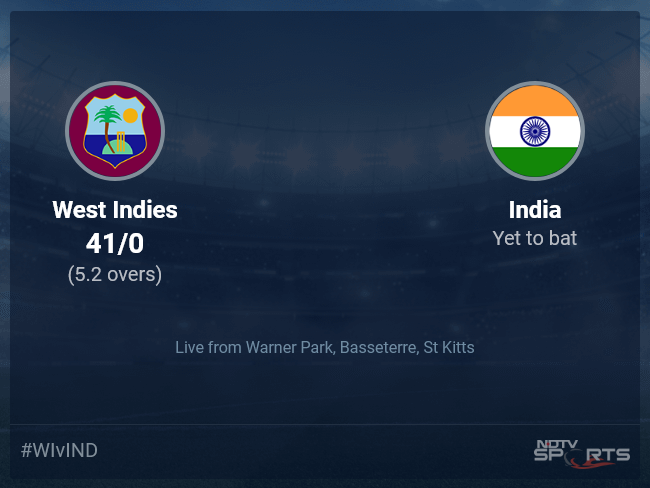 IND vs WI Latest Score
Follow the West Indies vs India, 2022 live cricket score on Sports.NDTV.com. After 5.2 overs, West Indies are 41/0. Get live score, ball by ball commentary and much more. Keep track of West Indies vs India, 2022 today match between West Indies and India. Everything related to West Indies and India match will be available on Sports.NDTV.com. Stay updated with West Indies vs India live score. Do check for West Indies vs India scorecard. You can get scorecard updates, match related facts. Get quick live updates with ads, Sports.NDTV.com, which is the perfect destination for live cricket score.
4.6 overs (0 Run) This is full and around leg. Mayers makes room and squeezes it out to square leg. 9 off the over then! West Indies going along nicely.
4.5 overs (1 Run) DROP AND RUN! King is happy to give the strike to Mayers who is striking well! Length and on off, worked to point for one.
4.4 overs (1 Run) Leg bye! On the pads this time. Mayers misses his whip and gets hit on the pads. It rolls to square leg for a leg bye. A direct hit at the bowler's end but Mayers was well in.
4.3 overs (0 Run) Effort ball from Pandya! This one is short and at 131 kph. Mayers sits under it.
4.2 overs (6 Runs) SIX! Picks the length very quickly! Short of a length and on off. Mayers stays back and pulls it powerfully over deep mid-wicket for a biggie. Brilliant start for the Windies.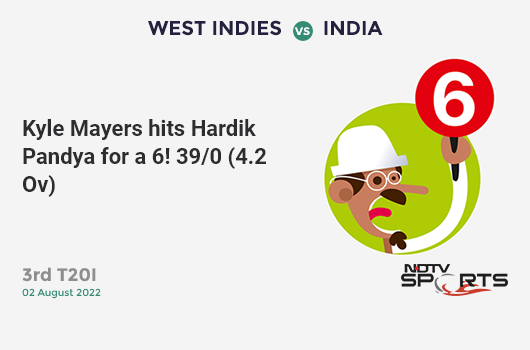 4.1 overs (1 Run) Length and on middle, nudged to mid-wicket for a single.
Hardik Pandya comes in to replace Avesh Khan.
3.6 overs (0 Run) Short and on middle. Mayers looks to pull but misses and gets hit on the body.
3.5 overs (0 Run) Mayers survives! This one is short and on middle. Not that short as Mayers bends his back and tries to play it over the keeper. He misses and Pant is quick to put up an appeal. A huge appeal for caught behind and the finger stays down. Rishabh Pant is very confident as he asks his skipper to take the review. Ultra Edge though shows nothing on it and India lose the review.
3.4 overs (4 Runs) FOUR! DEFT TOUCH! Very clever from Mayers! Kumar serves a length ball from 'round the wicket and outside off. Mayers waits and plays it delicately past short third man for a boundary.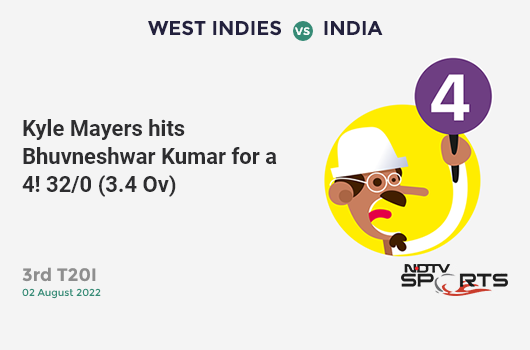 3.3 overs (0 Run) Pitched up, outside off. Mayers pushes it straight to covers.
3.2 overs (4 Runs) FOUR! Pierced through the gap! Fuller ball, around leg. Mayers makes room and punches it through covers, through the gap there and bags another boundary. He holds the pose for the cameras as well.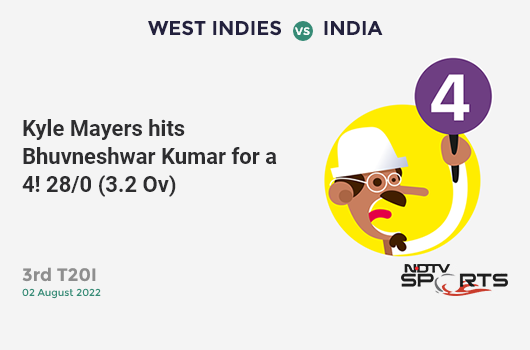 3.1 overs (2 Runs) Digs it short and on off. Mayers uses his feet as he pulls it to deep mid-wicket. Not off the middle and he will settle with a couple of runs.
2.6 overs (2 Runs) Another two! 15 runs off it! The batters finding their rhythm now! Length and outside off. King chops it past point for two more.
2.5 overs (1 Run) Pitched up, outside off, it is hit to deep cover for one.
2.4 overs (2 Runs) Two taken! Good running! This is too full and outside off. Mayers throws his bat at it and plays it to deep point. Mayers takes a risky second run but makes it with a big dive.
2.3 overs (6 Runs) SIX! Much better from Mayers and it results in a six! Short of a length and outside off. Mayers pulls it over deep square leg for a biggie. First of the match!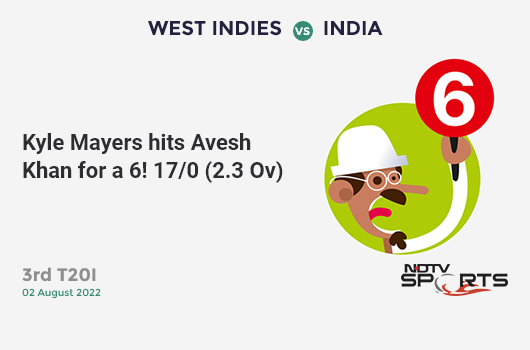 2.2 overs (4 Runs) FOUR! This time he connects it well! Khan stays with the same line but the length is touch short. Mayers stays back and muscles it over mid-wicket for a boundary.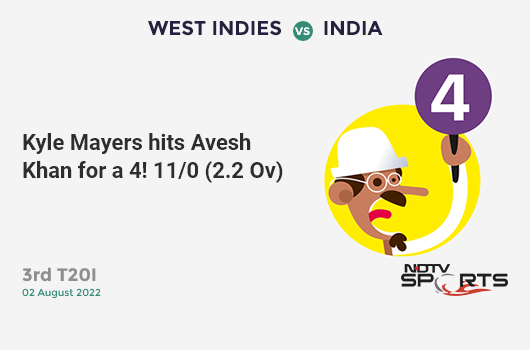 2.1 overs (0 Run) Touch fuller and angling across, outside off. Mayers loses his shape as he tries to heave across and mistimes it to short fine leg.
Avesh Khan is into the attack now.
1.6 overs (0 Run) Six runs off the over! Decent start by Kumar as well! Length ball, outside off. King punches it firmly but straight to the man at point.
1.5 overs (4 Runs) FOUR! Beautiful shot! Kumar drags his length back and King stands on his back foot. He pulls it past mid-wicket for a boundary.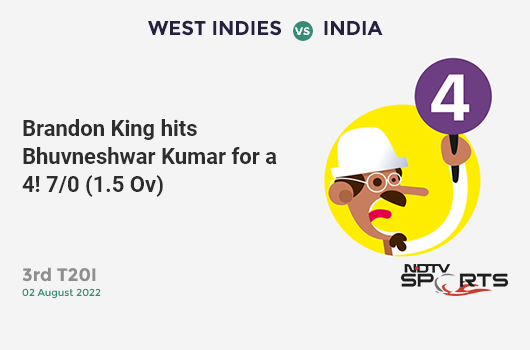 1.4 overs (0 Run) Good fielding again! This time from Pandya! Length ball on off. King hits it to mid off.
1.3 overs (2 Runs) Just short! Fuller ball, nipping in on middle. King pushes it on the up and to mid on. Arshdeep Singh dives forward and tries to collect but instead parries it away and the batters take a couple of runs.
1.2 overs (0 Run) Tight from Kumar! Outside off on a length, no room to throw the bat and King plays it straight to point.
1.1 overs (0 Run) Hooda with an excellent piece of fielding! On a length and outside off. King punches off the back foot to extra cover. Hooda dives to his right and stops it. He certainly saved four there.
Bhuvneshwar Kumar to operate from the other end.
0.6 over (0 Run) A dot to end the over! Good start for India! Hooda serves it fuller and outside off. Mayers works it to point. He wants a single but is sent back by his partner.
0.5 over (0 Run) Three dots now! Slower through the air, full and on off. Mayers again mistimes his drive on the leg side.
0.4 over (0 Run) This is full and on middle, drifting in. Mayers tries to push again but it goes off the inside edge to short fine leg.
0.3 over (0 Run) Again there is drift for Hoda! Floats one full, around off. Mayers tries to drive but gets an inside edge to square leg.
0.2 over (1 Run) QUICK SINGLE! Tossed up, around off. King drives it to mid off and takes a sharp single. West Indies are underway!
0.1 over (0 Run) Starts with a fuller ball, around the pads, there is a little bit of drift. King tries to work it away on the leg side but misses and gets hit on the pads.
We are ready for play! The two umpires make their way out to the field and so do the West Indies openers, Brandon King and Kyle Mayers. The Indian players spread out on the field and it will be the part-time off-spinner Deepak Hooda to start proceedings with the new ball. The Windies players take the knee to show their support for the BLM movement before the first ball is delivered. Let's play...
Bhuvneshwar Kumar is down for a quick chat. He says he is feeling good and has bowled mostly in the Powerplay but there's not much help from the pitch. Adds that Arshdeep Singh has been phenomenal and Avesh Khan is also learning and he tries to share his experiences with those guys. Says that there are a lot of senior players in the side and they all talk to the young players.
West Indies (Playing XI) - Brandon King, Kyle Mayers, Nicholas Pooran (C), Shimron Hetmyer, Devon Thomas (WK), Rovman Powell, Jason Holder, Dominic Drakes (In for Odean Smith), Akeal Hosein, Alzarri Joseph, Obed McCoy.
India (Playing XI) - Rohit Sharma (C), Suryakumar Yadav, Shreyas Iyer, Rishabh Pant (WK), Hardik Pandya, Deepak Hooda (In for Ravindra Jadeja), Dinesh Karthik, Ravichandran Ashwin, Bhuvneshwar Kumar, Avesh Khan, Arshdeep Singh.
Nicholas Pooran, the skipper of West Indies says they are happy to bat first. The wicket got slow in the second innings of the previous game and they want to put a respectable score. Adds that they tick the box as a bowling group. They stick to the plans and luckily things went their way. Shares that both the left-armers, Obed McCoy and Akeal Hosein bowled really well and informs that, they too think about left-arm players and that is why they bring in Dominic Drakes in place of Odean Smith. Mentions they are backing the players and says it's important to have the right players in the right positions.
Rohit Sharma, the captain of India says that they will field first and it is not because of the conditions, it's just that they like to chase. Adds that there's always a talk about the importance of the Powerplay and the ground is small but the average score here isn't big which is to be kept in mind. Mentions that when guys try and express themselves out there, there can be big scores or like what happened last time as well. Says that as a team they want to improve in all aspects of the game and yes, the left-armers have done good against them but it isn't particularly a weakness of their batting order. Ends by informing that they have given Jadeja a rest and Deepak Hooda comes in to replace him.
TOSS - India have won the toss and they will BOWL first!
West Indies have historically been a dominant force in the T20 format but over the last few years, they seemed to have lost their edge a bit. But a victory against formidable opponents in the last game will give them a major boost. Obed McCoy has been a revelation and the big left-armer took 6 wickets in the last game, a very rare feat in white-ball cricket. The hosts do need to perform well as a batting unit but a solid knock up top from Brandon King and a cameo in the middle-order from Devon Thomas was enough to seal the victory. Which side will sneak ahead in the series? We'll find out soon. Toss and team sheets in a bit.
Topics mentioned in this article