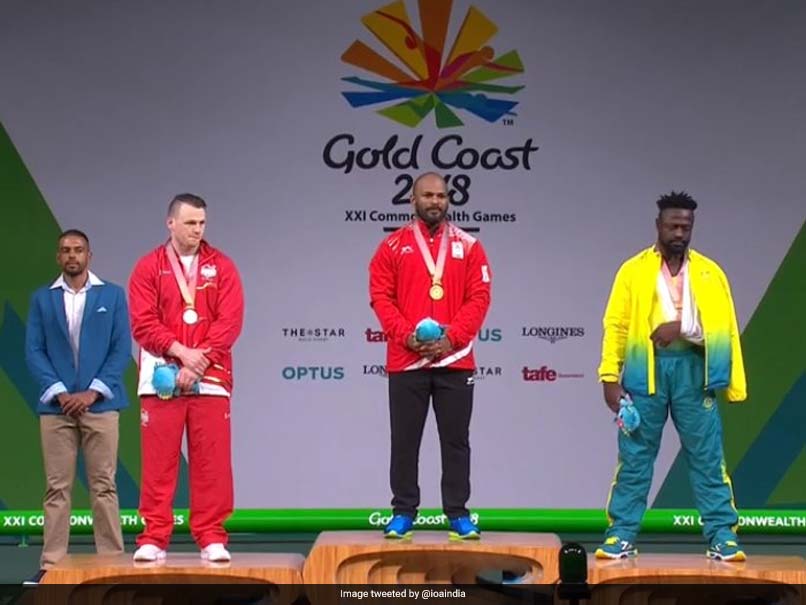 Sathish Kumar Sivalingam won India's third gold and fifth medal overall at the 2018 Commonwealth Games.
© AFP
Indian weightlifters continued the country's medal rush at the 2018 Commonwealth Games in Gold Coast, Australia on Day 3 as Sathish Kumar Sivalingam won the gold medal in the men's 77kg weightlifting category. This is India's third gold and fifth medal overall at the 2018 Games and all have been won by weightlifters. The 25-year-old had won the gold medal in the 2014 Commonwealth Games at Glasgow in Scotland and repeated the feat by beating a stiff challenge from England's Jack Oliver, who won the silver, on Saturday. Sathish Kumar was crowned the Commonwealth Games 2018 champion after finishing with a combined score (snatch, clean and jerk) of 317. The bronze medal went to Australian showman Francois Etoundi, who lifted 305kg (136kg+169kg). Etoundi injured his shoulder after his final lift.
And then the Golden mornings continue to shine bright for India at the @GC2018 #CommonwealthGames!@sathy732 lifts #Goldworth of 317kgs at the #GC2018 #GC2018Weightlifting Men's 77kg Event to win #TeamIndia its 3rd Gold....all from #Weightlifting! #WellDone @WeightliftingIN pic.twitter.com/wdHkBE2h0m

— IOA - Team India (@ioaindia) April 7, 2018
Sathish started the event with a bang, successfully lifting 136kg in snatch that straightaway put him in the lead. However, England's Oliver, who set his first snatch weight at 141kg, made a successful lift in his first attempt to leapfrog the Indian into top spot.
The Indian weightlifter added extra four kgs to his weight and his second attempt successfully lifted 140kg to strengthen his second spot. The Englishman continued to impress and stay ahead of the Indian with a successful lift of 145kg in his second attempt.
Sathish answered back in style by successfully lifting 144kg in his third attempt to stay just one behind the Englishman. Things went even better for India as Oliver failed in his third attempt to lift 148kg, meaning that he held just a kg advantage over Sathish going into the clean and jerk.
Sathish was always the favourite from that point after choosing 169kg as his first clean and jerk lift while the Englishman opted for 167. Sathish easily made a successful left in his first attempt while Oliver seemed to have some difficulty but also made completed his attempt.
Sathish chose 173kg as his next weight while the English weightlifter settled on 171. The Indian had to wait and saw Oliver fail in his second and third attempt at 171kg. Sathish stepped to floor with the gold beckoning and with a big grunt made a successful clean and jerk lift of 173kg to secure the gold medal for India.