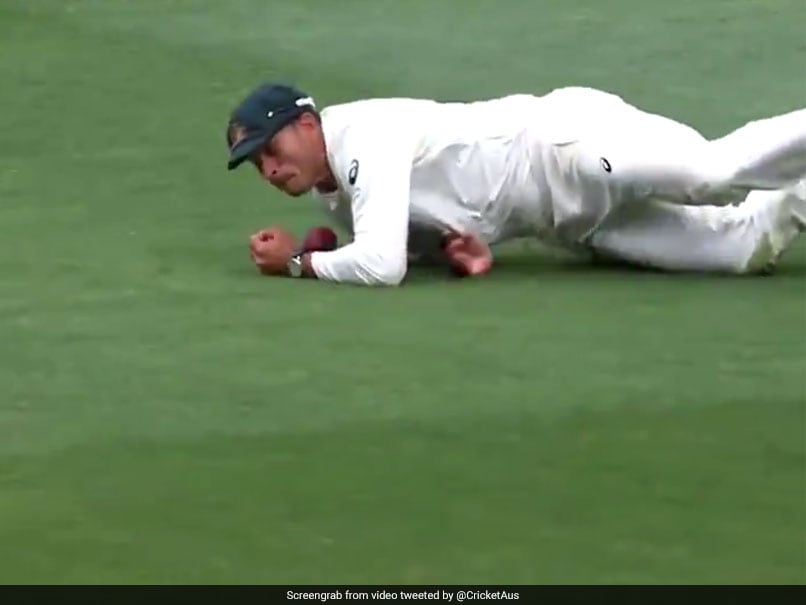 Usman Khawaja's catch to dismiss Stuart Broad caused quite an uproar.
© Twitter
Alastair Cook might have taken all the accolades on Day Three of the fourth Ashes Test between Australia and England at the Melbourne Cricket Ground (MCG) on Thursday but there was another incident that garnered huge interest and grabbed the headlines. Controversy erupted at the MCG when Australian opener Usman Khawaja dived forward to take Stuart Broad's catch at deep mid-wicket. However, video replays returned inconclusive with even the commentators completely divided over whether the catch was taken cleanly. Despite the inconclusive replays, the third umpire decided to give Broad out.
In the video replay, Khawaja gets his fingers under the ball correctly but as the momentum continues to take him forward, the ball bobbled out of his hands. The camera angle making it impossible to determine what happened next, but Khawaja came up holding the ball.
It was given out on the field, but what's your call? #CloseMatters#Ashes @Gillette pic.twitter.com/Pqctz8CT4n

— cricket.com.au (@CricketAus) December 28, 2017
Broad, who scored 56 off 63 balls, to his credit walked off the field without showing any dissent, ending a demoralising 100-run stand off 110 balls with Cook.
Cook, who was at the other end when Broad was dismissed, decided to play down the matter.
"We were 80 yards away from it so we didn't have the best view. The catch looked inconclusive on TV. Uzzie (Usman Khawaja) is a pretty fair cricketer not that I have played a huge amount against him but he was pretty confident with the catch. Sometimes on those things you do have to take the player's words for it," Cook said.
"The technicality of the decision is that if the umpires had said it was not out then I think the decision would have changed and I'm not sure how they could see that being so far away as well. I don't think we really need to get drawn into those situations. I think sometimes you have to trust the player and he was confident straight away."
However, England fans led by the 'Barmy Army' were having none of it and booed Khawaja when he came out to bat on Day 4. The fans were heard singing "same old Aussies, always cheating".