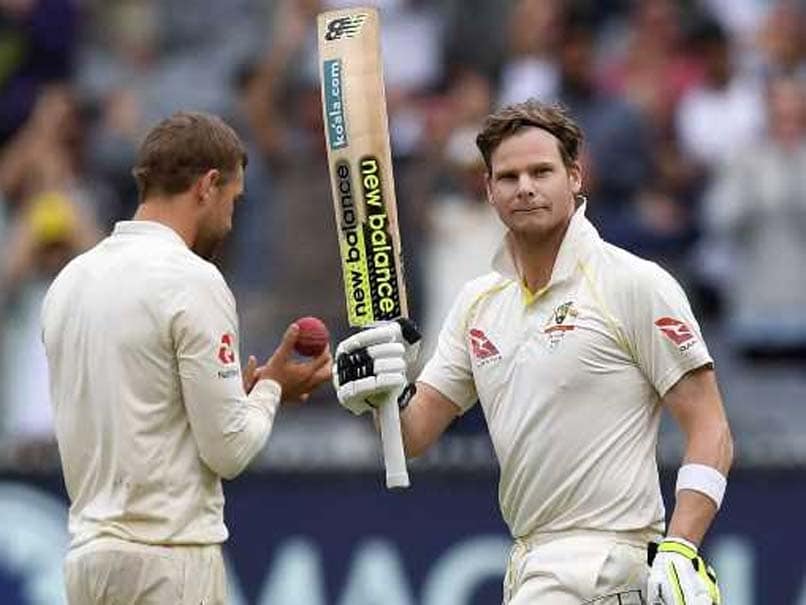 Steve Smith became the third quickest batsman to reach 23 Test tons.
© AFP
Steve Smith notched yet another Test century -- his 23rd -- to steer Australia to a draw against England in the fourth Ashes Test at the Melbourne Cricket Ground (MCG) on Saturday. The Australian skipper smashed his third century of the ongoing Ashes to leave the English frustrated and still searching for a win this series. Smith's brilliant 102 not out helped him join the legendary Don Bradman as the only batsmen to score centuries in four consecutive Melbourne Tests. Not just that Smith went one better by doing something no batsman in Test cricket history has ever achieved.
Smith ended the year 2017 as the highest run-getter in Tests with 1,305 runs at an average of 76.76. This is the fourth consecutive time that Smith has scored 1000 plus runs in a calendar year, which makes him only the second batsman to do so after Matthew Hayden. However, the Australian captain is the first batsman in Test history to score 1000 plus runs and average over 70.
In 2014, Smith scored 1,146 runs at an average of 81.85 while in 2015, he amassed 1,474 runs at an average of 73.70. In 2016, the Australian run-machine scored 1,079 runs with an average of 71.93.
Meanwhile, he also joined Ricky Ponting as the only batsmen in Test history to have made six centuries in a calendar year on multiple occasions.
Smith had leapfrogged Sachin Tendulkar to become third fastest to score 22 Test hundreds and he managed to do it once again by becoming the third quickest batsman to reach 23 Test tons.
He achieved the landmark in 110 innings, after Don Bradman (59) and Sunil Gavaskar (109). Mohammad Yusuf took 122 innings to reach the milestone while Tendulkar got there in 123 innings.
What makes Smith's achievement even more brilliant is the fact that the Australian captain scored his first century after 22 innings. In 11 Tests and 21 innings, Smith had scored 698 runs at average if 33.23 with just five fifties to his name. Since then, Smith has scored 23 hundreds in 49 Tests and 84 innings, and amassed 5,235 runs at an average of 76.93.