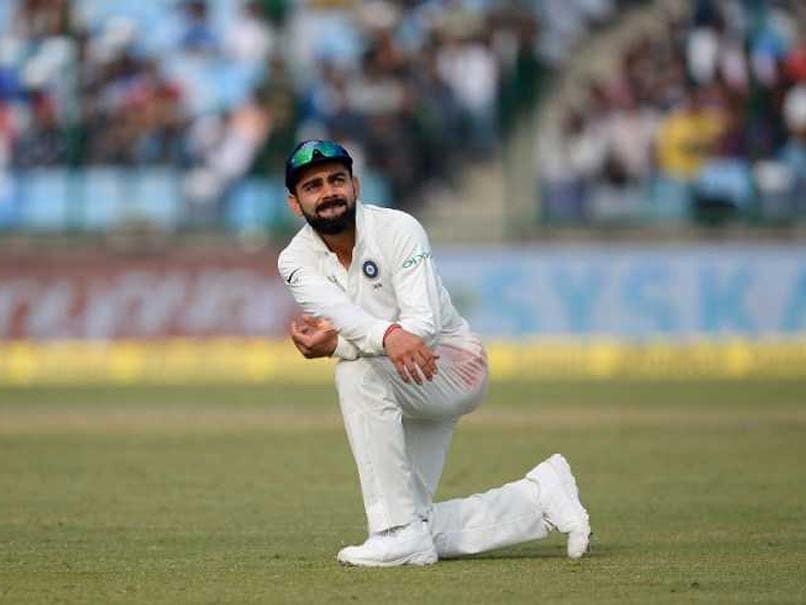 Virat Kohli occupies the number two position in the ICC Test rankings for batsmen.
© AFP
Former England captain Michael Vaughan, who has often described Virat Kohli as a 'freak', not just used the same adjective in Steve Smith's context but also went a step further to declare the Australian captain as a better batsman in Test cricket. "IMO ... @imVkohli is the best player across the 3 formats ... But @stevesmith49 is the best in Tests ... #OnOn #Ashes ... Although I would really like both in the same team ....," he tweeted after Smith remained unbeaten on 229 in Australia's first innings of the 3rd Ashes Test on Saturday. Vaughan's remark was provocative enough to spark a huge debate among fans over the batting credentials of the two modern day superstars. 
IMO ... @imVkohli is the best player across the 3 formats ... But @stevesmith49 is the best in Tests ... #OnOn #Ashes ... Although I would really like both in the same team ....

— Michael Vaughan (@MichaelVaughan) December 16, 2017
While some Indian fans were upset with Vaughan's assessment, others felt it was an accurate way to put things considering the form of both players at the moment.
Steve smith scored the 600+ runs in india while kohli was more concerned about mocking Australian players and trying to act like a bully. He'll can't bat well in hard conditions. Good player but smith is more consistent

— Shaan (@Shaan__amoes) December 16, 2017
Kohli scored 5 tons in Aus and average is 62+ while Smith average 60 in India but but we will still cry daaw ??
Kohli average over 50 vs aus in all 3 formats haha keep crying kid pic.twitter.com/tXJWlkXgv6

— Atul Tyagi Viratian ???? (@AtulTya59113663) December 16, 2017
Don't know why you need to clarify for your audience. Smith in tests hands down, Kohli plays a lot of ODI and T20 for the Indian market and fair enough...

— Liam Johnstone (@ljohnstone35) December 16, 2017
Hello Michael, I appreciate your views, but no compare with @imVkohli , he is stunning fabulous performer, @stevesmith49 need to learn lots of things, Smith is good cricketer but not Champion

— Ashok Kumar Srivastava (@ashok_bhaavika) December 16, 2017
Wait for Kohli in test cricket too...after 2 years...u will c d big difference in records of Kohli n Smith...Just wait n watch..!

— Avi Kaushik (@avi_kaushik4) December 16, 2017
Virat is the greatest batsman of this century & probably the best Indian cricketer ever to have played the game.

— Dr Fahad Alam (@DrFahadAlam) December 16, 2017
He's @stevesmith49's DADDY!!???? pic.twitter.com/0CJ5QBeiSG

— Viratian_Class (@ClassyMrCool) December 16, 2017
If Kohli scores big daddy hundreds in 2018 and 2019 he'll surpass smith in tests as India are playing all test overseas. Right now Smith is best in tests and Kohli overall.

— Tanmay Karnawat (@tanygooner) December 16, 2017
On point.I agree. Steve has adapted to tests very well.Virat is growing fast too, he has the english and s.african challenges in front of him, he'll be a much better batsman at the end of the away season.

— Stan15 (@fatsnnax) December 16, 2017
Absolutely... Smith is best in Tests by long way! Surely he will finish at No. 2 in all time best average list

— Umesh Kesavan (@magicumesh) December 16, 2017
Have to agree. There are some nonsensical keyboard warriors that will make rubbish arguments about this, but if you see everything neutrally, Kohli is the best across formats and Smith edges him in tests.

— Soumya Ranjan Dash (@dsoumyaspeaks) December 16, 2017
Yeaa That's the Fact !True said ...Smith is good in Test lovely to watch him

— Rahul More (@rahulm66) December 16, 2017
The Australian captain reached his highest Test score yet with his second double-century, passed 1,000 Test runs for the year and also notched his fastest Test century in an innings that appeared to shatter England's resolve.
At stumps, Smith was on 229 not out, having faced 390 balls, hitting 28 fours and one six as his stellar year continued.
It was his second century of the series and he didn't offer a single chance throughout.
The closest England came to seeing the back of the star right-hander were two unsuccessful third-umpire reviews after having leg before wicket appeals turned down.
(With inputs from AFP)