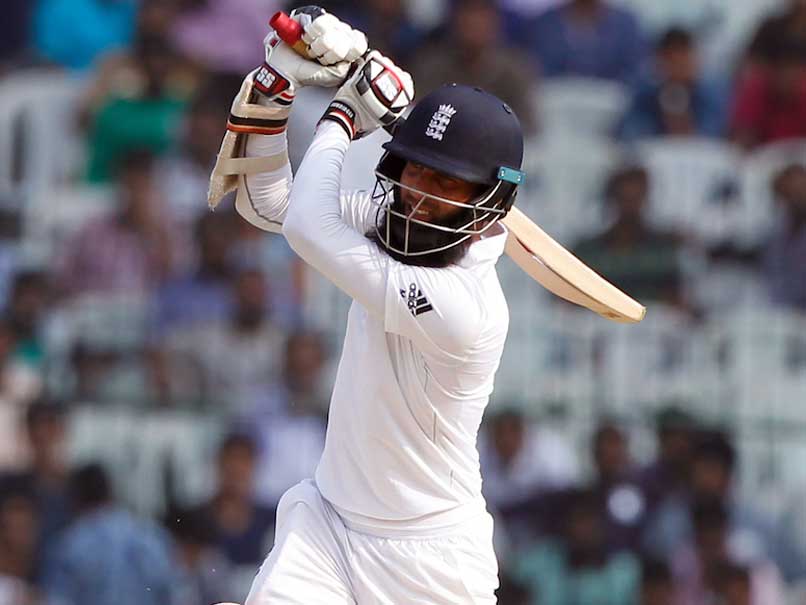 Moeen Ali has so far failed to fire in the ongoing Ashes series.
© AFP
England all-rounder Moeen Ali has revealed that Australian crowds during the ongoing Ashes series directed racist comments at him when fielding. "Somebody asked me what time my kebab shop opened, but that is about it," Moeen said. However, the England cricketer described the remark as 'nothing major' and is not willing to escalate the matter. The 30-year-old stated that one has to take such comments on the chin and move on. "You get some good ones and you get some not so good guys ... but you take it on the chin," he was quoted as saying by News.Com.Au. England, currently 0-2 in the series, will be looking to Moeen to deliver in order to mount a fightback. The left-hander has managed a top score of 40 in 4 innings and picked up just 2 wickets.
England slumped to a 120-run defeat in the second Ashes clash this week on a ground widely seen as their best chance of winning.
It followed defeat in the first Test in Brisbane with Perth's WACA Ground next up, where they have not beaten Australia since 1978.
Former captain Michael Vaughan suggested England had neither the skill nor resilience to win a match.
"This was the week we all fancied England to take something from," he said in comments in The Australian Friday.
"In Perth, the ball won't swing like this (in Adelaide). We are now looking like we did in 2013, like we did in 2006-07, you look at this England side, and realistically, can you see them winning a Test match?
"I think it's going to be very difficult to win a Test match on this tour."
Captain Joe Root has insisted England are "still massively" in the Ashes series, while coach Trevor Bayliss said Thursday that his team had left "a few scars" on Australia in Adelaide.
Another former England captain, Mike Atherton, said the loss of the opening two Tests had eerie similarities to previous tours Down Under, including those spearheaded by Alastair Cook, Andrew Flintoff, and Nasser Hussain.
"All put a brave face on events; all tried to find the right tone but all, ultimately, were powerless to stop an Australian juggernaut that, once rolling, gathers momentum with frightening speed," he wrote in The Times.
"Certainly, the scent is strong and the hounds have been unleashed and Root's team are struggling to avoid the impression that they are on the run, short of hundreds and outgunned with the ball as they are.
"It is going to be a tough few weeks."
The third Test of the five-Test series starts in Perth on December 14, followed by Melbourne and Sydney.
(With inputs from AFP)