Story Progress
Back to home
Rohan Bopanna, Aisam-ul-Haq Qureshi Put Friendship On Hold For India Vs Pakistan Champions Trophy Clash
The childhood friends- Rohan Bopanna and Aisam-ul-Haq Qureshi will be rivals for around eight hours on Sunday when their two nations clash in Champions Trophy.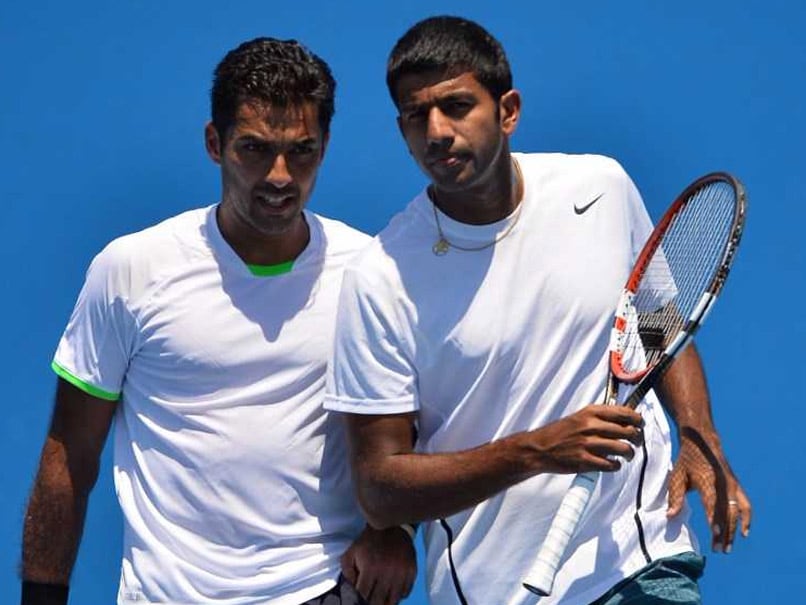 Rohan Bopanna, Aisam-ul-Haq Qureshi put friendship on hold for cricket
© AFP
Highlights
Bopanna and Qureshi have their eyes trained towards Birmingham

Bopanna is so confident of India going all the way to the final

India play Pakistan on Sunday
Rohan Bopannaand Aisam-ul-Haq Qureshi once famously pleaded for peace between India and Pakistan under the banner "Stop war, start tennis". However, the childhood friends will be rivals for around eight hours on Sunday when their two nations clash in the one sport which eternally unites and divides their countrymen -- cricket.
Bopanna, the son of an Indian coffee planter, and Qureshi, whose grandfather was once the All India tennis champion before the 1947 partition, have their eyes trained towards Birmingham when India and Pakistan meet in the Champions Trophy.
Qureshi, who will be in England for a tennis tournament after being knocked out of the French Open this week, hopes to get to the big game.
Bopanna, 37, is so confident of India going all the way to the final at The Oval on June 18 that he has already bought tickets.
Whatever happens, the two men, born just two weeks apart in 1980, insist that their friendship will survive, just as it has done since they met when they were 16.
"Rohan is like a brother to me, on and off the court," Qureshi told AFP.
"As countries, we have political differences but not me and him.
"We have respect for each other and each other's families. However, I don't expect him to cheer for Pakistan and he wouldn't expect me to cheer for India."
Both men played cricket as youngsters before turning to tennis full-time.
Bopanna was an all-rounder who liked to open the batting in his home city of Bangalore.
- 'It's like roulette' -
Qureshi also enjoyed the all-rounder role, but with ball in hand, he steamed in, right-arm fast.
Their mutual love of cricket saw them suffer contrasting emotions in 2007 when they were playing doubles together at a tournament in Mumbai.
The event coincided with the first World Twenty20 championship being played in South Africa.
India beat Pakistan in the final by five wickets.
"We watched that game together in Mumbai and an hour later we had to go and play a match together," Bopanna told AFP.
"But once we were on the tennis court, we had to focus. We ended up winning our match."
The pair have always insisted that the political differences between their two nations do not impose on their tennis.
In 2010, they played at Wimbledon, arriving on the grounds wearing T-shirts bearing the slogan: "Stop war, start tennis".
Pakistan have beaten their longtime rivals twice in three Champions Trophy matches down the years.
However, India hold the upper hand overall in international championship encounters -- they have never lost a 50-over World Cup or World Twenty20 showdown against Pakistan.
India's record reads 12 wins and just two losses.
"It's like roulette -- the ball can't be black all the time, sometimes it has to be red, right?" said Qureshi.
"India are the favourites. Pakistan has a young team, so you have to be realistic. But if we win, it will be a huge upset.
"If we beat India and lose all the matches, the players will still go home as heroes.
"But if we lose to India and win the trophy, everyone will just remember losing to India."
Qureshi is an enthusiastic fan of the Pakistan team and all their idiosyncracies.
When Pakistan toured New Zealand earlier this year, they shared the same Auckland hotel.
"I travelled on the bus with them to the ground, took photos, got their autographs," he recalled.
Bopanna sees India winning on Sunday and making the final for which he has already secured tickets.
"It doesn't matter what the tournament is or where the game is played, it's always a big match," he said.
"We are two great countries. Off the field, the players are friends; on it, they play to win."
Topics mentioned in this article