Story Progress
Back to home
New World No.1 Roger Federer Wins Rotterdam Open For 97th Title
Roger Federer, the oldest No.1 in history, thrashed Bulgarian Grigor Dimitrov 6-2, 6-2 in a one-sided final.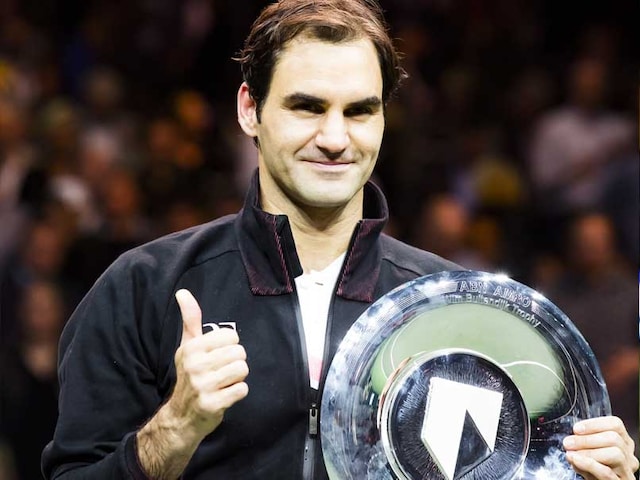 Roger Federer won his 97th title by emerging victorious in Rotterdam.
© AFP
Highlights
Roger Federer wins Rotterdam Open

Roger Federer claimed his 97th career title

Federer beat Grigor Dimitrov 6-2, 6-2 in the final
Roger Federer celebrated his return to the top of the world rankings by winning the Rotterdam Open on Sunday, his 97th career title. The 36-year-old, the oldest No.1 in history, thrashed Bulgarian Grigor Dimitrov 6-2, 6-2 in a one-sided final. In the Open era, only American Jimmy Connors has won more titles with 109. "What a fantastic week," the top seed said. "The goal at start of week was to make it to the semi-finals. This is absolutely amazing, I'm really pleased." Federer, the record 20-time Grand Slam winner, will reclaim the number one ranking he last held in October 2012 when the new ATP rankings are published on Monday.
He has played two tournaments this year and won both -- the other being January's Australian Open.
He is three years older than American Andre Agassi was when previously holding the record for oldest No.1 back in 2003.
This was his third title in Rotterdam following successes in 2005 and 2012 and he now stands 12-0 for the season.
The iconic Swiss star needed just 55 minutes to dispatch Dimitrov who looked to be under-cooked in the quickfire final.
Federer now stands a perfect 7-0 over the Bulgarian in their head-to-head series.
Two breaks per set were enough for Federer to advance to the trophy.
Federer will now decide within a few days whether or not to travel to Dubai for the ATP event starting a week from Monday.
Promoted
Federer has a home and training base in the UAE and has won the hardcourt tournament seven times.
His effort in Rotterdam appeared to take little out of him physically, with his only loss of a set coming in the quarter-final against Robin Haase.
Topics mentioned in this article