Story Progress
Back to home
Juan Martin Del Potro, Madison Keys Out of Australian Open
Both Juan Martin del Potro and Madison Keys will miss tennis's first Grand Slam of the year - Australian Open - which starts on January 16.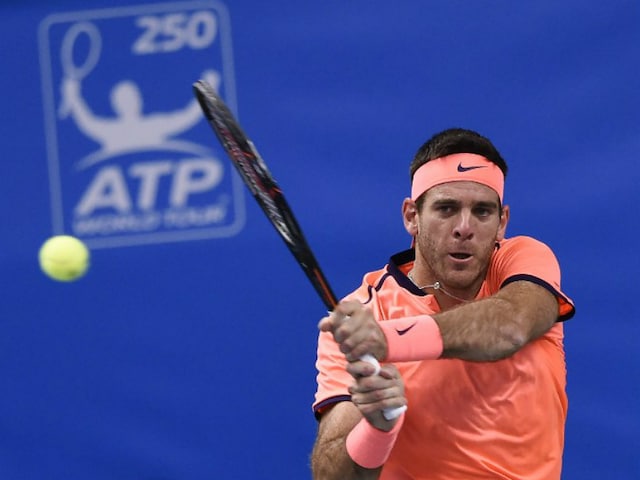 Juan Martin del Potro won the 2009 US Open, his only Grand Slam victory till date.
© AFP
Highlights
Juan Martin del Potro, Madison Keys will miss the Australian Open

The Australian Open will start on January 16, 2017

It is the first Grand Slam tournament of the year
Argentine tennis sensation Juan Martin del Potro and American Madison Keys have withdrawn from their respective singles events in the 2017 Australian Open.
While on-going fitness issues have forced del Potro out of the year's first Major, Keys, who finished 2016 ranked eighth in the world, will miss the tournament after a minor wrist surgery.
The Argentine will also miss his planned warm-up event in New Zealand, organisers of the Auckland Classic announced on Saturday.
"Juan Martin del Potro has confirmed he will withdraw from the Australasian swing due to fitness issues," the Classic organisers said in a statement, referring to the two tournaments in January.
"Del Potro confirmed via his management team overnight that he has not had sufficient recovery time and will be withdrawing from the (Auckland) Classic and the Australian Open."
The announcement came a month after del Potro staged an incredible comeback to down world number six Marin Cilic of Croatia in an epic five-setter to set Argentina up for their first Davis Cup crown.
Del Potro was the 2016 tennis comeback success story.
After missing most of last year because of injury, he began 2016 ranked 1,042th and finished at 38th after a meteoric rise which included wins over Stan Wawrinka, Novak Djokovic, Rafael Nadal and Andy Murray.
The 1.98 metre tall del Potro beat Roger Federer in the final of the 2009 US Open and the following year reached a career high of world number four before he began to be troubled by wrist injuries.
Auckland Classic director Karl Budge said it was disappointing for tennis "that these ongoing issues are keeping him off court".
Keys out too
"I will not be ready to play the 2017 Australian Open," Keys, 21, said in a Twitter posting in which she also announced that she will again be coached in 2017 by former world number one Lindsay Davenport.
"Three days after the year-end WTA Championships I had minor arthroscopic surgery on my left wrist," Keys tweeted. "The procedure was very short, did not involve any tendon issues and went very well."
She said she had been training with Davenport -- who coached Keys in 2014 and 2015 -- at the US Tennis Association facility in Orlando, Florida, but didn't want to rush her return.
December 23, 2016
"I will be back soon and can't wait to compete again," said Keys, who won her second career WTA title at Birmingham in 2016.
Promoted
The Australian Open will begin on January 16 in Melbourne.
(With AFP inputs)
Topics mentioned in this article