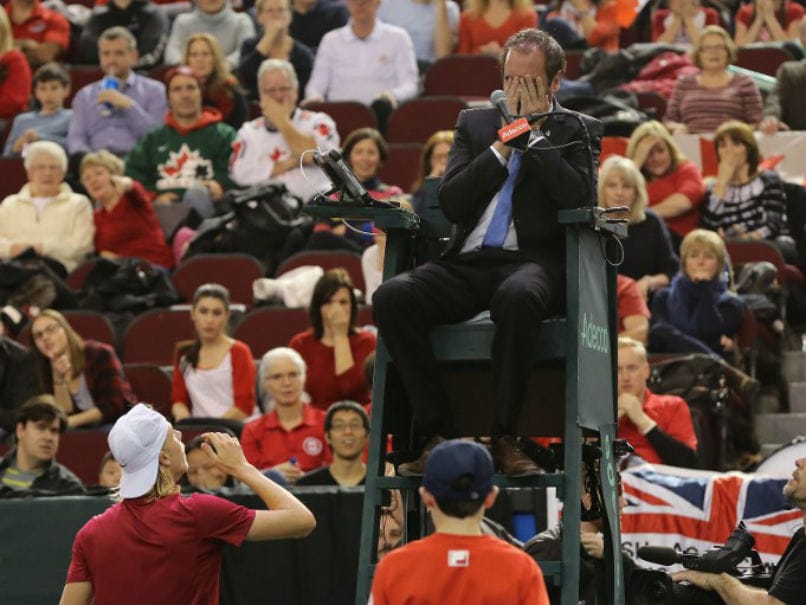 Denis Shapovalov (botton left) of Canada reacts after accidentaly hitting the head umpire Arnaud Gabas.
© AFP
In a bizarre incident that left tennis fans shell-shocked worldwide, Canada's rising star Denis Shapovalov was disqualified from his Davis Cup match against Kyle Edmund of Great Britain for inadvertently smashing a ball into the chair umpire's face. After losing a point, Shapovalov, 17, blasted the ball in frustration towards the crowd but had to look on in horror as the ball struck French official Arnaud Gabas flush in the face, badly bruising his eye. This resulted in a default for Team Canada, sending Britain into the quarterfinals where they will face France.
The Canadian teenager had lost the first two sets against Edmund in the fifth and deciding rubber when he blasted the ball away in frustration at 1-2 down in the third set.
Fans, officials and players in the stadium were left stunned by the incident as as Shapovalov rushed to check on Gabas' welfare. The French umpire clutched his face in pain and held his hands to his left eye.
A member of Canada's Davis Cup team rushed and fetched an ice pack for Gabas. For the youngster, it was a tough lesson to learn as he sat tearful in his chair while Gabas was sent to the Ottawa General Hospital for treatment.
International Tennis Federation spokesperson said Gabas had "swelling and bruising to his left eye".
Chair umpire Arnaud Gabas has bruising & swelling of the left eye. He is going to Ottawa General Hospital for precautionary evaluation (1/2)

— Davis Cup (@DavisCup) February 5, 2017
No one is nicer or carries themselves better for a 17 y/o than Shapovalov. Everyone can see that today was an accident. Can happen to anyone

— Vasek Pospisil (@VasekPospisil) February 5, 2017
"There's always a lesson to be learned from the good moments and the worst moments. If he wants to compete at this level he has to keep it together," said Canada skipper Martin Laurendeau.
"Emotional control is the biggest factor in this game. He must learn the lesson and hope it serves him in the rest of his career."
"It is a surprise what happened at the end there and it is a shame," Britain's captain Leon Smith told the BBC.
But Kyle, from what we saw on Friday to today, was fantastic. How he prepared, how he took command, his unbelievable serving and he kept pressure on the turns. It was a great performance."
Shapovalov fined
Shapovalov was fined for hitting the umpire with the ball on Monday. The International Tennis Federation (ITF) fined Shapovalov $7,000 rather than the maximum $10,000 after accepting he had not intentionally struck Gabas after smacking a ball off the court in frustration at losing a point.
In a statement published on his Twitter account before the fine was announced, Shapovalov wrote: "There is no excuse for this behaviour and I take full responsibility for my action.
"I'm very sorry to Mr Gabas, to whom I apologised in person. Very sorry for letting my Davis Cup team-mates down and for letting my country down.
"I apologise to all the tennis fans, to my supporters and my sponsors. I feel ashamed of my unprofessional behaviour and will accept any consequences as a result of my action."
February 6, 2017
Gabas was taken to hospital in Ottawa as a precaution after being left with bruising and swelling around his left eye, but no serious damage was found.
Britain will play France in the quarter-finals in April.
(With inputs from AFP)