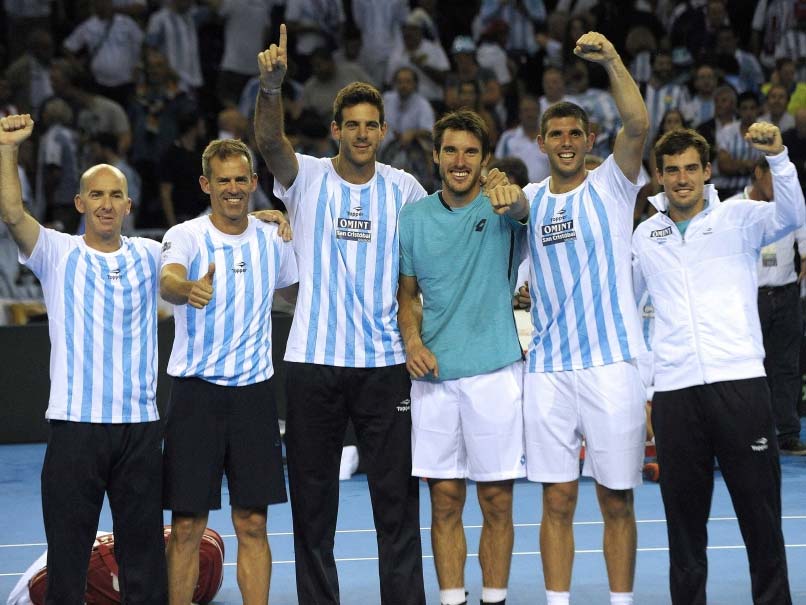 Argentina won the Davis Cup last year, beating Croatia in the final.
© AFP
Davis Cup matches will be played on a best-of-three set basis instead of the traditional five, organisers announced on Tuesday, as a number of changes were made to the 117-year-old event. The team tournament has struggled to get the sport's top players to commit to it on a regular basis in an already crammed tennis schedule. In a series of reforms, it was announced that all singles matches will be played as best-of-three sets. However, Davis Cup ties will retain the three-day format, with doubles still played on the Saturday over the best-of-five sets.
ITF Board has approved reforms for #DavisCup, including best-of-3-sets singles. AGM to vote on changes in August.https://t.co/APkltnXfmv pic.twitter.com/ILeWAPvfmj

— Davis Cup (@DavisCup) June 6, 2017
Other changes will see the finalists in both the Davis Cup and Fed Cup women's tournament guaranteed the choice of hosting their first-round tie in the following year. The 'dead rubber' policy will also be amended to reduce the number of meaningless rubbers.
"The Davis Cup and Fed Cup are two of the most iconic team competitions in sport, but there is no doubt change is needed to ensure that we maximise their full potential," said International Tennis Federation president David Haggerty. "While still needing annual general meeting approval, we are confident that our national associations will see that to vote for these reforms is to vote for the long-term future of our competitions and our sport."
The ITF also said that bids to host fixed venue finals for Davis Cup and Fed Cup have been received and are being assessed.
The changes are expected to be approved at the the next annual general meeting of the ITF in Ho Chi Minh City, Vietnam in August.
World No 1 Andy Murray and nine-time French Open champion Rafael Nadal didn't play in the Davis Cup quarter-finals this year. Nadal also skipped the opening round. Roger Federer and Stan Wawrinka opted out of the first-round tie against the United States where Switzerland lost 5-0.
Novak Djokovic, however, has played both ties for Serbia and has vowed to feature in September's semi-final against France even though it starts just five days after the end of the US Open.
The plans which would see the whole tournament take place in one location have reportedly been backed by Murray, Djokovic and Nadal. Nadal has been one of the Davis Cup schedule's most vocal critics.