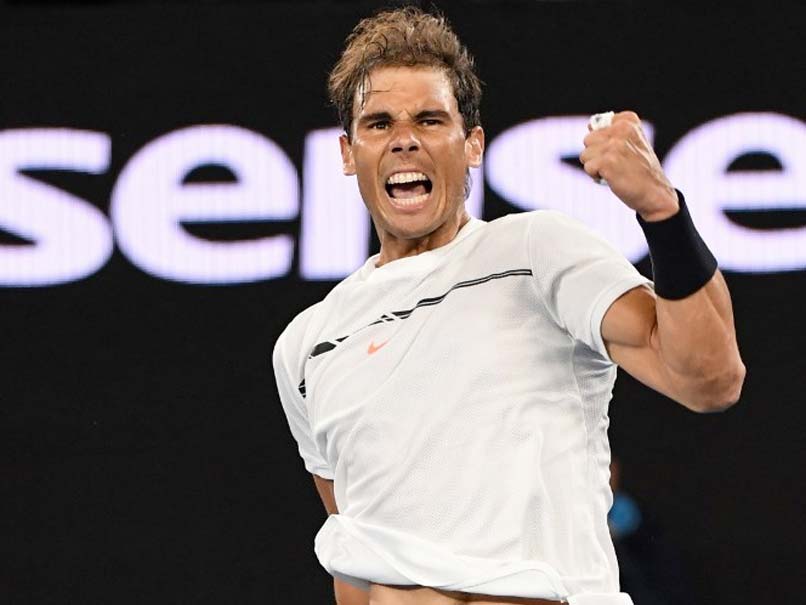 Rafael Nadal will take on Grigor Dimitrov for a place in the men's singles final.
© AFP
Melbourne:
A resurgent Rafael Nadal beat Milos Raonic to reach his first Grand Slam semi in three years at the Australian Open on Wednesday, as Serena Williams eyed a final with her sister Venus.
Nadal hasn't contested a major semi-final since he won the last of his 14 Grand Slam titles at the 2014 French Open, but he never looked like losing to Raonic, the Canadian world number three.
Spain's Nadal yelled in delight as he completed a 6-4, 7-6 (9/7), 6-4 win which set up a semi-final with Grigor Dimitrov -- with old rival Roger Federer potentially waiting in the final.
"Even though I had a great career, I had a lot of tough moments," said Nadal, who struggled with injury last year and failed to reach any of the Grand Slam quarter-finals.
"That makes me enjoy this even more."
Nadal has a 7-1 head-to-head record with Dimitrov, the Bulgarian 15th seed dubbed 'Baby Fed' for his Federer-like playing style who earlier ousted Belgium's David Goffin 6-3, 6-2, 6-4.
Federer will play fellow Swiss Stan Wawrinka in Thursday's semi-final with the very real prospect of a ninth Grand Slam final against Nadal, and the first since the 2011 French Open.
The women's competition also has a retro feel after Serena Williams beat Britain's Johanna Konta 6-2, 6-3 to set up a semi-final with an emotional Mirjana Lucic-Baroni -- 19 years after they last met as fellow teenage prodigies.
Williams, 35, has come a long way since her last meeting with Lucic-Baroni in the second round at Wimbledon in 1998, when they were both 16 and without a trophy to their names.
While Williams is now eyeing an Open-era-record 23rd Grand Slam title and a return to world number one, the Croatian is into her first major semi since 1999 after her career was derailed by personal trauma.
'Remarkable story'
Unseeded Lucic-Baroni wept freely and gasped, "This has truly made my life," after she upset Czech world number five Karolina Pliskova 6-4, 3-6, 6-4.
"I can't believe this. This is crazy," said the 34-year-old, who disappeared from the tennis scene after being forced to flee her abusive father.
Fun fact: this year's women's semifinalists have a combined age of 130. #AusOpen https://t.co/azjW82ZyP7

— #AusOpen (@AustralianOpen) January 25, 2017
"The only thing I can say is God is good. That's all I can say. I can't believe it. I feel a little bit in shock."
Williams said she could take inspiration from Lucic-Baroni, against whom she will be the strong favourite in Thursday's semi-finals.
"I'm really happy for Mirjana. I was there when she first started. To see her be able to never give up actually is super-inspiring to me. It's a wonderful story," she said.
Williams added: "Honestly, we have totally different games now, the both of us. We both have gone through a lot. We both have survived, and here we are, which I think is a really remarkable story."
There was little disappointment from Konta despite her steamrollering by Williams, who was able to raise her game to counter her opponent's court speed and aggressive striking.
Women's SFs set for Thursday

Vandeweghe v Venus
Lucic-Baroni v Serena

us your picks: who will reach the final?#AusOpen pic.twitter.com/T4g7WD0Hpj

— #AusOpen (@AustralianOpen) January 25, 2017
Despite Williams having only 45 percent success with her first serves, Konta could only break once, in the second set, and the American quickly hit back with two breaks of her own.
"I think it was probably one of the best experiences of my life," said Konta, 25, who idolised Williams as a child.
"I think there's so many things I can learn from that, so many things I can look to improve on, also acknowledge some things that I did well."
#Serena: "It's kind of crazy to see three southern California girls in a Grand Slam semi."#AusOpen pic.twitter.com/PkRmhXOxK3

— #AusOpen (@AustralianOpen) January 25, 2017
Also on the centre court, Dimitrov soared into his second major semi-final with his straight-sets win over Goffin, his 10th victory in a row after his trophy run this month in Brisbane.